The popular Pakistani artist and renowned pilot took to twitter to confirm his seat on the Advisory Board for the Lifeboat Foundation's Futurists.

Fakhr-e-Alam, Pakistani artist, VJ, pilot, singer/songwriter and national award winning actor, has now confirmed his place on the Advisory Board of Futurists for the Lifeboat Foundation.
The foundation is a nonprofit, nongovernmental organisation whose main focus is on "safeguarding humanity" by encouraging scientific technological advancements, which include nanotechnology, engineering and self-sustaining projects in order to protect humanity and combat the spread of viruses. Their main mission being to help humanity's survival against the misuse of powerful technology.
Fakhr-e-Alam, who was already popular for introducing "Bhangra-Rap fusion" in Pakistan, is known as the "King of PSL" for his vibrant energy and hosting dynamic, having accomplished more than meets the eye.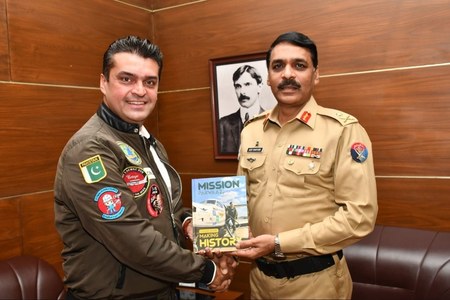 His humanitarian efforts are known worldwide, such as his volunteer work after the tragic 2005 Islamabad earthquake, achievements such as 'Sitaar-e-Eesaar' (the highest civilian presidential medal of honour) and continued activism; such as when he resigned from the censor board after protesting the murder of Amjad Sabri and failure to protect Pakistani artists and civilians. The acclaimed host is also a pilot, is known for his successful 'Mission Parwaaz' - where he was the first of the nation to circumnavigate the globe; after which a book has also been written.
In 2017, Fakhr became the first ever overseas Pakistani to discuss his tech start up at the Google Headquarters in Mountain View California. Being an avid aviation and technology expert, he continues to fund startups in the field. Joining the Futurists Advisory Board for Lifeboat Foundation, who he refers to as a "a great think tank", the renowned artist expresses his gratitude and honour to be working with "brilliant minds of the world" as well as making an impact.
Making Pakistan proud time and time again, Fakhr-e-Alam has embarked on his latest mission yet, focusing on being a part of creating a better future for humanity.