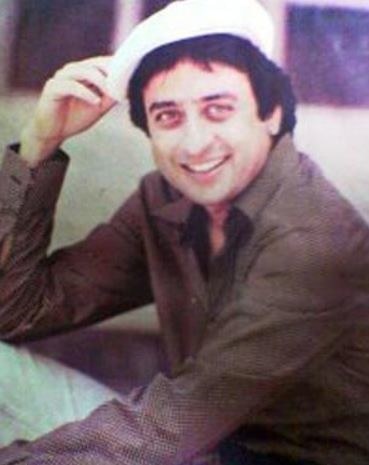 In honour of the veteran Film and TV actor Nadeem Baig's birthday, we celebrate with some of his greatest work!

Today is the day … yes, veteran Film and TV actor Nadeem Baig celebrates his 79th birthday today, and we can't be happier!
For an actor who has entertained multiple generations, many of us still live in the Nadeem zone, living life according to his songs. Life would have been incomplete without his most popular numbers. Let's celebrate his birthday with some of his best songs, sung by countless playback singers including himself.
What better to start the day with Nadeem telling us all to clap for him, with him in this classic song!
Bajao Bajao Mere Sang Taali – Do Badan
When he made his film debut way back in the 1960s, Ahmed Rushdi was on top of his game both as a playback singer of pop songs and romantic numbers. That's why most of the songs filmed on Nadeem in the first 10 years of his career were sung by Ahmed Rushdi. While he sang most of the numbers in his first film in West Pakistan …
O Sunn Le O Jaane Wafa – Sangdil
He was also there in his fourth film, his third in East Pakistan, now Bangladesh!
Aye Jahan Ab Hai Manzil Kahan – Chand Aur Chandni
Back in West Pakistan (now Pakistan), Nadeem was part of multi-starrer Behen Bhai where a couple of songs were filmed on him, including this Ahmed Rushdi super hit number.
Kaash Koi Mujhko Samjhata – Behen Bhai
While Ahmed Rushdi had more than two songs in Nadeem's first film, it was Mujeeb Alam who took the award for Best Singer for his only song. In Shama Aur Parwana, the tables had turned as Mujeeb Alam was the main singer who won praise for his brilliant playback singing in the movie.
Main Tere Ajnabi Shehr Main – Shama Aur Parwana
Masood Rana also won a Nigar Award for Best Singer for this song from Aansoo.
Tere Bina Yoon - Aansoo
Ahmed Rushdi was back and this time he sang an evergreen romantic song with Shehnaz Begum, in Ehsas!
Ruk Jao Abhi Mat Jao - Ehsas
And then there was the classic song by Habib Wali Mohammad in Badal Aur Bijli that is still popular around the world after nearly five decades!
Aaj Janay Ki Zid Na Karo – Badal Aur Bijli
Mid 70s came and Mehdi Hassan took over as Nadeem's main playback singer, churning out hits like this song.
Duniya Ko Ab Kia Samjhayen - Baazi
And then there was this gem from the super successful Aina.
Kabhi Main Sochta Hoon – Aina
Alamgir made his presence felt in filmdom with his version of Mujhe Dil Se Na Bhulana, in the same movie.
Mujhe Dil Se Na Bhulana – Aina
By then A Nayyar had made inroads in the film industry and became every music composer's first choice for playback singing on leading men. After listening to this song, you will know why!
Milay Do Saathi – Amber
Also, Ghulam Abbas came, sang and became a rage in the late 70s, and he even continued playback singing for Nadeem till the late 90s.
Mil Jata Hai Yaar – Pakeezah
And if you didn't know that Mohammad Ali Shehki had sung for Nadeem, well now you do!
Yeh Samaa Pyar Ka – Anmol Mohabbat
Asad Amanat Ali Khan also had brief innings in films before he became huge for his classical singing. Here, he did playback singing for Nadeem, and managed to do a commendable job.
Kamsin Ho Tumhein – Zindagi
Despite all these singers trying hard, Akhlaq Ahmed remains Nadeem's voice in the 80s and even sang a few songs for him in the 90s before he was diagnosed with cancer.
Sona Na Chandi – Bandish
It was either Akhlaq Ahmed or A Nayyar depending on nature of the song, and no one else could have done justice to this song than A Nayyar!
Acha Acha Lago Ray – Bandish
Even young pop singers got a chance to be Nadeem's voice and that included Tehseen Javed who rendered his voice for Nadeem before striking big in the 90s.
Mera Maal Mujhe Lauta De - Hum Se Hai Zamana
One of Mehdi Hassan's final film hits on Nadeem came in 1986, and it was a huge hit. Check out a young Asif Raza Mir (who looks exactly like his son Ahad) standing with the ravishing Babra Sharif in the video!
Main Na Bhulaoonga - Parwana
This song was copied in India completely but so was the one that follows. Yes, the Faisla song Chaya Nigahon Pe Jadu was also plagiarized in India but not the lyrics or composition but the manner in which it was filmed. It was Nadeem's teaming up with frequent collaborator Javed Fazil that produced a song that even across the border was worth copying. It became Kishore Kumar's Chori Chori in Paap Ki Duniya and was filmed on Sunny Deol and copied by Bappi Lahiri.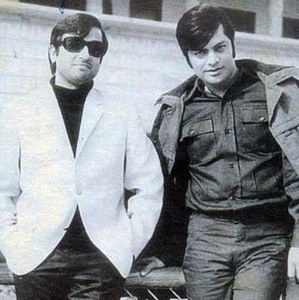 Chaya Nigahon Pe Jadu - Faisla
And after a gap of nearly two decades, Nadeem filmed a song in a movie that went onto become popular last year!
Doston – Superstar