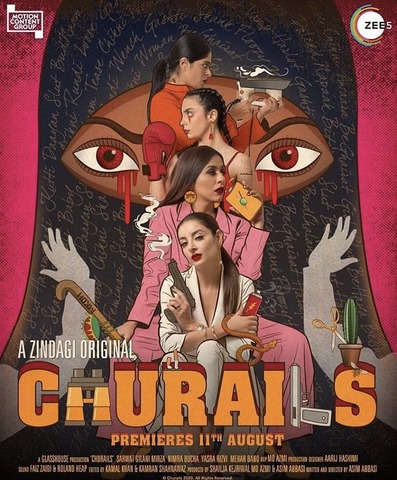 Hear we look at ZEE5's upcoming 'Churails' as Pakistan's original content to come! Check out our take on the trailer.

Move over Netflix, step aside Amazon Prime; the streaming platforms that always thought that Pakistan would never be able to produce original content as good or better than India have been made to bite the dust. And that too by one Streaming Service from across the border - Zee 5.
Instead of watching the countless substandard stuff (you know which ones I am referring to) that wouldn't even qualify for our local TV, Pakistanis now have something worth international standard – Churails.
Written and directed by Asim Abbasi, produced by Shailja Kejriwal, Mo Azmi, and Asim Abbasi under Zee Zindagi, Churails will debut as Pakistan's answer to many Netflix and Amazon Prime web series on August 11th, 2020. And from the trailer, it seems that we are all in for a treat!
The Plot
Four unrelated women from different walks of life come together to investigate cheating husbands and their affairs, and their business becomes successful as there is never a shortage of suspicious wives in the city. While Sara (Sarwat Gilani) takes the decision to start the business after stumbling across her husband's dirty messages, Jugnu (Yasra Rizvi) is a wedding planner on the verge of bankruptcy, Batool (Mehar Bano) is a gifted boxer from a conservative family and Zubeida (Nimra Bucha) is a free woman after spending 20 years in jail for a crime she may or may not have committed. The four decide to teach the cheating husbands belonging to the city's elite a lesson until one of them takes matters in her own hands and commits a murder.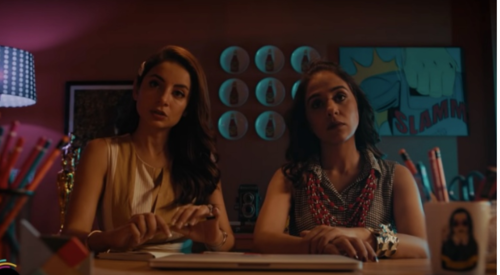 The Good
Good things come to those who wait and it seems we have been waiting for Churails for a long time. Not only is it a novel concept for the local audience, but it will also match the many Indian shows on different OTT platforms that were preferred for being Indian, than any other reason. One of the best TV actresses from Pakistan Sarwat Gillani joins hands with theatre veteran Nimra Bucha alongside two rising stars Yasra Rizvi and Mehar Bano to do away with Saas Bahu, multiple marriages, love triangles with sister in law, the maid or the boss and above all, a psycho who kidnaps women for fun. Asim Abbasi continues from where he left in Cake and delivers a TV show that revolves around real issues, and might even help in letting the audience know that whatever is happening to them isn't normal.
Not only does it have an ensemble cast, it features Khalid Ahmed, Sania Saeed, Omair Rana, Anoushey Abbasi, Fawad Khan (theatre one!), and Adnan Malik in guest roles, and there could be more. The pace reminds the audience of various English TV shows where things happen at express speed, and the matter gets solved in less than 45 minutes. Whether the adventures in Churails are episodic or season-long isn't known as yet but one thing is certain, it will knock you off when it makes its debut!
The Bad
With great concepts come great responsibility; one hopes that the web series isn't a Pakistani version of Ocean's 8 (Danny Ocean's sister doing the same things with con women), Women's Murder Club (four successful women solving crimes), Charlie's Angels (the classic 70s show) or an all-female version of Leverage. The way it has been packaged, it seems to be in a league of its own but you can't be careful with the audience developing its own taste due to OTT platforms like Netflix and Amazon Prime.
Also, as writer Saji Gul said in an interview recently, using cuss words and abuses shouldn't be the only thing to differentiate a TV drama and a web series. Although the makers might know that the number of audience drops when the language isn't appropriate, it would have been better had they kept 'Samuel L Jackson's favorite word' and others for the series instead of the trailer. We all know how many regular cinema-goers didn't buy the Laal Kabootar ticket just because it had some 'muted' words in the trailer, despite being a wonderful flick. Had they kept these words for the series, they have struck the audience where it mattered the most, instead of the keyboard warriors who will have a field day detailing the meaning of the words, and whether their use was even necessary.
The Verdict – Path-breaking!
Although the Burka Avenger similarity is too visible in the trailer, nothing except the costume is the same. The use of Halal, Burqa, Naqab, and other Islamic stuff, combined with Zee as a platform might cause problems for the team behind it. Since it is the first project, they should have been careful than going overboard. Besides that, everything seems in place for an explosion, one that will have the same effect as the one on Sholay's moving locomotive. Bollywood was never the same afterward and same can be said of Pakistan's web series culture that might attract the audience towards itself due to originality.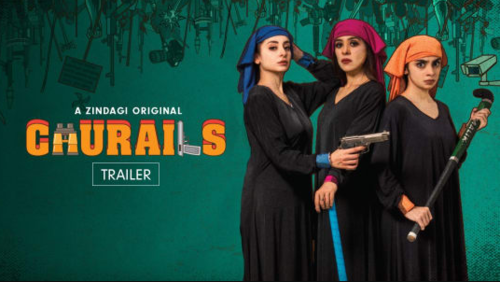 One also hopes that the show doesn't let down the fans of Asim Abbasi and Cake who have high hopes from Churails. The fantastic actresses who are playing characters, the support cast and the way it has been executed makes us wonder if it will help the TV drama or kill it. As much as we want to believe the former, the latter is where the losers might end up.