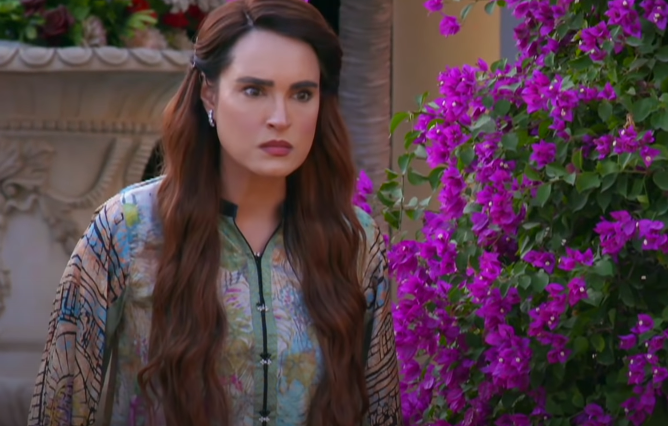 Nadia Hussain brings her A-game to Jalan!

We all know how PEMRA tried to ban Jalan and failed!
The decision was overturned by Sindh High Court and the drama aired in full glory on ARY Digital, reaping ratings and receiving resentment at the same time. The drama has proved that it is quite literally unstoppable. Love it or hate it, Jalan has become a tale that everyone is talking about, even if they are not all praises about it.
Let's review what Jalan's plot has been up to since the annulment of the ban!
A brutal Face-off between Kinza Aapa and Asfi
Kinza Aapa (Nadia Hussain), who returns to the city, gets the shock of her life witnessing the dramatic change in her brother Asfi (Emmad Irfani). She is equally appalled to see Nisha (Minal Khan) tagging along with him everywhere he goes.
But she truly blows up when she visits Misha at her home and discovers what her brother and Nisha have been up to. However, she is not willing to give up on the twisted matter, and compels Misha to return and fight for her place in Asfi's life.
The homecoming of Kinza Aapa does not affect Asfi. A brother who was once doting, mature, and responsible now doesn't care an inch about what his sister will think about him. He even threatens to kick her out of the house if she says a word against his darling Nisha. After all, we were hoping he will be a little bit considerate towards his elder sister, if not with his wife Misha.
So fearless and blinded by Nisha's love, our brazen Asfi misbehaves with everyone, even with Misha's parents, divorcing his pregnant wife and then shoving her away so mercilessly that she falls on the floor. Of course, so crazy about Nisha, he forgot that his spouse was carrying his child. However, that scene was performed way-over-the-top by all the actors involved.
Nevertheless, Misha-who gets hurt during the incident- gives birth to a son. Those who are following Jalan must agree on how fast this all has happened. For someone, who found out a month ago that she is expecting, the drama must have been at a fast and furious pace all this time. The audience probably failed to follow up that Misha is near to her full-term pregnancy.
Our vamp, Nisha is over the moon regardless. She believes she has Asfi in the palm of her hand. But does she?
The promo of the next episode shows that Asif is drawn towards his new-born son and an insecure Nisha is now scared that she might lose her lover boy.
Thumbs Up for Nadia Hussain
We loved Nadia Hussain's performance in the past two episodes. Aggressive, authoritative, and portraying herself a total boss woman, she nailed Kinza Aapa's contempt and loathing for Nisha. We rooted for her when she was teeming with rage and screaming at Minal Khan. We sincerely hope her character stands strong in the future as well and she helps in bringing Nisha to book.
All of Jalan's viewers must be united on at least one agenda: Let's all murder Asfi's character. It is mind-boggling how someone can be so hard-hearted and unpitying towards those around him. He doesn't realize he is being played by Nisha, who is greedy and selfish. She loves him for his money, his luxurious home, his expensive car, and the extravagant gifts. But our silly Asfi has become short-sighted that he is willing to destroy all his relationships for a woman who is not even worth it.
But there is also some serious flaw in Asfi's characterization. He was shown as classy, strong and so refined at the beginning of the story. Now he believes, that his own choices and decisions were a huge mistake. This proves he admits he is weedy at determining the best for himself. How can his character then be so sure about Nisha?
On the other hand, we are sure that Nisha's character is suffering from a Narcissistic personality disorder. She is cruel, manipulative, lacks empathy and only thinks about herself. But we wonder what the writer, Sidra Sehar Imran has planned for Nisha's fate.
Let's see what more fire Jalan will be spreading both on and off-screen. Are you watching the drama? Let us know in the comments below.