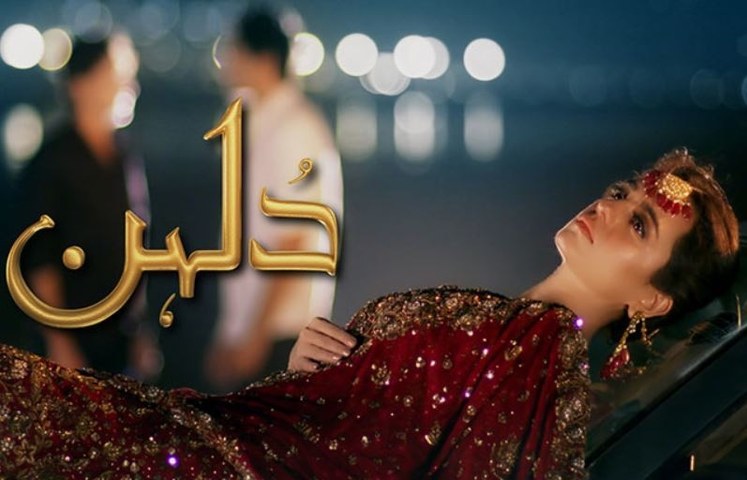 We look at why the latest drama serial, 'Dulhan' is trending on TV and the web, occupying leading spots!

When was the last time you saw a drama that didn't revolve around the typical Saas Bahu issues, featured a vengeful character or someone on a suicidal mission on our TV? With HUM TV's new drama Dulhan, we get a new kind of drama serial that is more Netflix or Zee 5 worthy than most of the stuff currently on air. Why? Because it's a drama about youngsters, written by a youngster and directed by one as well. The 'keep the audience connected' feel is there from the word go, with twists and turns to make the plot all the more suitable for both binge-watching and weekly viewing. So far, only three episodes have made it to the screens but the amount of stuff that has happened is equivalent to ten episodes of the usual run-of-the-mill dramas we skip daily.
The versatile Sami Khan at his very best
This might not be the first time Sami Khan has played a bad guy in a play, but yes, this is the first time where he has gone from good to evil in no time. Until the final few scenes of the second episode, Sami Khan's Mikaal was the perfect guy to marry. He was courteous, caring, loving, and understanding all at the same time, but as soon as he burned the one thing binding him to the Dulhan, the audience lost it. In the third episode, a different, careless, and a more animated Sami Khan appeared in front of the audience who is not a student anymore but hasn't settled in the new life, he has the presence of mind to make a bet but hasn't matured enough to realize its consequences. The one person he is scared of is his fiancée (Mashal Khan) who is also the sister of Shahmeer (Faizan Khawaja), the guy who lost the bet to Mikaal. Will his mother (Shaheen Khan) find out why the two cousins were fighting, how Shahmeer's car came into their house before he did, and why Mikaal is so terrified of her niece, that's something we will have to wait for.
Underrated Faizan Khawaja raises the bar, again!
Faizan Khawaja is one of the most underrated actors of this generation; not only has he studied acting and filmmaking from abroad, but he has also been around for some time delivering good performances in both TV and films. He usually plays either the very good guy or the very bad one, but here he gets to play both, a confused Shahmeer who wants to avenge Amal (Sumbul Iqbal) for the slap she delivered, and also show her that money can have benefits. His vengeful side is what makes the audience hate him, but he is also not encouraged by his family and friends. They know he is a loser who lives on his dad's money and that is why they make fun of him, making him lose patience every now and then. His chemistry with Sami Khan is interesting as not only Mikaal and Shahmeer are best friends, they are first-cousins with Mikaal being engaged to Shahmeer's sister. That's why he decides to help him, but will Mikaal return his car now that the girl is out of the equation, that's the million-dollar question!
Sumbul Iqbal leads the girl squad
Usually in our dramas, the leading lady is someone who is either too rich, too poor, or looks like someone who is born in the wrong environment. In Dulhan, we have a mixture of all four in Sumbul Iqbal who lives with her father and stepmother, has young step-siblings to look out for, studies in a university, and works in a boutique to support her family, and would have had a good life had she been born elsewhere. Her character is that of a typical girl who finds love in unusual places, but for a change, realizes that she was part of a wager between two friends, and ran away from the place to save her honor. How she will comeback from the humiliation she has suffered is what makes the drama more interesting.
Then there is Laiba Khan who impressed all with her acting in Tarap as the younger sister who rebels against her strict elder brother. Here, she plays Amal's stepsister who realizes that the way her mother is treating her is not right. Finally, there is Sonia Nazir, another underrated actress who should not be doing supporting roles, since she has all that it takes to graduate to the main league. She and Faizan Khawaja released a dance video a couple of years back that went viral, because a) they set the screen on fire, and b) they shared crackling chemistry. Why she is still playing the heroine's friend on TV is still a mystery and it's about time that some director notices her and gives her the kind of role she deserves.
Life exists outside the Saas Bahu universe
There is more to life than just Saas-Bahu sagas and the sooner we understand that, the better. With Nida Mumtaz playing a Cinderella-style stepmother who wants everything for her own kids, the drama breaks out from the regular TV stuff. She is amongst the three antagonists of the story but at times she does show glimpses of being a good person, like in the first episode or when she finally realized what had happened to Sumbul Iqbal's Amal. Then there is Mirza sahib, the father played by Mohammad Ahmed who dies in the third episode from a shock that was his own creation. He gave away his daughter to someone he barely knew, got her nikahfied, and left her alone without once realizing that no relative or friend was part of the ceremony and it could be something fishy. The scene where he suffers a heart attack has been brilliantly done and ranks as one of the best, amongst all his recent death scenes.
A drama for the youth, by the youth!
And finally, we have a young writer Adeel Razzaq teaming up with a young director Adeel Siddiqui to give something that is targeted at the youngster. While many adults felt that the second episode gave the wrong message to the youth, the third one rectified it as the guy losing the bet also lost the girl he thought he had won. Not only was the gap between a stepmother and stepdaughter highlighted, but the conscience of the younger sister was also stirred when she saw her mother doing something that she shouldn't have done. With just three episodes, Dulhan has given us so much, let's hope that the play continues to rise and break records with the coming episodes, instead of going down the drain from top position. With fresh blood as writer/director, it can emerge as one of those plays that gave rise to a team – the two Adeels – who can go up from here with their hard work and dedication.