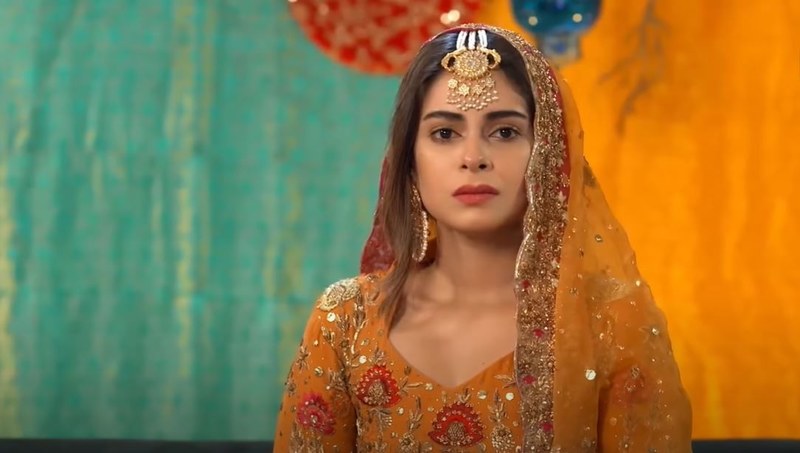 GEO's 'Qayamat' has us eager to see how Samra will handle the new burdens of married life, as Haroon Shahid enters the picture.

Qayamat's fourth and fifth episode see the stakes only getting even higher with Samra's marriage to Rashid getting finalised and the uniting of two households that could not be more different. With the two parallel stories somehow colliding, Samra chooses her parent's respect over her chance at love with Saad.
The Plot
Samra (Amar Khan) has made it clear that nothing comes before her parents' respect. The very reason she's following through with the mistreatment from her in-law's Nargis (Saba Faisal) and her sister, 'Nadra', played by Zainab Qayyum, is to save face for her family's sake and their reputation. Where her father (Noor-ul-Hassan) refuses to stand up to his older brother and Ifrah (Neelam Muneer) is all too willing, Samra silently accepts the chaos that is transpiring, referring to it as her predestined path. With a final goodbye to Saad (Haris Waheed), Samra sacrifices any happiness she may have a shot at for a marriage that nobody except Mukhtar Sahab wants, brilliantly orchestrated by Shabbir Jan.
To make matters worse, Nargis and Nadra seem as horrified by Jawad's infatuation with Ifrah as Samra is when seeing Rashid's true character come out. Ahsan Khan truly does an impeccable job of playing the antagonist, maintaining a look of indifference throughout the event while ignoring his new bride, like his mother, who does not even welcome Samra into their new home, despite other family members urging them to follow the festive customs.
The Prodigal Son Returns
Haroon Shahid plays 'Jawad', Rashid's younger brother, and the audience could not be happier to see how he turned out in comparison to his older brother. Where Rashid is irrational and hasty, Jawad is kind, soft spoken and thoughtful, and seems to be quite smitten with Ifrah and vice versa as he implores Samra not to make any decision she will regret, and treats her with kindness, unlike his family members.
Ifrah's Last Stand
Neelam Muneer's fiery Ifrah does not seem to back down, even when it comes to procuring money from Mukhtar Sahab for her sister, which he accepts. Ifrah's personality contrasts Samra's meekness as she cannot tolerate Nargis talking down about her family and their financial status. Jawad himself is taken with her outspoken and bubbly personality, not attempting to conceal it. However, both cousins are hopeful that Samra's marriage to Rashid works out, despite Ahsan Khan's character still harbouring feelings for his old and current flame, 'Pari' (Sana Fakhar).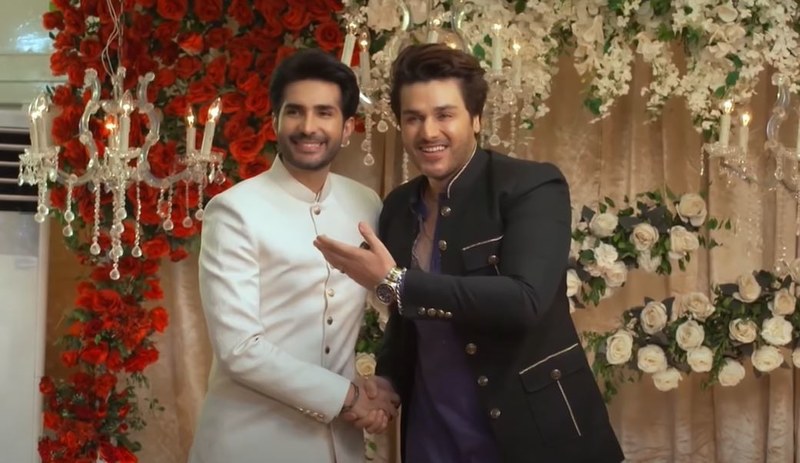 An Adeel Chaudhry Surprise
We have to note the dapper Munafiq actor's guest appearance as one of Rashid's friends at the wedding, dressed to perfection as always with a signature lapel.
Now we wait in anticipation as the next episode of Qayamat will give us an insight into Samra's newlywed life to Rashid, something her family is also concerned with. We see how her mistreatment only worsens in the story, leaving us to hope for Ifrah and Jawad's pair to bring something positive into the picture.