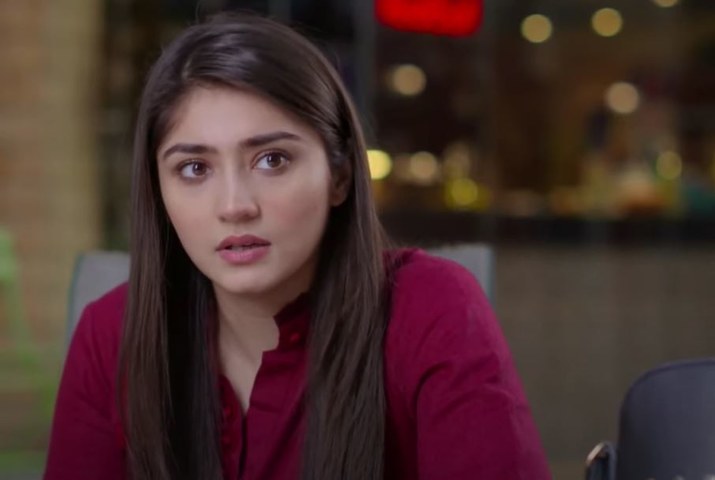 The last 4 episodes of drama serial 'Bharaas' have us eager in anticipation with its action-packed storyline.

ARY Digital's drama serial Bharaas has been upping its game with fiery episodes building up to an intense unfolding of events. With brilliant performances and strong dialogues, the audience is waiting with bated breath to see what's to come next.
Featuring a stellar cast, Bharaas has Omer Shahzad, Dur-e-Fishan Saleem, Furqan Qureshi and Zubab Rana in leading roles. With a wonderful supportive cast, boasting Salman Saeed, Behroze Sabzwari, Shaheen Khan, Shaista Jabeen, Musaddiq Malek, Noreen Mumtaz, Rabia Kulsoom, Tara Mahmood, Khalid Anam, and Shazia Qaiser. The drama revolves around the breaking of trust, respect and the worst kind of betrayal. With our main heroine Zoya, played by Dur-e-Fishan, we see the growth of character as she begins to stand up to her second husband after enduring as much disrespect as she can. However, Kamal (Furqan Qureshi), is consumed by other things pertaining to financial status, and plots his way to his own demise as Hassan (Omer Shahzad) is made aware of his plans.
Zoya Slaps Back
After putting up with her limit of taunts from Kamal, Zoya finally shuts him down with a very cathartic slap, leaving him and her phuppho (Shazia Qaiser) shocked. Not only has she suffered a miscarriage, but now Kamal begins to force her to get a job. However, Zoya is one tough cookie, refusing to let her manipulative husband control her life, and she begins standing up to him without any fear, to his dismay. Not only is this gratifying but tragic as well, as we see how Zoya's depression, mistreatment and loss of her 'Abi' (Khalid Anam), have changed her as a person, including the moment she tells Hassan she has already lost everything.
Kiran's Record Breaking Break-downs
The amount of times Kiran gets caught in her own lies or starts crying in front of her in-laws is countless. Now that everyone is being exposed for their crimes, Zubab Rana's Kiran is not one for confrontation. Getting stuck in a web of lies, Kiran's fate is the biggest shock factor after she is continuously terrorised by Kamal for her tricks and deceptions. Taking a hand full of pills after being locked in the room by Hassan, Kiran decides to take her own life, although she survives, she keeps threatening to do so to save her failed relationship with Hassan, who can't seem to be around her after seeing the truth.
Kamal ka Kamal
Furqan Qureshi truly has us entertained as the antagonist Kamal, who talks a big game but would rather steal credit cards and blame his wife, as we see him snatch up Hassan's credit card before being found out by Zoya, who is already suspicious about the bangles he had obtained from Kiran. Kamal ends up showing up at the Hassan-Kiran household, where he further pressurizes Shaheen Khan's phuppho and Kiran to give him the sum he desires, before threatening to expose her scheming. Furthermore, when Kamal is finally caught he manages to zoom out of the scene and cause more devastation in his absence as he leaves a very anxious Kiran vulnerable and on the verge of yet another breakdown. After the 61st episode, it seems that he'll be having to look for a new home very soon...
Hassan and Zoya Reunite?
A very jaded and indifferent Zoya, played to perfection by Dur-e-Fishan, tells Hassan about his credit card theft, also exposing Kiran's true colours and the reason for their horrendous divorce. Omer Shahzad manages to emote confusion to a tee, with Hassan remaining perplexed until Sasha (Rabia Kulsoom) makes sense of his ambiguity by telling him all the strange happenings going on in his own household, and the plots which led his loving marriage to its doom. After Zoya admits she has nothing more to lose, she leaves the situation as it is by handing him his credit card with a reality check on the side. This prompts Hassan to take his brother Mansoor (Salman Saeed) and go confront Kamal, who akin to the road runner, flees the scene, before the former returns to his second wife's overdose, blackmail, and the messy aftermath that follows.
What's happening in Sasha's household?
There is more than meets the eye, with Sasha and Taimoor being a powerhouse, another tale of envy is unfolding, with Tara Mahmood and her daughter Mahira (Noreen Mumtaz) planning to overthrow Taimoor by getting him arrested and taking over his business, thus throwing Sasha out of the house but, plot twist, her father in law passes away due to the stress from what Mahira has done in Taimoor's name.
What can we expect next? Tune in and see the next episode of Bharaas for more!