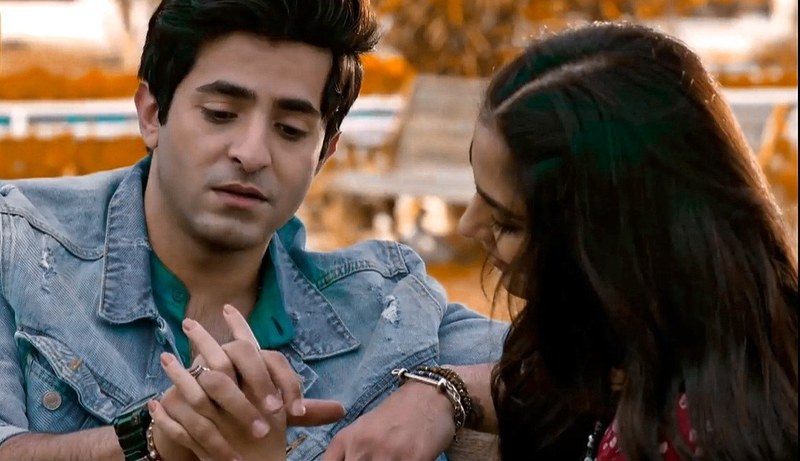 Drama serial 'Pehli Si Muhabbat' has us remembering our first love with its riveting story!

Pehli Si Muhabbat had everyone talking after it aired last week, it remained in the top 10 on YouTube throughout the week. The Maya Ali and Sheheryar Munawar duo is back again on TV screens after a hiatus and it's safe to say that the audiences are totally loving their sizzling chemistry on-screen! Pehli Si Muhabbat has been penned down by Faiza Iftikhar while the play has been brilliantly brought to execution by director, Anjum Shehzad.
The Story So Far
Pehli Si Muhabbat's second episode was eagerly awaited by all. Rakhshi and Aslam's love story begins to bloom through the stolen glances the duo share with each other from across the street to Aslam sprinting behind Rakhshi's college van. We also find out how Rakhshi and Aslam used to tease and play pranks on each other as kids.
On the other hand, Rakhshi's father Faizullah is cornered by the neighbours to leave the 'mohalla' and move elsewhere. However, his new beau (Rabia Butt) saves the day by giving him her precious jewels to sell off, in order to pay the landlord. Akram continues to act as the strict old brother and is seen telling-off Aslam on using his motorcycle without his permission. Just as we get used to the idea of a full-blown romance with our doe-eyed couple, Rakhshi learns that her father is thinking about getting her married to a friend's son.
The Good
We are absolutely head over heels in love with Rakhshi and Aslam's beautiful love story that will remind you of a classical romance from the yester-years. Sheheryar Munawar nails the lover-boy look with his killer smile and Maya Ali portrays the perfect girl-next door, shy and modest. It was a beautiful attempt by the director to connect the past with the present through the 'imli' that Rakhshi leaves at Aslam's house as a message for him. Rakhshi and Aslam's scenes are an absolute treat to watch, watching the pair giddy in 'first-love' brought a wide smile to our faces!
Rabia Butt who plays Nargis (Rakhshi's step-mother) owns her scenes with impactful and power-packed dialogues. Her scene with Shabbir Jan where she persuades him to sell her jewellery will force you to think about what really is the concept of 'halal' and 'haram' income in our society. From the supporting cast of the drama, Saba Faisal's witty dialogues are what give the drama an added comical push and have made us laugh out loud in this episode!
What's Next?
After a mind-blowing second episode, we are eagerly waiting to see what happens next, will Rakhshi and her family be moving away, if so what will happen to the two budding love-birds?
Watch the next episode to find out!