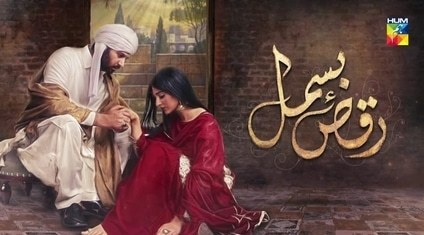 The Raqs e Bismil plot thickens with the return of Sakina's beau, but will he be successful or will he fail?

With Mushk ending, fans of Imran Ashraf will divert their complete attention to Raqs e Bismil for the actor is in supreme form as 'Moosa' in the Wajahat Rauf directed play. Written brilliantly by Hashim Nadeem, and supported by the surprise package of Anoushay Abbasi, Momin Saqib, and the always dependable Mahmood Aslam, the play is doing extremely well because of its flawless execution, and gripping storyline. It may follow the typical boy-falls-in-love-with-a-fallen-girl format, but never before has love been portrayed like a separate character, and that's what makes the viewers dance to the tunes of Raqs e Bismil.
The Plot
After Moosa (Imran Ashraf) is humiliated and embarrassed in front of his family, his father Pir Qudrat Ullah Shah (Mahmood Aslam) nominates his youngest son Essa (Momin Saqib) as his heir, in front of Moosa's future father-in-law who shows his concern over the sudden change in the proceedings. After finding out the reason, he consults his wife and is about to break off the engagement but Sitara (Faria Hasan) is adamant that she will only marry Moosa. In order to convince Zohra (Sarah Khan) to make Moosa forget her, Moosa's mother (Nida Mumtaz) visits Anna's place and begs Zohra to meet her son one last time and tell him to marry the person he is destined to. And then there is Malik Sheheryar (Furqan Qureshi) who has fallen head over heels in love with Zohra and wants to marry her. He even invites her to a party thrown especially for her, but Zohra isn't impressed.
The Good – The story is gripping, the performances first rate!
Every actor in this drama is playing a character and you don't see Imran Ashraf but Moosa, Nida Mumtaz but mother, Momin Saqib but Essa, Sarah Khan but Zohra, Mahmood Aslam but Pir sahib, and so on, and that's what makes them all give their very best. The scene where Moosa and his mother had a discussion was amongst the best of the last three episodes, and if you forget the Mera Dil Bhi Aap Ka Koi Hindustan Nahi kind of lines, it was executed brilliantly. For a man who has fallen in love for the first time, and for a girl who looks like a vision even in a burqa, both Imran Ashraf and Sarah Khan make an ideal couple. He hasn't loved anyone, and she hasn't been hated by anyone; his upbringing kept him on a single track, her brought up resulted in her becoming a flawless beauty; he has to marry another girl his parents selected, she has so many admirers that she has lost count.
And then there is the other track, where Mahmood Aslam's Pir Sahab is emotionally blackmailed by his sister in law (Juvaria Abbasi) so that he doesn't kick Moosa out of the house. The scene where the father asks Essa to help him with his sandals, and Moosa to help Essa with his had a lot of meaning, but only for those who understood. The plot thickens with the arrival of Sakina's beau (Taha Humayun) but how does it complicate matters remains to be seen. After all, Anoushay Abbasi is at her vengeful best as Sakina, and her mother's reaction to her bitching is typical, yet entertaining. One must not forget Nida Mumtaz here for the way she carried herself in the house of Anna Jee (Gul e Rana) showed that she was from a royal household later, but a mother first the life of whose son revolved around her before she fell for Zoya.
The Bad – The editor needs to be more attentive while doing his job!
How Murad Ali knew that Zohra would be going to her university in her car when she herself wasn't sure? That scene was a little too hard to digest, but a director can take creative liberty; Saleem Meraj's character wouldn't have been able to confront her in a public transport, and get away with it, right? Also, In the last three episodes, the one thing that was constant is the repetition of a few dialogues; it's not like the dialogue was not asserted before, it's as if the editor forgot to remove the second instance (or in some cases, the first one) just because he was not paying attention. The 'Abhi To Main Ne Saza Di Hi Nahi Hai' was there twice in two minutes, and so were many other lines that should have been chopped had the person assigned to chop them, had chopped them off.
Also, in some of the sequences, the camera movement or the camera placement was questionable; such as in the restaurant that becomes Moosa's meeting point. One of the angles gave the impression that someone was watching from the keyhole when it was just an attempt from the cinematographer to be creative. The headroom in the mother-son clash in the eighth episode was too much, especially when the camera was on Nida Mumtaz's character, and could have been rectified in the post-production, but wasn't.
The Verdict – Raqs e Bismil keeps the viewers on the edge of their seat!
Raqs e Bismil doesn't let you get bored for a moment, for the story has many angles, some of which aren't explored fully yet. Will Moosa marry Sitara but still love Zoya; will Malik Sheheryar beat Moosa to become Zohra's partner; will Sakina's boyfriend rescue her from a forced marriage and take her away; will Moosa be restored to the rightful position as his father's successor and/or will Essa develop the courage to tell his father that he can't be the son he wants because Moosa earned that position. These are some of the questions the viewers want answers to, and in coming weeks one hopes that in the coming weeks, things will be clearer, and there will more points to ponder for the viewers. HUM TV must be commended for going for an off-beat play that revolves around religious families, as well as homes of fallen women rejected lovers and corrupt rich men who want what their heart desires, by hook or by crook!