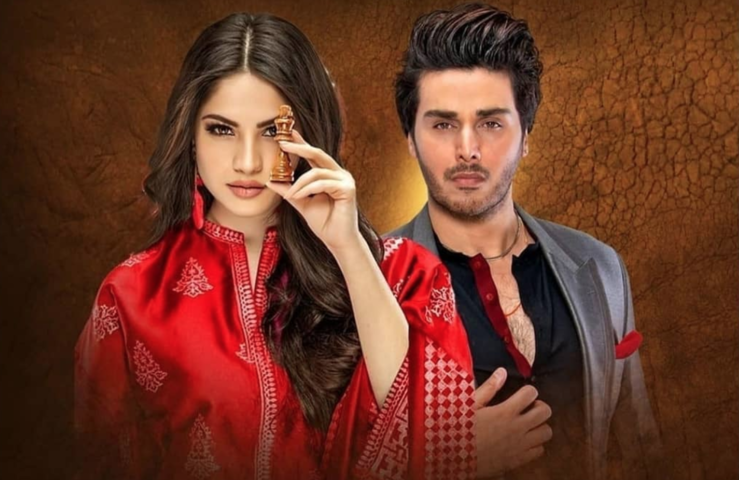 Qayamat continues to keep its audiences hooked, obtaining a fantastic achievement of 9.5 TRPs!

Qayamat's 22nd and 23rd Episode raised the bar with excellent performances by the leading duo Ahsan Khan, Neelum Muneer and the veteran actors Noorul Hassan and Shabbir Jan. Ifrah's fight for justice and vengeance continues as Qayamat nears its climax!
The Plot
The fiesty Ifrah (Neelum Muneer) had come across some property files that her father in law Mukhtar Sahab (Shabbir Jan) had kept hidden from her father Fayaz (Noorul Hassan). After getting them checked by a lawyer she uncovered her fathers forged signature that were used to sign over the property to Mukhtar Sahab. She was ready to fight for her family and called out Mukhtar Sahab for the fraud he had committed against her family, Ifrah demanded justice and called her father disclosing all the matters to him. However out of the sheer greatness of his heart, a heart-broken Fayaz signed away all the property that was in his name to his elder brother as he felt his trust was broken by the person he trusted the most. Back home, Fayaz was flooded with memories from the past and couldn't help but cry over the betrayal he felt from his brother, he hid the unfortunate news from his wife as she was already in great pain.
Rashid (Ahsan Khan) tried to add fuel to the fire by starting a fight with Ifrah, however she paid no heed to him and overpowered him when he tried to push her. Instead of the one giving threats, Ifrah threatened Rashid on leaving him and taking his daughter too. She also told him to stop meddling in her affairs otherwise she would create more problems for him.
The Veteran Actors Ruled With their Powerful Performances
Noorul Hassan playing the timid, powerless Fayaz grabbed eyeballs with his powerful performance. He readily parted away with all the money and property even though he needed it for0[0==-;[[- his wife's operation. The betrayal he felt was shown impeccably through his emotions. Shabbir Jan on the other exceptionally quiet throughout the scene but one could feel the shame he felt. \Mukhtar sahab finally changed his ways and made ammends after giving his brother his rightful share of the family's wealth.
Ahsan Khan and Neelum Muneer are setting the stage on Fire!
The duo have an amazing on-screen chemistry, even when they are fighting each other in every scene, Ahsan Khan and Neelum Muneer are definitely grabbing loads of eyeballs! We can't wait to see how their relationship progresses further on, with an ever-changing Rashid, it may be possible that he completely transforms into a caring husband but will Ifrah be able to forget her revenge and move on with him? We love how Ifrah has got the entire household on their toes, we are yet to see whether they will realise their errors before it is too late.
What's Next?
After Mukhtar Sahab officially gave his brother a share from all the properties, how will Rashid and his mother react to this news? Will their attitude towards Ifrah and her family finally change?
Watch Qayamat on GEO TV every Tuesday and Wednesday at 8 PM.