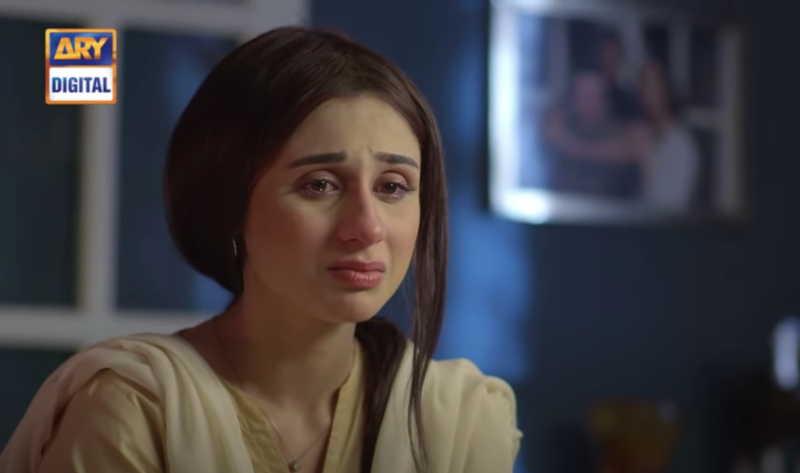 Mashal Khan's Meera is forced to give her marriage a second chance due to increasing pressure from her elders

Khwaab Nagar Ki Shehzadi on ARY Digital boasts of a stellar cast that includes Mikaal Zulfiqar, Mashal Khan and Anmol Baloch in the leading roles. The play is another mega-project under the banner of iDream Entertainment and is directed by the brilliant Syed Ramish Rizvi.
The Story So Far
The gorgeous Meera (Mashal Khan) faces the most difficult time of her life, with a husband who cheated on her with a maid who then ends up becoming his wife. Meera's mother and mother in law both insist on Meera returning back to her house, giving her marriage to Saim (Mikaal Zulfikar) another chance. A steadfast Meera kept refusing and did not wish to compromise however her son could not take the on-going tensions in his life and fell severely ill, upon his insistence and for his betterment Meera was forced to swallow the sour pill of going back into a loveless marriage.
Just as they were beginning to settle back in, Hassan's principal informed Meera and Saim that their son is no longer welcome at the school as the other parents had complained of the school's spiralling standards after news of Saim's marriage to their maid had spread like wildfire. She explained it was unacceptable for the other parents to have their children study in the same school with him.
Things at their house are different now that Saim and Sehar (Anmol Baloch) are married, an angry and frustrated Saim gives no importance to Sehar as Meera and his mother are back, this has been annoying Sehar and she comes up with a plan to eliminate her competition. She begins her devious plan by spilling oil all over the stairs to ensure Meera falls down and loses her unborn child. She casually blames it on Meera saying she was the one who brought petrol a night before and burned all of Sehar's clothes as well.
Mashal Khan's Meera Delivers a Power-Packed Performance
Mashal Khan is playing Doctor Meera in the drama, she is the modern working woman who believes in equality and empowering women. Looking out for Sehar when she was being sold to an older man by her father was how Sehar came into their lives and decided to steal it. Mashal Khan's scene with her mother speak volumes about the opinions that the society forces on women who want to fight for themselves. Delivering hard-hitting dialogues, Mashal Khan has perfectly embodied the story of thousands of women who have been in her shoes.
Anmol Baloch Plays the Perfect Vamp!
Is there anyone we could hate more than the sweet and sultry looking Sehar? From her devious plans to conniving tactics she was able to get all that she dreamed off in a short span of time. Sehar is now out to destroy Meera after taking over her life entirely, we are anxious to see how the storyline progresses further.
What's Next?
Will Sehar be successful in harming Meera and her unborn child? We are anxiously waiting to see if Saim will be able to win back Meera after the chaos he's caused in her life.