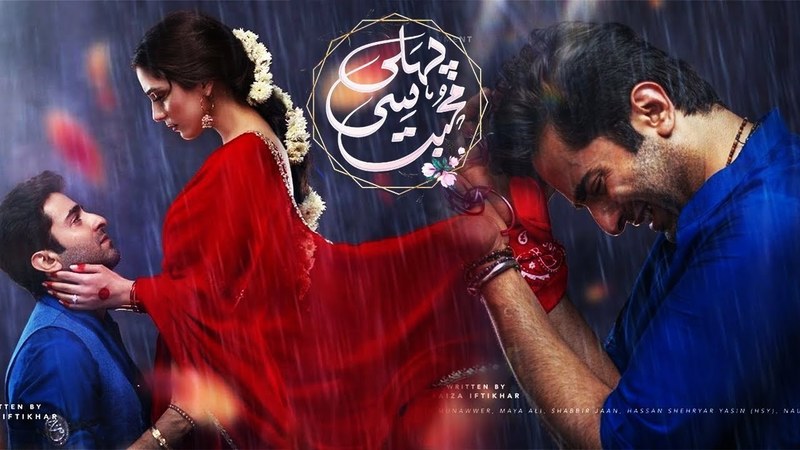 The Story So Far
Rakshi and Aslam's love story faces a terrible fate after her father Faizullah (Shabbir Jan) refuses Aslam's proposal for her. Instead he chooses to marry his young daughter to an older Sikander (Salim Meraj), why he does this is beyond anyone's comprehension. In some ways Faizullah seems to be highly influenced by his friend Nawaz's antics and is blindly following whatever he says. The two old friends decide to confront Akram (HSY) at his shop in the market about interfering in Rakshi and Sikander's marriage, a monstrous argument takes place and Faizullah and Akram end up fighting, hitting each other with fists. During this fight Akram accuses Rakshi to be running after Aslam and that is why they had no choice but to send her a proposal from their home even though they had no intention to do so.
The news comes as a shock to Faizullah and he interrogates Rakshi at home, in a scene that had us trembling with fear, Rakshi denies knowing Aslam as she is completely overtaken by fear of her extremely angry father. Nargis asks Rakshi to face the consequences and show some bravery but Rakshi asks her not to say anything, Nargis is disheartened and tells Rakshi to prepare for the wedding since she has decided to hide the truth from her father. On the other hand, flashbacks from the past haunt Zainab while in the present her husband tortures her with his verbal abuse and hurtful taunts.
The Good - Applaud Worthy Performances by the young and veteran star cast
Kudos to Shabbir Jan, Maya Ali and Rabia Butt for acting flawlessly throughout this scene. Shabbir Jan's thunderous voice was enough to make anyone's heart stop, let alone the angelic Rakshi (Maya Ali) who we could see couldn't breathe because of how frightened she was at the time of his interrogation. Rabia Butt as Nargis, Rakshi's step-mother repeatedly tried to step-in and diffuse the threatening situation and finally saved Rakshi by answering her phone pretending it was a girl on the other end although it was Aslam.
The latest episode left us in tears, not only once but in various scenes. Finding out bits and pieces of Zainab's past and how terribly she was treated by her mother and brother shows us a window into why Zainab's character is the way she is, someone who is dead on the inside yet living her day to day life while being completely detached from her present life. Uzma Hassan has nailed the portrayal of Zainab to the T.
Maya Ali's shrieks and cries were difficult to watch without reaching out for a tissue, she may not have said much but her expressions are to die for in the play and are a gateway to what her character is feeling at the time. Sheheryar Munaver plays the perfect Romeo to his Juliet, Aslam is the hero every girl wants! Searching high and low for his Rakshi and willing to go to all lengths for her, Sheheryar has caught our eye for sure!
The Bad - Did this Romantic Saga Need another Villain?
We believe the addition of Sikander, a much older man who was Zainab's ex-lover marrying Rakshi was a twist that was definitely not needed in the on-going love saga. Like every classical romance, the head-over-heels in love couple not only has opposing parents and siblings as villains to worry about but now and added Sikander who is taking his own vengeance on Aslam's family through Rakshi has also entered the storyline! How is this fair on Rakshi who is being punished for the sins of others? We hope Sikander realises his mistake and backs off from the marriage himself.
What's Next?
As the story progresses further on, we wonder if Zainab will face Sikander and ask him to change his mind about Rakshi? Or will Rakshi finally muster up the courage to tell Faizullah about her relationship with Aslam. Watch Pehli Si Muhabbat every Saturday at 8 PM on ARY Digital.