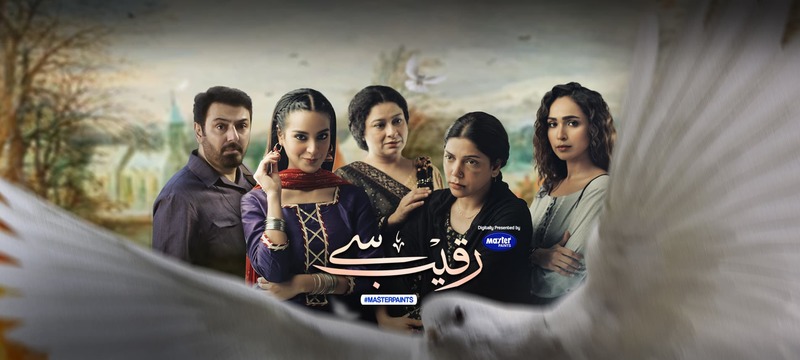 Mind-blowing performances and an intriguing storyline have us hooked!

The drama features veterans Sania Saeed and Noman Ijaz, the gorgeous Iqra Aziz, the sultry beauty Faryal Mehmood, Saqib Sumeer and lastly the cast is joined with songstress Hadiqa Kiani who has made her debut with Raqeeb Se. Inspired by famous poet, Faiz Ahmed Faiz's poem, the dynamic duo of writer Bee Gul and director Kashif Nisar have created another blockbuster play that has us hooked!
The Plot
With two back to back episodes this week, Raqeeb Se's storyline has had quite a few developments and the story takes another turn after Hajra Begum (Sania Saeed) is upto a plan of her own accord to get Maqsood (Noman Ijaz) and Sakina (Hadiqa Kiani) married, and to execute her plan she decides to take help from Maqsood's elder brother Masood (Salman Shahid) and his wife Atikah (Saba Faisal) The new entrant to the play, Kashif, Atikah and Masood's son is a foreign return and is shocked to hear about his aunt Hajra's wishes. Sakina finally opens up about being threatened with Maqsood's death by her brother and in order to save him she testified against him, she admitted to ruining his reputation by sending him to jail but she only did it to save his life. Masood asks Maqsood to send Sakina away until his elections get over since he does not want any issues being caused by her husband Raqfiq Ali (Saqib Sameer)
Abdul finally gets a job and things are looking up for him and Insha, however, the ongoing tensions at Insha's home have her worried and she gets annoyed at Abdul for his insensitivity on the entire matter. Maqsood decides to get Insha (Faryal Mehmood) married off as soon as possible to avoid any mishaps caused by Rafiq Ali.
Ameera is upto no-good as she continues to cox her mother Sakina into leaving the city by blaming her for everything happening in Maqsood's life. Ameera also points out how Rafiq Ali is making things difficult for Masood and his election. The question remains, will Ameera remain in the city and is that why she wants her mother gone?
What is going on between Ameera and Maqsood Sahab?
What seemed like an innocent fascination for Maqsood Sahab seems to be slowly turning into an infatuation for him, from talking about her mother Sakina and Maqsood's past frequently to leaving college early just to spend some time with him, Ameera has us confused with acting like a girl giddy in love to one who is nothing less than a child, when she hugs Maqsood after Sakina slapped her, we were reminded of a little child running to her father for comfort. It also seems like she is the only one who is able to make Maqsood laugh and can freely talk to him about anything under the sun.
Sania Saeed's Hajra and Hadiqa Kiani's Sakina are a treat to watch!
Hajra and Sakina have the audiences confused, one being Maqsood's wife and the other being his ex-lover, the two share a surprisingly cordial relationship with each other. They spend the whole day together and also lend each other moral and emotional support in times of need. While it may be difficult for viewers to understand Hajra's character, the story slowly seems to be opening up on why she acts the way she does, in the latest episode she talks about the sacrifice Maqsood made by marrying her which she now wants to pay back by getting him married to decades old 'Mehbooba' Sakina.
What is the big Secret Surrounding Raqeeb Se?
The final scene from the latest episode has raised a number of questios for viewers, what was Hajra going to say to Insha just when Maqsood entered and signalled her to remain quiet? Faryal Mehmood and Sania Saeed give a wonderful performance in this scene and one can feel the tensions rising. We are now anxiously waiting for the next episode to find out more.
Is Insha Blind in Love?
Over time, one has to wonder what does Insha see in Abdul? A parasite of sorts who has been using her all this time, while Insha is strong headed, bold, confident and financially independent. The two have no match and is it pity that she feels for him or is it truly love is the question on our minds? The two are undeniably at polar ends, but maybe this is what attracts them to each other too, we are anxious to see how their story unfolds too as the play moves on.
With an excellent cast, brilliant performances Raqeeb Se continues to blow us away with every episode. Every character has played their role beautifully well and we wouldn't have it any other way!