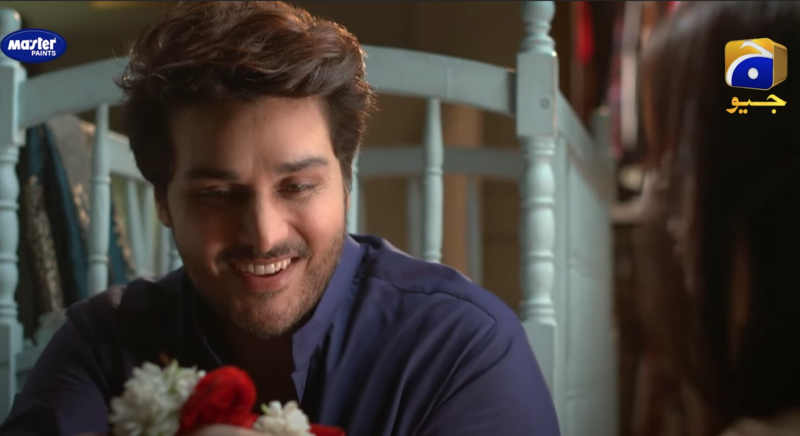 Qayamat's 34th and 35th episodes have raised the bar with intense drama and unexpected twists along the way. Power-packed performances by the leading duo Ahsan Khan and Neelum Muneer have created quite a stir. The riveting storyline has us hooked as it races to its climax!
The Plot
Ifrah saves her father from marrying the fraud woman Parveen (Faiza Gillani) who was slowly poisoning Fayaz (Noorul Hassan) in order to marry and steal all his wealth from him. Ifrah had the culprits arrested with help from her father's friend.
On the otherhand, while Ifrah is busy with her sick father, scenes with Pari (Sana Fakhar) and Rashid (Ahsan Khan) are sure to leave you nauseated. We wonder whether Rashid has ever heard of the saying, "fool me once, shame on me, fool me twice, shame on me!", after being tricked by the fraudster Pari, Rashid instead of learning from his mistakes is walking on the same path once again and is back to his old womanising ways. Pari is simply taking advantage of him and wants to con him of his money by giving him false hopes of starring in a movie with her as the hero. Rashid who is easily influenced by others is ready to invest in the so-called movie scam that is headed by Pari, little does he know he's in for a nasty surprise.
The new entrant Urooj (Sidra Niazi) who is soon to be Jawaad's fiancée has put a new diabolical idea into Nadra's (Zainab Qayyum) head with asking her to get married to Fayaz so she could become as rich as Nargis (Saba Faisal) since Fayaz has recently come into money. Urooj is always on the look-out for a quick get-rich scheme either by getting herself engaged to Jawaad or now by getting Nadra married off to Fayaz, we wonder what she is truly up-to as in a previous episode she was seen talking on the phone to who seemed to be her beau.
The Good - The chemistry between Ahsan Khan and Neelum Muneer is a treat to watch.
The leading duo may have been at loggerheads for a longer part but their relationship finally seems to be evolving. Ifrah has begun trusting Rashid and calls on him for help when things go wrong at her end. We love the scene where Rashid brings beautiful 'gajras' for Ifrah in order to say sorry for not visiting her father. The two are definitely making progress and we love the sizzling chemistry between the duo!
However, Rashid may ruin this by running after Pari, we do hope he realises the mistake he's making soon and remains faithful to Ifrah.
The Bad - New Entrants are stretching the storyline a bit too much!
The storyline seemed to be nearing its climax earlier however the addition of vamps in the form of Urooj and later on the maid Parveen and her brother definitely have stretched the storyline quite a bit. Parveen's storyline with Fayaz was definitely not needed, did Ifrah need to go through this trauma of almost losing her father? Hasn't she already lost too many loved ones already.
What's next?
We are anxious to see how Pari's story unfolds, it looks like she is on a vendetta against Rashid and blames him for her downfall. Will Rashid learn from his previous mistakes or will he be unfaithful once again?
Watch Qayamat every Tuesday and Wednesday at 8 PM on GEO TV.