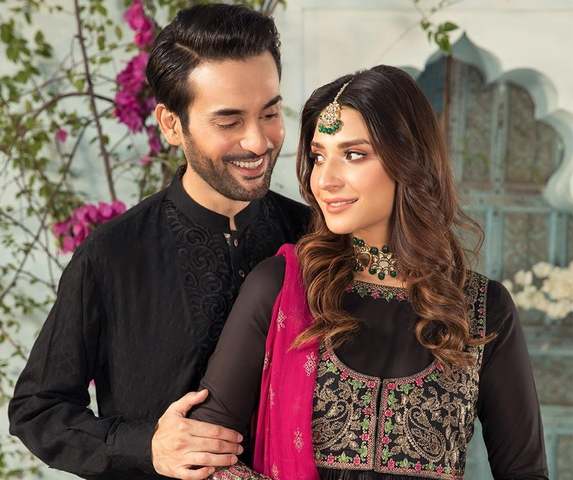 Maria B's 'Virasat' Eid collection campaign highlights the true essence of Eid

This Meethi Eid, Maria B brings its bespoke 'Pehli Eid - Virasat' Pret Collection featuring the hottest on-screen couple Ramsha Khan and Affan Waheed. Garnering fame from their ongoing light-hearted family drama, 'Shehnai' the two are an absolute treat to watch in Maria B's 'Virasat' campaign with sizzling chemistry between them that is visible through the entire shoot. While Ramsha dazzles like a princess in Maria B's Eid Pret collection, the charming Affan Waheed is dressed in Munib Nawaz and perfectly complements Ramsha's every look.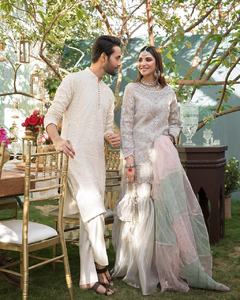 Maria B's Virasat Eid Collection Campaign Highlights The True Essence Of Eid
Keeping the same vibe as the family drama 'Shehnai', this Eid collection shows us the various kinds of emotions coming together to create a heart-warming series of events showing the true essence of Eid, the importance of family, relationships, marriage and togetherness. Virasat's campaign shows us a true demonstration of a newly married woman who has just begun a new chapter of her life after marriage away from her parents. She is seen acquainting herself with new traditions and has embarked on a journey of taking part in those new traditions and customs in the warmth and comfort of a bespoke 'jora' from the Virasat ensemble. It is possibly one of the most difficult times for a new bride to spend her Pehli Eid after marriage away from her parent and sibling and has a mix of sentiments attached to it. The campaign is sure to resonate with young women who are spending their first Meethi Eid in a new home with a husband and in-laws by their side.
The traditions of Meethi Eid are shown beautifully in the campaign, the Virasat Eid collection has a various set of gorgeous outfits that are perfect for all the festivities during and even after Eid, you are sure to find a perfect outfit for each occasion on your 'Pehli Eid', be it a stunning black gharara with beautiful embellishments for Chaand Raat or a bespoke peach number that you can adorn for the first 'Meethi Eid' at your new home with your husband and loved ones.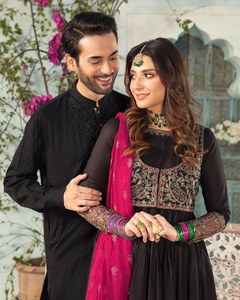 Ramsha Khan and Affan Waheed giving us major couple goals here!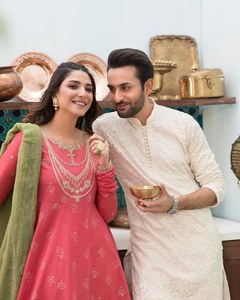 'Pehli Eid' Embodies Our Rich Culture And Heritage
We absolutely love how 'Pehli Eid' is attached with emotions and feelings which makes it much more than simply a dress to wear. Maria B has embedded the beautiful colors of our rich culture, values and traditions within the designs and these dresses bring out the true essence of our Pakistani rituals and heritage. The entire collection has the feel and vibe of 'Meethi Eid' to it, and reminds us of the excitement one feels when celebrating Eid with family members no matter where we go and how it would always remain the same reminding us of a feeling of love, care and belonging.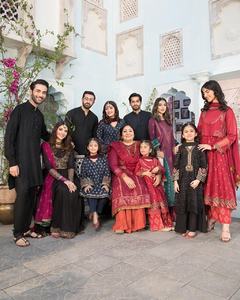 Virasat's 'Pehli Eid' Collection Has A Match For Every Woman!
Boasting of a gorgeous ensemble of various designs, the Virasat 'Pehli Eid' collection goes with the mood and tone of every woman's personality and approach. Whether you're a new bride, a mother or a sister, you are sure to find your pick from the designs that give a choice to every woman out there. You may want a bright and expressive outfit or a subtle one as per your mood, the collection has it all!