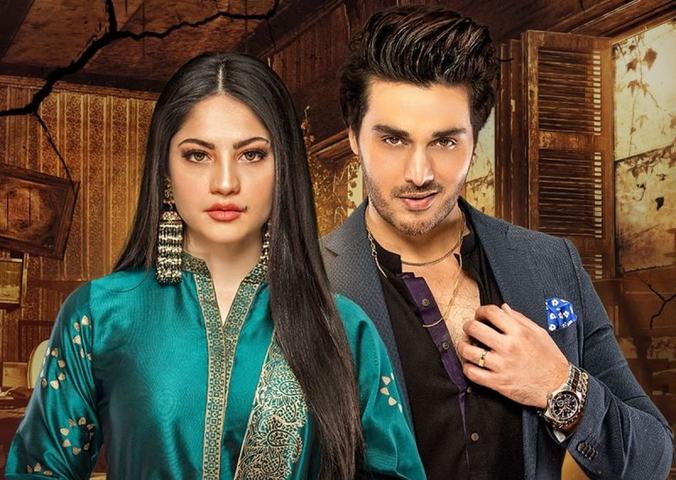 GEO TV's Qayamat starring Ahsan Khan and Neelum Muneer in the lead roles has created quite a stir. An engaging plot-twist and power-packed performances has left us curious about what is to come next!
The Plot
Rashid (Ahsan Khan) and Ifrah's (Neelum Muneer) relationship goes under one more hurdle after Rashid is conned again by the stage dancer, Pari (Sana Fakhar). Ifrah's world comes crashing down after discovering the truth behind her sister Samra's fatal fall. The maid's confession sheds light on how Samra (Amar Khan) fell after Rashid pushed her while she was full-term pregnant with her child. Ifrah is shaken to the core and blames herself for falling in love with Rashid and settling into a normal life with him. Unable to shake the feeling of disgust off, Ifrah breaks down and shares her problems with her friend. On the other hand, Rashid is unaware of Ifrah finding out and he apologises profusely for pushing her after their argument over Pari, he feels ashamed for getting involved with Pari again, Ifrah says she has forgiven him but not forgotten his mistakes and asks him to sleep in the guest room.
Qayamat sees yet another major development after Jawad surprises his family by showing up out of the blue. His mother Nargis (Saba Faisal) is adamant to get him engaged to Urooj as soon as possible all the while knowing Jawad is least interested. The encounters between Jawaad and Ifrah were nothing but awkward and it was clear as daylight that Jawad still harboured feelings for Ifrah.
Ifrah and Fayaz are well aware of the reasons for Nadra being uber sweet and friendly towards them and ifrah takes full advantage of the situation by making a fool out of Nadra and turning her into a cook for the day for the father daughter duo in Fayaz's new house.
The Good- Ahsan Khan and Neelum Muneer steal the spotlight!
The intense scenes between Neelum Muneer and Ahsan Khan are sure to set your heart racing, the two have great chemistry between them and have given commendable performances throughout the drama. Rashid has finally found his match with Ifrah as she is the only one who can put him in his place, we absolutely love Ifrah's fiery avatar which she had recently lost in the last few episodes. This week's episodes show a different side of Ifrah one that would make fun of Nadra, she absolutely nailed her scenes with Nadra and Nargis (Saba Faisal) while her scene with her father Fayaz (Noorul Hassan)is sure to make the viewers shed a tear or two.
Ahsan Khan portraying Rashid has been a treat to watch, not only will he cause you to scream out in frustration but his comic timing is on point too. From changing expressions to body language, Khan has proved his mettle once again!
Where is Qayamat heading?
Qayamat has an intense story full of twists and turns with different narratives. Will Ifrah ever be able to forgive Rashid for his sins? Jawad's entry may also bring another twist in the drama, will he uncover the reality behind Urooj before it is too late? Qayamat has us waiting anxiously for the next episode!