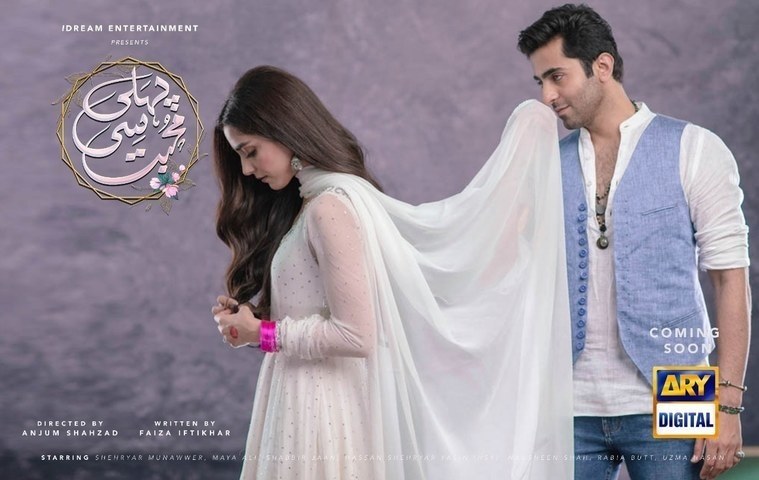 Maya Ali and Sheheryar Munawar star as the lead actors in Pehli Si Muhabbat, this story of first-love and the sizzling chemistry between the duo has the audiences anxiously awaiting every episode. Written by Faiza Iftikhar and directed by Anjum Shahzad, Idream Entertainment's Pehli Si Mohabbat is a play that has the audiences engaged, with its fresh take on 'first' love
The Plot:
A heer-ranjha, Romeo- Juliet scenario resembles to Rakshi (Maya Ali) and Aslam's (Sheheryar Munavar) situation, the two are deeply in love but family feuds have led to them being forbidden for one another. Aslam's mother may have succumbed due to his plight and undying love for Rakshi but Faizullah (Shabbir Jan). Rakshi's father cannot see beyond his 'honor' that he must sustain, even if that means marrying off Rakshi to a much older Sikander (Salim Mehraj) against her will. Aslam informs Zainab that Sikander, the man she has been in love with for all these years is the one to blame for all the ordeal he and Rakshi are going through. Zainab finally gets the courage to ask Sikander for a meeting with him, she secretly goes to see him with the help of her sister-in-law (Nausheen Shah)
The helpless hero Aslam is stuck at his uncle's home in Karachi as his family believes his life is in danger if he returns back home. Without even a cell-phone at his disposal, he is still thinking of ways to get in touch with Rakshi. Back home, Rakshi's fiancé convinces Faizullah to move to a new neighbourhood after handing him a substantial amount and also mentions he has found a home for them. Aslam's best friend Nadeem, calls Aslam to let him know about Rakshi's family moving to another area, this shocks Aslam and he is determined to find a way to stop this from happening before he has a chance to meet Rakshi.
What's next for Rakshi and Aslam?
Not much has been happening in Pehli Si Muhabbat, the story that started off great and continued with nail-biting cliff-hangers has started stagnating. The two main characters are shown to be helpless in the entire scenario without a phone and no way to communicate to each other, viewers are wondering what will happen next? How will Aslam rescue Rakshi from this sham of a marriage to Sikandar without ruining the family's honor and reputation?
Uzma Hassan's Zainab finally decides to Confront Sikander!
Now that Zainab has realised Sikandar was not what she idolized all these years, is she on her way to set him on the straight path? Does this mean Zainab will try to improve her relationship with her husband Murad?
Rabia Butt as Nargis performs brilliantly yet again!
We are absolutely loving Rabia Butt's fiery avatar as Nargis, she may come off as a mean mother to Rakshi but we believe she is doing it so as to prepare Rakshi for what is to come her way instead of letting her live in her little bubble. Rabia Butt's performances are at par with her co-actor Shabbir Jan and we love the great rapport the two share on-screen!
Watch Pehli Si Muhabbat on ARY Digital every Saturday at 8 PM.