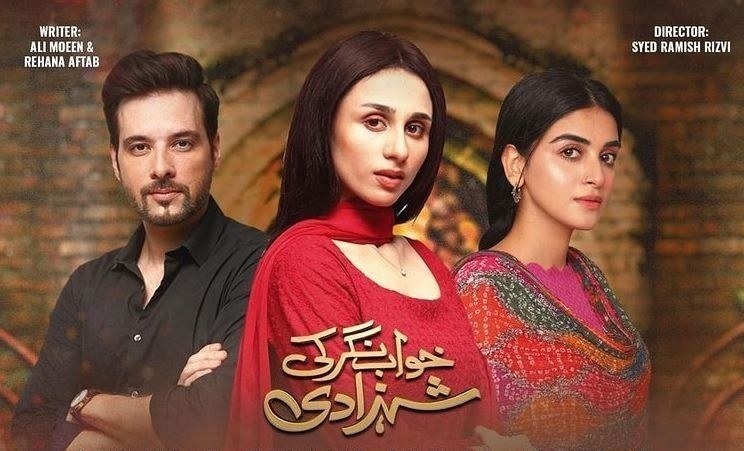 Khwaab Nagar Ki Shehzadi on ARY Digital boasts of a stellar cast that includes Mikaal Zulfiqar, Mashal Khan and Anmol Baloch in the leading roles. The play is another mega-project under the banner of iDream Entertainment and is directed by the brilliant Syed Ramish Rizvi.
The Plot
Saim's (Mikaal Zulfikar) marriage to Seher (Anmol Baloch) is having a negative consequence on his work and personal life, after losing his wife Meera (Mashal Khan), he has now lost his business after his partner decided to part ways with him too. He finds solace with his mother who speaks to him about his sinking business. Saim also seems to be moving away from his son Hassan. He not only forgot his birthday but chose not to attend the celebration which deeply hurt Hassan. While Meera being the loving mother she is tried to console him. Meera remains the fighter that she is and is back to work at her clinic while at the same time fighting a war inside her own home.
Saim's sister is fighting her own battle with her husband, she requested him to move back to Europe since there was no point of them staying in Pakistan anymore, since he does not want her to meet any of her family due to Saim's affair with his maid.
On the other hand, Meera's sister Saman (Ramsha Salauddin) is facing an angry mother in law in the face of Fakhira who is highly upset after Saman and Hamza (Ammad Khan) got held up at Meera's house when someone had come to see Hamza's sister for marriage. The family refused the proposal and left after a misunderstanding ensued between the parties, however Fakhira blamed the entire fiasco on Saman.
Sehar finds her match!
It was good to see Sehar finally find her match in her own sister Samina and her husband Imran. The two are now blackmailing Sehar for a handsome amount of money otherwise they would tell Saim of all the devious things Sehar has been upto.
Exemplary Performance by Mashal Khan, Mikal Zulfiqar and Anmol Baloch Save the Drowning Show!
A storyline that has been overdone, stretched has become quite difficult to watch, the over the top dramatics are too much to handle. However it is the performances by Mashal Khan, Anmol Baloch and Mikaal Zulfiqar that has made the drama worth a watch. The chemistry between the lead stars is sizzling!
What's Next?
How will Saim save his business since no one is willing to lend him any money to do so in the market?