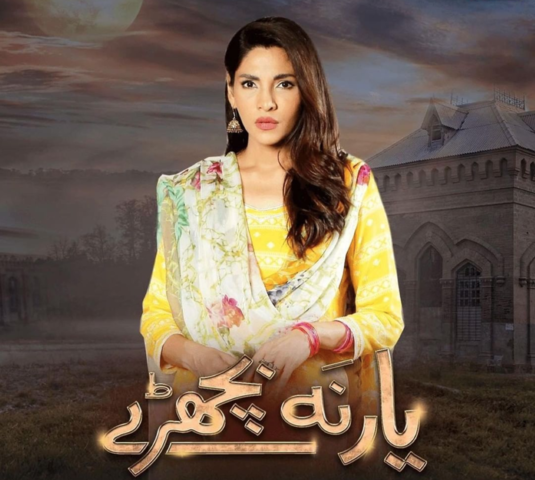 HUM tv's latest drama on air making a promising start is 'Yaar Na Bichray' starring Zhalay Sarhadi, Zain Baig, Zainab Shabbir and Hammad Farooqui. The drama follows the story of Azhar, his love interest Palwasha and Azhar's sister Fiza played by Zhalay. Sibling rivalries, family politics, lost-love and betrayal is what the story revolves around. We can't wait to see how the story unfolds further on.
While the other star cast are relatively newer, Zhalay steals the spotlight as the mean and bitter Fiza, the step-sister who holds a grudge against her younger brother from the time he came into his life. What seemed like a petty grudge held on by a jealous step sibling, turns out to be much deeper as revealed in Yaar Na Bichray, Fiza is haunted by memories of the love-of her life who died after being chased away by her father and brother Azhar, almost a decade back. She still holds his memory close to her heart and has not been able to move on in life.
The Story So Far
Azhar (Zain Baig) is a rowdy looking grocery store owner, he decides to open a new store at another location, this is where he crosses paths with palwasha (Zainab Shabbir) and falls in love with her. Back at his place, his mother and step-sister Fiza (Zhalay Sarhadi) do not get along and are always arguing with each other over various issues. Azhar feels guilty for his step-sister Fiza and for all that she has lost and is easily manipulated by her. She asks him to transfer the shop to her name and he agrees to do so if that is what will make her happy. This seems to be all part of Fiza's diabolical plan to ruin Azhar and her step-mother to avenge for all that she has been through in her life. To make matters worse she puts up another condition infront of Azhar and asks him to agree to a "Watta Satta" marrying in the same family as hers, Azhar first refuses to do so but later agrees after he believes Palwasha is engaged to someone else.
A sudden twist changes Fiza's life after Azhar comes back home with Palwasha as his bride on the same night that he was to get engaged to Imran's sister while Fiza was to be engaged to Imran. All hell broke loose when Fiza learnt of what happened and the man she was going to get engaged to left her hanging, Palwasha was not welcomed in the house by Fiza nor her step-mother and Azhar was left to pick up the pieces of the mess that he created.
Zhalay Sarhadi Proves Her Mettle Yet Again in Yaar Na Bichray
The gorgeus, Zhalay Sarhadi once again proves her mettle with her fabulous performance in Yaar Na Bichray, the latest episode shows Fiza having a meltdown and remembering all the bitter memories she has of her past, we see her being neglected as a child by her own father and step-mother, they favoured Azhar over her and she has never forgotten the unfair treatment she received. A flashback also shows a young Azhar complaining to his father about Fiza and her cousin romancing on the terrace, the young man was beaten up by Fiza's father after which he ran away and got into an accident. Being the only person that was truly in love with Fiza and whom she loved back with all her heart, this incident definitely left a huge void in her heart which she never got past. Zhalay's performance during this scene was stellar and her ear-piercing screams, sent a chill down our spines, while we couldn't stop our tears after watching her weep for all that she had once again lost that day!
What's Next?
Will Palwasha be accepted in the house by Fiza or will Fiza once again have another trick up her sleeve against Azhar? Watch Yaar Na Bichray every Monday to Thurday at 9 PM on HUM Tv.