The week that was in Pakistani celeb-dom

Hello and welcome back to your one stop shop for the hottest celeb news from the past week!
Sanam Mody Saeed once again proved to be the queen we expect her to be by calling out our Minister for Human Rights, Ms. Shireen Mazari. But what did the Minister do this time? Nothing actually.
The actress called out the Minister for remaining silent on Prime Minister Imran Khan's rather strange remarks about the reasons behind rape. The Minister has earlier spoken about crimes against women but has been quiet so far.
Not just Sanam but other celebs such as Osman Khalid Butt and Usman Mukhtar have also raised the issue of this irresponsible statement. On the other end of the spectrum, Nausheen Shah thinks there was nothing wrong with what the PM said.
Mathira gave Sonya Hussain a gentle reminder of how she bullied her during a trip to London for an awards show. It seems that Sonya Hussain joked about Mathira being a 'shemale.' Mathira went to explain that this was right after her divorce and she was at her lowest. She also said that Azfar Rehman stood up for.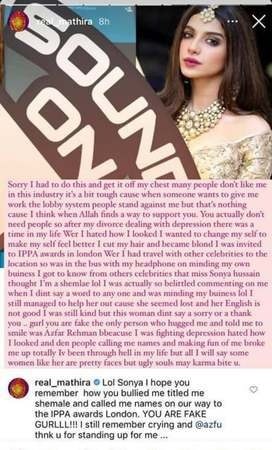 Sonya was quick to apologize and make amends. She made some vague comments about mental health and we cannot help but wonder if her PR team wrote it. But it seems that Sonya also did call Mathira and sort it out personally.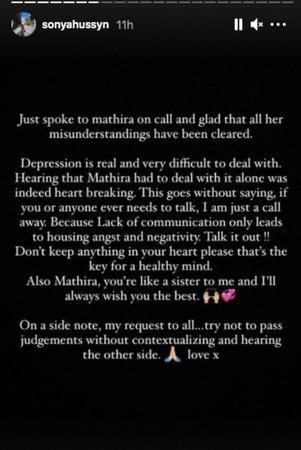 It is celebrity holiday season and the two main destinations are Hunza and the US (possibly the only country that will have us). Hira Mani is currently in the US and she has been comparing her life in the US to that in Pakistan.
She seemed grateful for all the house help available in Pakistan. But let's face it, cheap labour is only an indicator of the widespread poverty in the country.
In baby news, Falak Shabbir and Sarah Khan are expecting their first child!
Mawra Hocane set tongues wagging as she posted a picture of herself in a traditional mayun outfit.
Even though she literally said 'shoot' in the caption, people went into a tizzy assuming that the star was getting married. But we do know that the picture is from an upcoming drama serial called 'Qissa Meharbano Ka,' which also star Ahsan Khan and feature Zaviyar, son of Nauman Ijaz in his debut role.
Seems like the celebverse has been fairly well behaved this week. Come back for more updates next week!