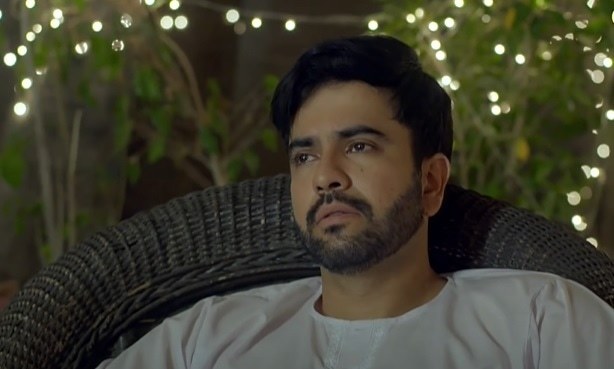 With some of the scenes extremely emotional, the story was gripped with pain and grief.

This week, the plot in Ek Jhoota Lafz Mohabbat was a massive tear-jerker!
With some of the scenes extremely emotional and the characters exhibiting moving performances, the story was gripped with pain and grief.
The drama is penned by Mamoona Aziz and has been produced by Fahad Mustafa and Dr. Ali Kazmi under Big Bang Entertainment. Syed Zeeshan Ali Zaidi has taken the director's seat for the story.
With a competent unconventional cast of Amna Ilyas, Junaid Khan, Emmad Irfani, and the rising star Ayeza Awan; the drama has a never seen before cast and brings something fresh to our screen.
Let's discuss what went down in the drama last night and how it was an emotional roller coaster ride.
When merriment turned into mourning
The episode begins with Aliza (Amna Ilyas) in tears over the sudden change of events. She is being forced to marry Maaz (Junaid Khan) now that Arisha (Ayeza Awan) has abandoned the wedding. Her father (Sajid Hasan) Is miserable and begs her to save his dignity by marrying her cousin.
Ultimately, the stage is set with the bride and groom ready for the Nikkah. But there is no happiness on their face. On the contrary, we realize that Arisha is marrying the mystery man (Emmad Irfani) from the earlier episodes the very same day.
Apparently, he asked her to marry him the day they met and Arisha has been involved with him ever since. Of course, his money and charm lured her all the more to him, compelling her to break Maaz's heart forever.
While she enjoys a romantic end to the night, Maaz and Aliza are devastated. Our hero cannot stop crying and breaks down the moment he enters his room decorated for the wedding.
He cries like a child, a messed-up man, and a jilted lover. Aliza is in deep shock at the state of affairs and cries uncontrollably at her fate.
But things get even worse the next morning. Maaz's mother (Shagufta Aijaz) begins to inflict her wrath upon the bride, cursing her and forcing her to work as a maid in her new home.
While Maaz is silent to the whole scene, his sister taunts him too for being a forlorn lover who spent his whole life loving Arisha. This triggers Maaz, who loses his temper and makes it clear that no one should make snide remarks about his life.
Meanwhile, Arisha begins a new life with her husband only to get taunted on her first day as a wife that girls belonging to her economic class just live and breathe for their husbands, and that's why he married her.
Junaid Khan's performance was the episode's highlight
The episode this week had few developments but Junaid Khan's epic performance wowed us!
He made sure his breakdown doesn't appear over-dramatic and comes off naturally as Maaz weeps for Arisha. He cried like a helpless baby who is in deep pain and anguish, making the audience sob for him alongside. Junaid has surely proved that he is an impeccable performer and can pull of any scenes that come his way.
Amna Ilyas had seldom dialogues this episode but she conveyed it all with her expressions- the shock, the trauma, and the vulnerability.
The promo of the next episode shows everyone finding out about Arisha's secret marriage and Aliza getting dragged into her sister's mess all over again. Let's see what the plot has next in store for the audiences.