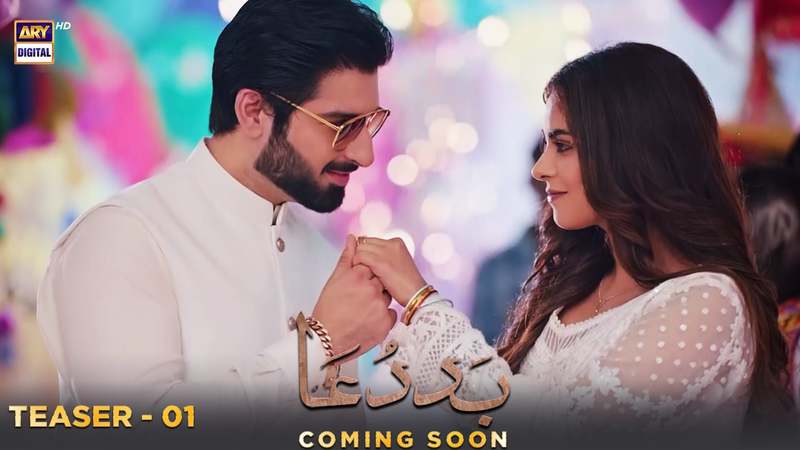 We are bidding farewell to some of our favorite dramas on ARY Digital only to welcome new ones, including Baddua.

We are bidding farewell to some of our favorite dramas on ARY Digital only to welcome new ones, including Amanat, Mere Apne, Berukhi, Mein Hari Piya, and Baddua.
While the promos of all the upcoming dramas are intriguing, we are super excited for Baddua and we bet it will be one story that will be a total rating magnet this drama season.
Why do we say so?
We are loving the collection of an unconventional cast featuring Muneeb Butt, Amar Khan, Amar Khan, Mohsin Abbas, and Maryam Noor. However, this is not the first time Amar and Muneeb will be seen on screen. They have previously worked in a short story series called Choti Choti Batain.
From the early teasers of the drama, it is clear the pair boasts a dynamic romantic equation and looks no less than a pair straight out of a Bollywood movie. Our heroine's silky brown hair, deeply kohled eyes, and love-struck look as soon as she catches eyes with the dandy-looking Muneeb Butt gave us major filmi vibes.
We also got a peep into Amal's character in the story, depicting that she is going to be playing the role of a determined yet rebellious girl who is eager to break the chains that bind her from pursuing her dreams. Some of her dialogues gave us the idea that she feels suffocated in the home she lives in and is working her way out to live the life she desires. She is well-educated and becoming a working woman is her next goal!
But will she be able to unlock all her aspirations? And what does the name of the story 'Baddua' signify? Will she be facing someone's wrath in the future? We are super curious to find out.
In an earlier interview to Hip in Pakistan, Amar revealed, "It's anything but a dark drama. It's quite the opposite. Baddua will be an instant hook for the viewers and will be very entertaining with all the right spices, twists, and turns. Certain dramas are so fast-paced that their narrative immediately becomes a must-watch. Baddua is going to be one such story. I can't reveal what this 'Baddua' will be about but it has an intriguing factor that gives the message that we should always watch out for someone's curse or ill-wish."
Spilling the beans about her role in the plot, the starlet added, "What I love about my character is that she is vivacious. She is a blazing go-getter and has interesting dynamics to her personality along with unpredictable mood swings."
A project of Abdullah Seja, the drama is a story by Samina Ejaz of Phaans fame and is being directed by Ramish Rizvi of Jhooti fame. Looks like a dream team that is bound to work their way to the top!
We will surely be watching Baddua and hopefully, it will not disappoint and prove to be a story worth a watch!