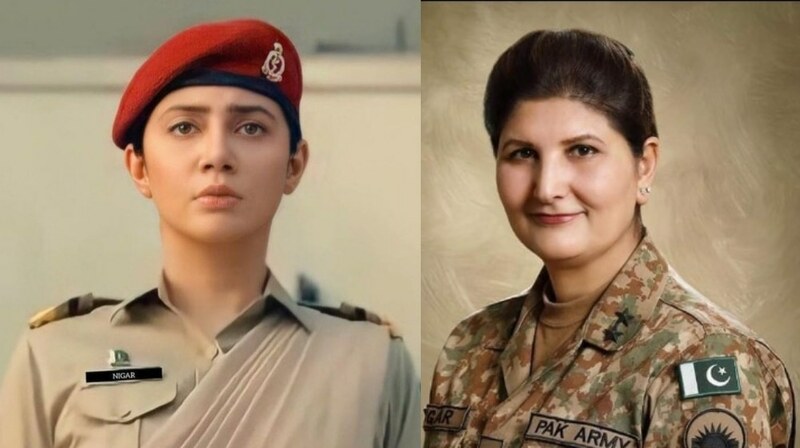 'Aik Hai Nigar' celebrates the inspirational life of Lieutenant General Nigar Johar played by Mahira Khan

It is not often that we see such an inspiring tale that speaks volumes about the power of a woman and women empowerment. Such is the story of Aik Hai Nigar, based on the journey of Lieutenant General Nigar Johar, the first Surgeon General of the Pakistani Army. Superstar, Mahira Khan plays General Nigar on-screen in this bio-pic produced by Mahira Khan herself and Nina Kashif, while the first three star woman army General's story is beautifully penned down by Umera Ahmed and is brought to life by director Adnan Sarwar. Bilal Ashraf plays the supportive husband, Major Johar while newcomer Khushal Khan essayed the role of Gen. Nigar's younger brother, Shahid. The entire cast made has acted supremely well, and the telefilm is sure to leave you emotional for the strong and resilient woman that the short-film pays tribute to....
We were also fondly reminded of the importance of good men in a woman's life who are able to support her in all aspects of life. Gen. Nigar's husband, Johar and her father are truly the kind of men that every woman need in her corner. A father who supported her decision into entering the Army, asked her what she wanted in a life partner and gave an advice we wish every father would give to their daughter when she was getting married, that the doors of his home will forever be open for her no matter what the circumstances may be. Whereas her husband, a man with a heart of gold, who was not petty or jealous of his wife's success, he supported every decision of hers and was right beside her cheering her on at every stage.
An Inspiration for All Women
We are all aware of Lieutenant General Nigar Johar and her various accomplishments, but this is the first time anyone has shed light on her journey towards becoming the first Surgeon General of the Pakistani Army, an honour that was bestowed upon her in July, 2020. After facing many obstacles in her life, including the death of her family at a young age, she persevered against all odds and was able to achieve her life-long dream of becoming a General in the Army. If we have learnt anything from this bio-pic it is the importance of having dreams and goals and the ability to achieve them. The film saw the General rising from a medical cadet, being the best at every stage of her career and ultimately taking on one of the highest ranks out there.
The first women three star general to have received this position in the Pakistan Army, Lt.Gen.Nigar is an inspiration to all the women and the young girls out there who are fighting against the patriarchy. In a country where women's rights are highly disregarded and safety is largely threatened, Aik Hai Nigar has aimed to rightly propagate a woman's ability to make bold choices against all odds and beat all the obstacles faced by females in a patriarchal society, influencing a much-needed social change. She is an example of a powerful female who has risen from our cut-throat society and is contributing to the betterment and growth of our country and society.
Reel Vs Real
The attention to detail given in the biopic was commendable, from the appearances of the main characters, the clothes they wore, the cars they drove, everything was spot on. Mahira Khan and Bilal Ashraf have recreated various looks inspired from the real General Nigar and her late husband Major Johar. We noticed Mahira's look for Gen. Nigar's wedding to Major Johar, the make-up, hair and her entire look was recreated to match the event from the past. Kudos to the team behind Aik Hai Nigar who floored us by transporting us back in time, where we were able to witness various milestones from Gen. Nigar's life.
Mahira Khan and Bilal Ashraf Steal Hearts as General Nigar and Major Johar!
The dynamic duo of Mahira Khan and Bilal Ashraf was last seen together in blockbuster movie, Superstar. The two perfectly essayed their roles as the loving Nigar and Johar who were soulmates, always supporting each other and had an amazing on-screen chemistry.
Bilal Ashraf in his army uniform and his killer smile would make anyone blush, his gentle personality also had us fall head over heels for him. The actor has proved his mettle once again with his portrayal of Major Johar, his comic scenes with Khushal Khan on the dining table where his expressions did all the talking had us in a fit of laughter, while the scenes where he reassured and consoled the General after her family's tragic accident showed us the versatility of his acting callibre. Kudos to Bilal Ashraf for his brilliant performance as Major Johar in the bio-pic.
Our heart broke when Bilal Ashraf's Major Johar was diagnosed with cancer and didn't survive to see the dream he had always believed would come true for Gen Nigar as she was bestowed with the title. While General Nigar is an inspiration, we are now fans of her late husband Major Johar, a man - truly of the rare kind.
*What are your thoughts on the telefilm Aik Hai Nigar? Let us know in the comments below.*