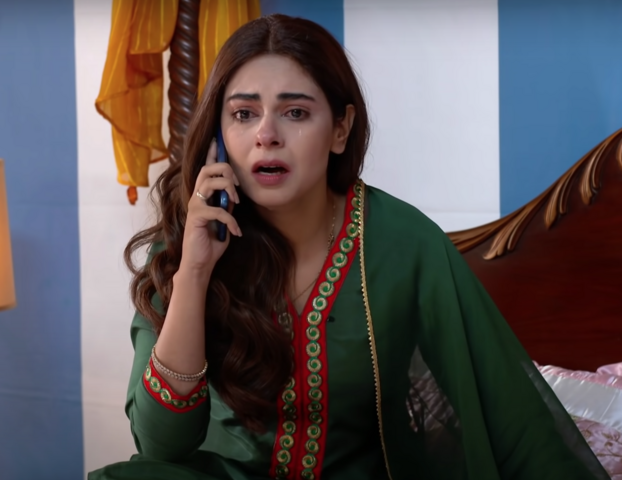 Amar Khan steals the spotlight as 'Abeer' in Baddua

ARY Digital's Baddua starring Amar Khan, Muneeb Butt, Maryam Noor and Osama Tahir has been riding high on the TRP meter. With some major plot twists and turns, the story has kept audiences hooked with its riveting storyline. Recent developments in the story have amped up the drama-dose, Abeer and Junaid are at loggerheads instead of enjoying their newly wed 'honeymoon phase' and it looks like wedding bells are ringing for Affan and Junaid, we're definitely looking forward to what comes next in Baddua.
The Plot
Abeer and Junaid's marriage has been on the rocks since the first day and after Junaid finds out about Abeer's past affairs, he believes she has conned him into marrying her. The two are like peas in a pod, both having cheated their partners but Junaid now thinks he did not deserve a girl like Abeer who had a past like hers, oh the irony! Abeer is not one to back down and speaks to Annie (Maryam Ansari) Junaid's new girlfriend while he is asleep, she warns her to stay away from Junaid and hides this information from Junaid the next morning. She pretends to be extra nice towards him telling him to come home early so they can have dinner together but he refuses to do so saying "You're not my girlfriend, why should I take you out and pamper you?" This irks Abeer but she remains calm and composed.
On the other hand, Affan's family visits Neelum's house to ask for her hand in marriage to Affan, the families are happy but Neelum's father has requested for some time before deciding his daughter's fate once again.
The woes of a girl who marries against her family's wishes - Abeer breaks down!
While it is common in the Pakistani society that young men and women are emotionally blackmailed into marriages they are not in favour of, it is rare that a girl would go against her family's wishes and marry for love. Baddua has highlighted the plight of such women, who stand against their family and do not compromise their happiness. She fought for her rights all along and married Junaid no matter what anyone said, this left her with consequences that she had never imagined. She lost her entire family and their love and support, she was not even informed about her grandmother's funeral and last rites. This caused Abeer to breakdown, she cried her heart out and spoke to her mother on the phone who seems to be the only person in their family who still cares about Abeer. We're glad to see Abeer's mother-in-law in a positive light instead of the evil mother-in-law from hell avatar that we expected her to be.
Will Neelum & Affan's wedding reveal Abeer and Junaid's past to Affan?
The upcoming nuptials of Neelam and Affan have got his family pretty excited, they are all leaning towards Neelam's father saying yes to the marriage proposal they brought to them and already have many plans for the marriage! What we are waiting to see is how Abeer's past with Mohsin will be revealed after this and when Affan realises she is now married to his childhood best friend, will this cause a permanent rift between them? Watch Baddua to find out!