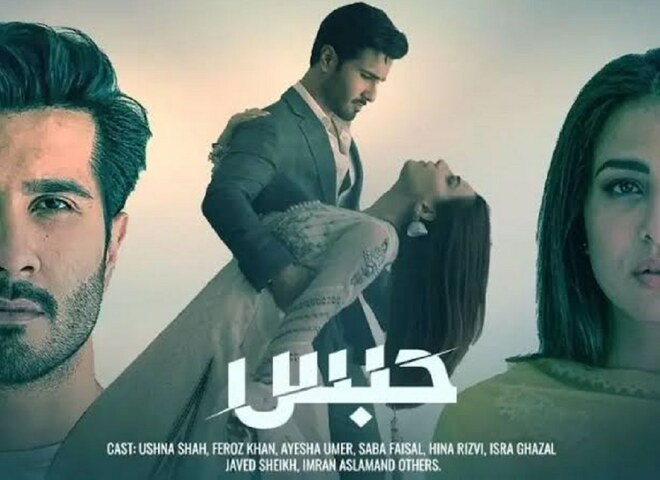 With the conflicts that continue to arise between their already complicated marriage, Ayesha and Basit are drifting...

With the conflicts that continue to arise between their already complicated marriage, Ayesha and Basit are drifting apart. While Basit seems to be content with how he is handling their relationship, Ayesha appears to be upset with Basit's cold demeanour.
Habs fans have been anticipating this week with bated breath after being promised a double episode. Habs, which airs on Ary Digital, is a six sigma production written by Aliya Makhdoom and directed by Mussadiq Malik. It is a story about broken families, starring Ushna Shah (Ayesha) and Feroze Khan (Basit). The drama has been praised for its simple yet captivating plot.
This week, fans of the drama were treated to a double episode with a lot to offer. Ayesha's mother (Saba Faisal) suggests asking Basit for Bano's job, but Bano(Dania Anwar) declines. However, it appears that Basit is developing feelings for Ayesha when he stays and works in their shared room rather than his and also turns off the lamp so as not to disturb her sleep. The usual banter between Basit and his mother (Irsa Ghazal) continues, as she has allowed Basit's trusted and personal house help to go to his village without Basit's permission. Basit reacts angrily, and Ayesha becomes awkward in the midst of their argument because it involves a lot of past mistrust.Ayesha's mother asks Basit to hire Bano at his office.
Ayesha entered Basit's study, which appears to contain many items from his childhood. She reads the letters Basit wrote as a child to his mother. When he finds Ayesha in his study, he scolds her for looking through his belongings. Ayesha, on the other hand, does not remain silent and tells him that instead of hiding the letters he wrote for his mother as a child, he should give them to her. Basit, was not pleased and asked her not to touch his things or interfere in his affairs. She tells him that she had no idea he had love inside him, and that the hatred he has inside is essentially just complaints.
Everyone at Ayesha's house knows Zoya stole the money from the envelopes, but Zoya insists that she only did it to give her boyfriend some gifts.
Basit asks Ayesha why, if his mother is requesting such favours, she is adamant about not taking money from him. She tells him that her ego and self-esteem prevent her from doing so. She accepts the money, however, because Basit insists that there must be some need, which is why her mother asked him for Bano's job.
Ayesha and Bano persuade their mother to let Zoya marry whoever she wants and to allow the guy's family to formally bring a proposal without creating any obstacles for her, as she did for Bano and Talal(Imran Aslam). She agrees and requests that the guy bring his family. Fahad (Mussadiq Malik) invited Ayesha and Basit to a dinner, but only Ayesha attended because he was too busy at work. When Ayesha gets home, she confronts him about missing dinner and his behaviour. Basit assures her that she need not be concerned about the embarrassment because it was his friend, and he will handle it.
Zoya's prospective in-laws arrive for her proposal, but there is nothing to serve them, so Bano asks Ayesha if she could send some money, and she does. She recalls the money Basit gave her and decides to give that to her family. As she sends the money, she tells Basit's mother that she will return it to him. Basit's mother simply tells her that she is his wife and has full authority over what he owns. Ayesha responds that this would have been appropriate if he had considered her his wife. "wo tou is rishtay ko aik bojh samajhtay hain," she says, "unki samajh mai nahi araha k kia karain."
Despite Basit's refusal to let Ayesha work anywhere, she attends an interview at a company where Basit is already present for a business meeting. When he finds Ayesha, he takes her with him. This whole saga has made matters worse, and he informs him that she is now his wife, and she will not allow her to work in an ordinary position at a company where he has just signed a huge deal. However, Ayesha makes it clear to him that this is not how relationships work and that if he is not interested in making things work, he should divorce her because what he desired has been obtained. Basit becomes enraged when she mentions divorce and reacts by raising his hand but not striking her. He says, "I'm going to make this relationship work because they did nikkah," and he isn't the kind of man who would do something like that. Ayesha then asks if this is how he will fulfil his responsibilities in this relationship, by raising his hand on her and constantly degrading her.
When Ayesha returns home for Zoya's in-laws, her mother forces her to call Basit as well in order to make a good impression on them. Meanwhile, Ayesha insists that she not call Basit because he will come if he wants. Basit realises and regrets his mistake after returning home. Ayesha's mother still calls and invites Basit to be present at Zoya's rishta.
Amir's (Zoya's love interest) family appears to be quite greedy, as they shamelessly present their demands for a large dowry to her family. Basit arrived at Ayesha's house, which surprised her because she hadn't expected to see him. Basit tells them that making such demands makes them look like street beggars. This is considered extremely disrespectful by Amir, and the family departs. Zoya screams angrily in front of Basit about their house's financial situation. Basit invites Bano to his office the following day for work.
Ayesha is forced to return home with Basit by her mother. Basit wonders if she is truly afraid of her mother. She says she couldn't refuse because she loves and respects her mother. Basit apologises for his actions, claiming that he was simply angry and overreacted as a result.
The episode left viewers unsure whether to like or dislike Ayesha's mother, who acted like a foe in this episode. Things are gradually becoming more clear. This episode demonstrated that Basit did not marry for selfish reasons, but that he takes this relationship seriously. But his trust issues from the past prevent him from being fully involved as a husband. What we admire about Ayesha is that she knows when to speak up and when to remain silent. Both actors have made Ayesha and Basit so endearing that their twisted chemistry makes us feel butterflies just by looking at each other.
The next episode may unveil the reason for Basit's mother abandoning him as a child, which will undoubtedly be a major revelation.