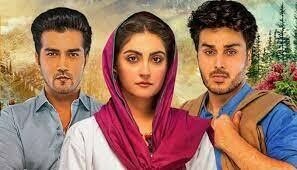 It appears that chaos has returned to Mere Humnasheen, as trouble-magnet Khajista is once again in hot water over a...

It appears that chaos has returned to Mere Humnasheen, as trouble-magnet Khajista is once again in hot water over a drug case. Aima and her friends are not coming slow to tarnish Khajista's reputation once and for all.
Mere Humnasheen, a Geo entertainment blockbuster that airs on Friday and Saturday, has received a lot of love and praise from fans. The drama is an out-of-the-box look at rural traditions and love. The plot revolves around Khajista (Hiba Bukhari), a young girl from a small Paktoon territory where women are only considered home makers and weak. Khajista is determined to become a doctor, despite their strict customs and a fiery cousin and fiance' Darakhzai (Ahsan Khan). In the city and at her university, Khajista meets a charming young man whose progressive approach and concern for Khajista complicates matters for an already troubled Khajista.
In the city and at her university, Khajista meets a charming young man whose progressive approach and concern for Khajista complicates matters for an already troubled Khajista.
The episode starts with a lung cancer convention at the University. Juniors preparing for the convention with posters approached Aima (Moomal Khalid) and her friends and asked for cigarettes. They initially refused to assist, but eventually agreed on the condition that they arrange cigarretes for her only if a senior, such as Khajista, can receive them from the hostel's gate keeper. This appears to be another evil plot by Aima and her friends, but it was also shown that Aima has a good side where she isn't happy about ruining Khajista's life and reputation while going to such lengths.
Daji (Rehan Sheikh) is seen in the village discussing Darakhzai's plan to open a hospital on the farm. Darakhzai manages to convince Daji that the farm doesn't provide much, whereas a hospital can eventually help the entire village.
Aima is concerned that she and her friends will get into trouble and that Hadi will find out. Her friends, on the other hand, compel her that they will leave no trace in case they are caught. In fact, they persuade Aima to involve the press and bear witness to the fact that she is a supplier when the police investigate. The idea, which had previously terrified Aima, now appears fantastic, and she appears to be convinced as well.
Hassan(Haris Waheed) informs the hostel warden about what may be going on in the hostel and that something fishy may be entering the hostel, which she initially refuses to accept until Hassan threatens her that the police will raid the hostel and she may appear to be involved. Khajista goes to the hostel gate to retrieve a bag, claiming that she had forgotten her bag at the hospital and had requested that it be returned. Hadi called and the warden arrived, asking her to show her the bag while she was carrying it. The warden discovers the cigarettes before she can explain. While Hadi is on call, the warden scolds and misbehaves with Khajista. When the warden inquires about the cigarettes and who else is involved, she informs her that she was only assisting a junior with a poster for the lung cancer convention. The warden then asks her why she lied about the bag if this is the case.
Hadi informs his mother (Salma Hassan) that he has been calling Khajista for an hour and she has not answered the phone.Meanwhile, Dr. Shehryar (Farhan Ali Agha) receives a phone call from the hostel regarding a drug problem. Hadi and Dr. Sabika accompany him. Aima's friends threaten the Junior girl to not to take their name and blame it all on Khajista. They made her believe that it was some guy she had a falling out with who exacted revenge on her. Dr. Bia (Rehma Khalid) presses the junior to reveal the identity of the senior who asked her to do this. However, the junior did not inform her.
Dr. Shehryar arrives at the hostel and questions the warden about why she called the cops when the girl in question is from his department. However, the warden informs him that this problem is related to her hostel, which is why she contacted the police. Dr. Shehryar informs the warden that the convention is being held because of Khajista's educational record, and they are receiving a large grant as a result. The warden insists that, just as he is concerned about the reputation of his university, she is concerned about the reputation of her hostel.
The warden insists that Dr. Shehryar is taking Khajista's side for nothing, despite the fact that people in her area are notorious for drug trafficking and supplying. This enrages Khajista, she requests that the warden exclude her village and people from this. She has the option of turning her over to the police. Because she is Khajista Dilawer Khan, she will not give up and will prove her innocence in court.
Daji isn't feeling well and tells Darkhzai that he becomes restless whenever he thinks about his and Khajista's marriage. Moray(Munazza Arif) convinces Daji that Darakhzai is changing and improving. Daji tells him to give Khajista her rights and everything she owns, even if he is not alive. Darakhzai claims that he will never take away a woman's right.
Hadi informs her that this is not a minor matter, and there is no information about the seniors involved, nor can the faces of the boys who handed the bag to the gatekeeper be identified. However, he is suspicious of how the warden knew when Khajista was taking her bag and she even checked each and eveey pocket of the bag . They reasoned that this doesn't add up and that the warden must have been informed beforehand.
Darakhzai in the village is plotting ways to bring Khajista back, and he believes they are all agitated because of Khajista's desire to become a doctor. He prays that he become so ill that Khajista only checks on him and ignores the other patients.
Dr. Shehryar requests that the warden to refrain from involving the police because the university's reputation is at stake. When he questions the warden about the number she received the call from, he is shocked to see Hadi's number.
The warden strictly instructs Khajista to enter her room and informs her that she is not permitted to leave her room nor can anyone enters her room until the convocation.
Dr. Sabika appears exhausted by Khajista's constant involvement in shady activities. Dr. Shehryar explains that this is due to her uniqueness. They both appear to be upset that so many problems are arrising because of Khajista and they both appear to want to get rid of her.
Khajista is concerned about Bia's reputation and requests that she change her room because she, does not want to her to be defamed. Khajista appears heartbroken and wishes for ease, as she has never had it easy in her life.
Dr. Shehryar orders Hadi to report his phone as stolen to the police station and to destroy his sim card. He asks for a stamped statement for spending the entire day in OT. When Hadi questions him, Dr. Shehryar says it's because someone used his phone the day before. Hadi recalls Hassan taking his phone to call someone. Dr. Shehryar believes this is yet another of Hassan's evil plots against Khajista.
Back at the village,it looks like Shanzay is expecting, and Amroze appears to be overjoyed. If the case is reported to police, the junior requests that Khajista not take her name. She agrees to refrain only if she is given the names of the seniors. She tells her the names of the perpetrators and solves the mystery of how they got her framed because the names she is using are those of Aima's friends, and this is just another scheme to bring her down. Khajista decides not to tell anyone in order to avoid causing problems for the junior.
Dr. Hadi gets a new sim card for his phone as advised, but he is still perplexed as to why his father asked him to do so. He calls Khajista from his new phone number and invites him to lunch. She informs him that she does not wish to go to lunch with him. The warden enters her room while she is on call and threatens her that if it weren't for Dr. Shehryar, she would have made her life hell.
The episodes kept us on the edge of our seats because there was so much going on. However, we believe Khajista should now be experiencing some happiness and peace. The script for both episodes was very powerful, with Khajista feeling helpless in her situation and the antagonist showing a human side as well. Hiba Bukhari and Ahsan Khan were fantastic in this week's episode, with Darakhzai softening and Khajista becoming more resilient in the face of adversity.
The teaser for the next episode shows Dr. Shehryar pleading with Hassan to stop his antics and stop ruining his brother's life over a girl. Aima appears to be afraid of being named as well.