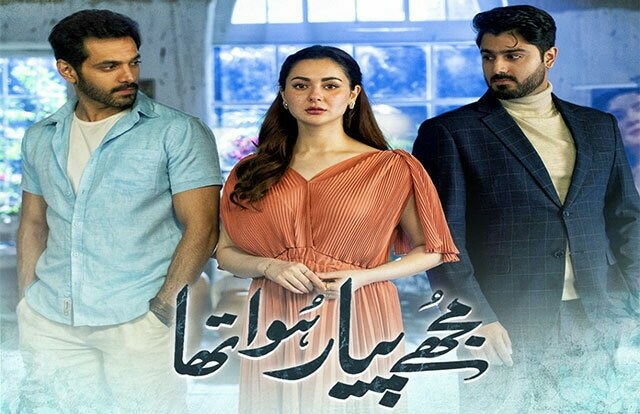 The only person who can restore the lost honour of the whole family, particularly Maheer, is Saad, who once again...

The only person who can restore the lost honour of the whole family, particularly Maheer, is Saad, who once again becomes the saviour.
The ARY Digital drama "Mujhe Pyar Hua Tha" explores the intricacies of love and sacrifice through a captivating story. Directed by Babar Mehmood and written by Sidra Sehar Imran, the play features three main characters - Maheer (played by Haniya Amir), Saad (Wahaj Ali), and Areeb (Zaviyar Noman Ejaz) - in a tangled love triangle. Despite growing up as cousins, Maheer only sees Saad as a close friend, while he harbors romantic feelings for her. At her cousin's wedding, Maheer meets Areeb and they quickly fall in love.
The conflict in the story intensifies as Maheer decides to marry Areeb over Saad, despite Areeb's wealthy family's objections to her middle-class background. Saad, who has kept his love for Maheer a secret, lies to her father and uncle that he does not want to marry her to help her marry Areeb. After a dramatic ultimatum, Areeb's parents agree to the wedding. But on the day of the wedding, Areeb's father (Javed Sheikh) has a heart attack, causing Areeb and his mother (Angeline Malik) to leave for the hospital in a hurry and drop his phone at home. While at the hospital, his father's condition worsens, and he is put on a ventilator.
Back at Maheer's house, everyone is waiting for Areeb and his family to arrive. After a long wait they tried calling Areeb but when they can't reach him, so eventually they call his mother.
Areeb's mother, who was against the marriage, takes advantage of the situation to call off the wedding and humiliate Maheer and her father over the phone. Areeb, who was with the doctor, was unaware of his mother's actions. After this Maheer's father (Shahood Alvi) is naturally distraught and worried about what people will say and think of Maheer after they find out that the wedding has been called off on the wedding day. Maheer still struggles to believe that Areeb is capable of such immorality.
She urges Saad to go to Areeb's house and find out the truth. Saad, after seeing Maheer's desperation and helplessness, requests his father to accompany him to Areeb's house so they may talk to them about their sudden refusal to marriage. Both Saad's and Maheer's fathers disapproved and declined to go there to be further humiliated.
Everyone is concerned about what will happen next and what people will say. Everyone is given the reassurance by Saad's father (Noor Hassan) that the marriage will take place today. He then convinces Saad to wed Maheer to save his brother's honour. After some thought, everyone decides that this is the right choice at this time. Rafia (Salma Hassan) and Maheer are in extreme grief. Rafia's sister (Amber Khan) explains to her that whatever is happening should be allowed to take place since this is what is best for Maheer.
Areeb receives his phone back through his driver as Maheer is being taken for her Nikah with Saad, and he obviously calls Maheer.
Her friend answers the phone, though, and tells him that Maheer is getting married. Maheer's friend hurries outside to inform Maheer that Areeb phoned and could be coming as Areeb races to get to Maheer's house. When she comes out, she finds that Maheer had already spoken Qubool Hai to the Nikah Khwan, confirming the completion of the Nikah.
Although this has undoubtedly been the drama's biggest twist, with the biggest shock being the sudden turn of events in the wedding. It was a bit hard to wrap our heads around the idea that, in this day and age, Areeb couldn't have done anything except calling or using his phone to let Maheer's family know what happened. One of their servants or the driver could have been sent to inform the bride's family about the situation or just about anything.
Despite the climax, we have to say the writing feels a little stale. Using the same old trope of a nikah being performed to save honor in the wake of a canceled wedding is disappointing. While we are happy for Saad, we can't help but feel that the drama could have benefited from a fresher, more progressive concept.
The standout performance, as always, was Wahaj Ali's expressions. He conveyed so much emotion without any dialogues.
We can't wait for the next episode to see what happens when Areeb inevitably causes a scene and Maheer adjusts to her sudden marriage. How do you think Saad and Maheer will react to this unexpected turn of events? Share your thoughts in the comments!