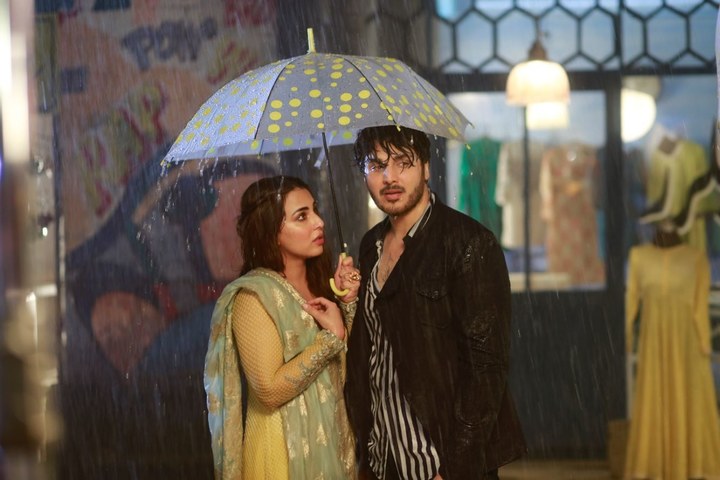 HIP Exclusive: Ahsan Khan And Ushna Shah's new drama is guaranteed to woo viewers, adding the key elements tv dramas need!

Ahsan Khan and Ushna Shah are all set to make a splash on Geo Entertainment with a stellar saga "Bandhay Ek Dour Se".
The BTS of the drama had already created a stir over its release and the recently aired promo has ignited the hype of it even further.
Penned by Faiza Ifthikar of Ranjha Ranjha Kardi with the talented Ali Faizan taking the director's seat, 'Bandhay Ek Dour Se' is a project of Abdullah Kadwani and Asad Qureshi's 7th Sky Entertainment. Backed by such a powerful team, the expectations are bound to be high from the project!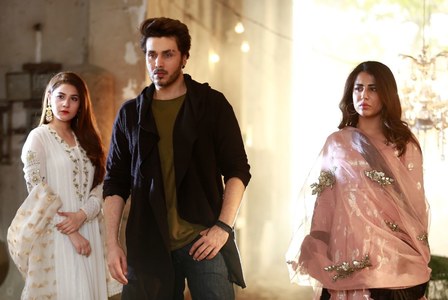 Even the cast of the drama has influential names from the industry. Ahsan and Ushna will be joined by Hina Altaf in a supporting role. Meanwhile, a pack of strong veterans like Saba Faisal, Saba Hameed, Samina Ahmed, Noor Hassan, Madiha Rizvi, and Qavi Khan will be adding light to our screens!
We caught up with Ahsan, Ushna, and Hina to probe more about Bandhay Ek Dour Se. Will it be a typical run-of-the-mill story or will it have more to it? We found out!
Guess who will be the villain in the story?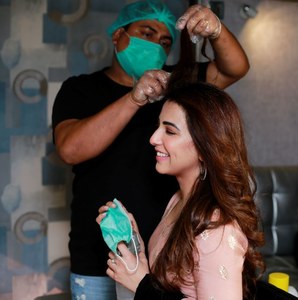 Be it any avatar, Ushna is always a firecracker on-screen! Be it a sweet, dainty haseena or a villainous character, she portrays them all like the boss that she is. In Bandhay Ek Dour Se, she will be playing the role of our soft-hearted heroine, Maheen!
Ushna Shah: I play the role of Maheen-the protagonist in the story. She is Umar's cousin, played by Ahsan Khan. She is a very nice, bubbly, well-mannered girl who is very mature for her age. She lands herself in a situation that is very painful but she has to handle it and maintain her dignity throughout. At the same time, there is a beautiful love and romance she gets involved in.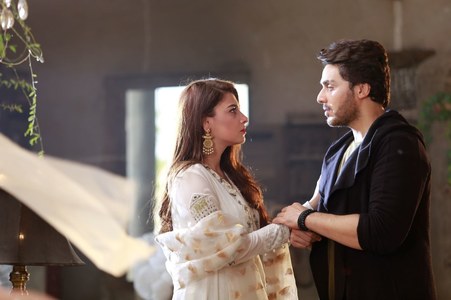 Meanwhile, Hina Altaf who we mostly see on screen in soft and charming young avatars will be donning the role of the antagonist. This will be quite a twist of characters we are bound to enjoy after a long, long time!
Hina Altaf: This character is my career's most complex character I have ever played. This girl is someone who holds jealousy, fury, and wants to take revenge from anyone who crosses her path.
Our hero is none other than the suave and swell, Ahsan Khan! We don't need a reason to adore him, he has a place in the hearts of Pakistanis since forever. We have been missing him on screen ever since Alif and we can't be more happy that he is returning with a different story this time around.
This time around, he has dabbled in a character who is nonchalant yet deep, passionate yet casual, and loves to keep people around him unified!
Ahsan Khan: My character is of a young, guy-next-door, happy-go-lucky person and he tries to always keep his family united. There is also a love story revolving around him and he tries his best to take it to marriage while connecting two families to it.
The character has satire in it which later turns serious and also has an innocence to it. All other cast members from Ushna to Hina, Saba Faisal to Saba Hamid, Sabeena Ahmed to Noor Ul Hasan, Kamran Gilani to Madiha Rizvi, Ali Rizvi to Qavi Khan; everyone has a pivotal role in the drama and are bringing their own flavor to it.
Drama akin to old PTV family sagas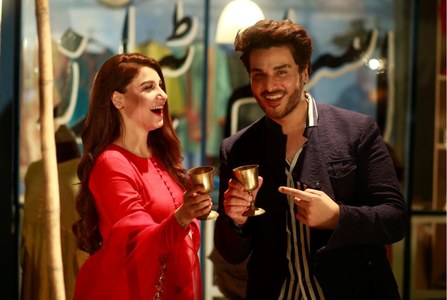 Don't we all crave for those cozy, tasteful tales of common households with heartfelt and entertaining characters? It seems like after ages, we will be blessed with a story with 'Bandhay Ek Dour Se' that will give us a taste of classical PTV dramas.
Ahsan Khan told us this piece of tidbit himself!
Ahsan Khan: If the audience wants to watch a story of a household and families, something very light while also very deep and which we all can connect to, then this drama is for them. It is very casual, light-hearted, and emotional. It is very well-shot and well-written describing issues that happen in common households. If the viewers are looking for entertainment and love old PTV, family-oriented dramas, then this project will take them back in time as it has enjoyable elements that fans will get riveted to!
What's even better, the drama will be sans saas-bahu quarrels. In fact, it will highlight love and unity amongst women in a household- something we desperately need to promote dramas!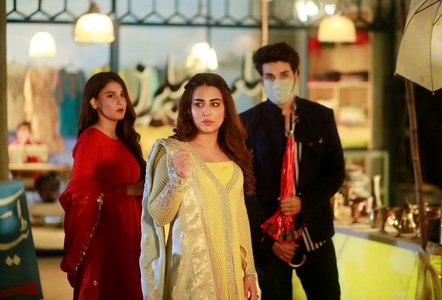 Here's what Ushna told us about the drama!
Ushna Shah: It will be a whole-hearted Pakistani family drama which will be very entertaining. It is not a typical saas-bahu drama but about love, loyalty, and also about unity amongst women in a household.
What to expect from 'Bandhay Ek Dour Se'?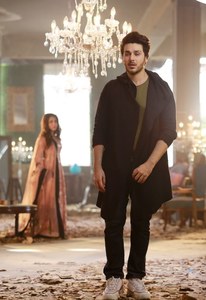 During our candid chat with the star cast, we derived one important thing about the drama! Bandhay Ek Dour Se will be a very relatable watch for the viewers while providing them with a fresh dose of entertainment.
Furthermore, the trio were all praises for Ali Fazal's direction, each claiming the drama is beautifully shot!
Ahsan Khan: The drama is written by Faiza Ifthikar and she usually pens family-oriented dramas. It is not a typical saas-bahu drama but a story of a well-connected and a well-knitted, strong family. However, they have small issues that are usually faced by middle-class families. I did this play because Ali Faizan is a great director while Abdullah Kadwani and Asad Qureshi of 7th Sky Entertainment are great producers.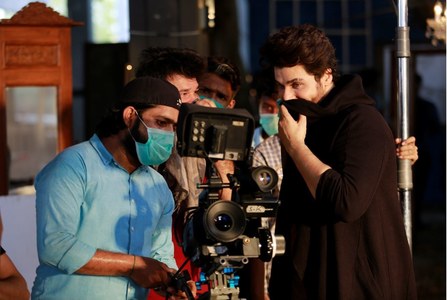 Ushna Shah: The audience can expect a wonderful love story amidst a wholesome family drama. They will witness a fabulous performance by Ahsan Khan. We have a brilliant star cast with the fantastic Saba Hamid, phenomenal Saba Faisal, and Samina Ahmed who is incredible. It was dazzling to watch these great actresses come together. Viewers will get a dose of fantastic acting, amazing dialogues and the drama is visually pleasing as it has been shot beautifully.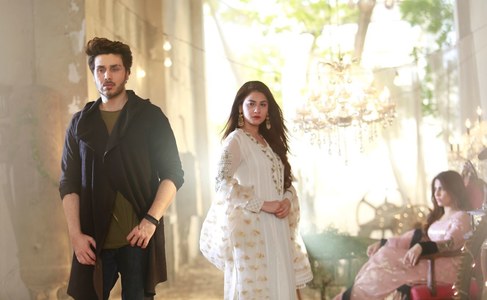 Hina Altaf: The drama has beautiful direction done by Ali Faizan and produced by 7th Sky Entertainment. And every actor has done a great job. It will be nothing but a treat to watch. The scenes and lines are so well-written. The cast includes senior actors which are loved by everyone and they have delivered great performances. I pray the audience loves the project. We have done our part and now the decision is theirs.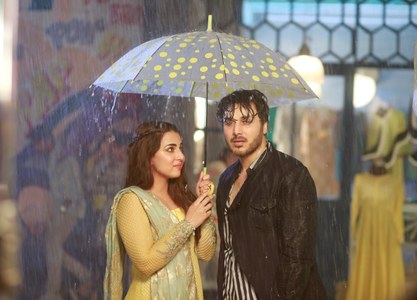 We are super excited to see Ushna and Ahsan play lovebirds on our screen! The teaser is boasting an electrifying equation between the duo! Fingers crossed for the episodes to finally hit the airwaves.