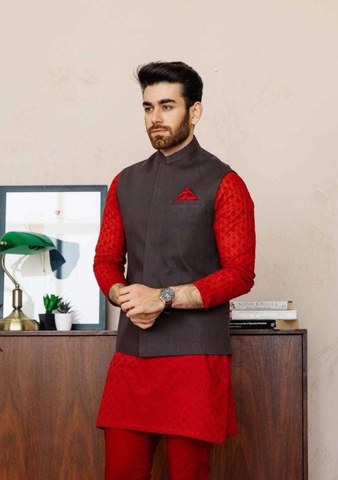 The Uniworth Ethnic wear section houses all types of Pakistani clothing for men in stitched and unstitched variety.

One of the oldest menswear brands in Pakistan, Uniworth was formed in 1971. It started off as a clothing brand for women and kids but soon diverged into creating formal suitings for men in 1991. Ever since then, Uniworth has diversified its men's clothing line into Eastern and Western apparels that are sought after across the country.
Men can buy smart casual to formal clothing at Uniworth that can be worn in all seasons and to all occasions, be it a high profile business meeting, a casual dinner get together, Eid meetup, a wedding ceremony or a golf match with the gentlemen. Uniworth also holds the distinction of being one of the first brands to offer "made to measure" option for buying high-quality fabrics.
Uniworth Ethnic Menswear Collection
The Uniworth Ethnic wear section houses all types of Pakistani clothing for men in stitched and unstitched variety. The collection includes a wide range of Shalwar Suits, Kurtas, Shalwars, Waistcoats, Peshawari Chappals and Unstitched Fabrics.
1. Shalwar Suits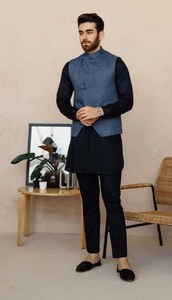 The shalwar suits are stitched ready to wear variety with price ranging from Rs.5,495 to Rs.12,995. The lower-priced collection is made out of Wash and Wear fabric while the high priced are made from 100% Cotton fabric. Both are crumple resistant and are wearable in all seasons. They are available in a wide variety of colours including Black, White, Grey, Brown, Green, Sky Blue and Navy Blue to name a few. Sizes range from Extra Small to Extra Large and everything in between. Some of the Kameez designs in this range feature light thread embroidery on the neckline, neckband and cuffs.
2. Kurtas, Trousers & Shalwar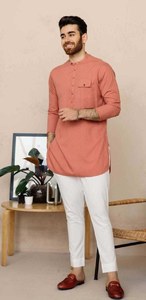 Uniworth kurtas for men include straight cut ready to wear kurtas with a neckband and embroidered necklines. The price ranges from Rs.3,495 to Rs.6,995 and the fabric used is Egyptian Cotton for the higher-priced kurtas. You will also find unusual colours such as Orange, Plum, Mustard and Fluorescent Green preferred by the younger lot these days. Men can team the kurtas with white or off white trousers or shalwar from Uniworth's Bottoms collection.
3. Waistcoats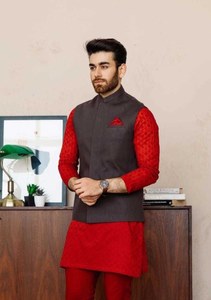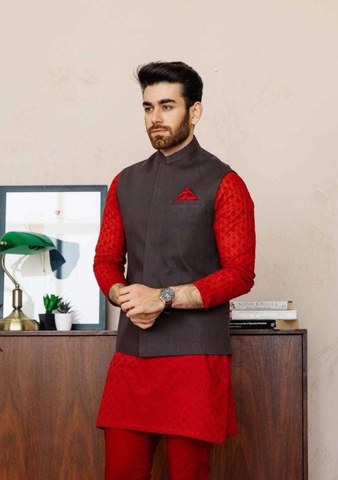 Pakistani men wear western waistcoats over dress shirts as well as traditional waistcoats over shalwar kameez for a sharper ethnic look. These can be worn to formal or informal events such as Eids, weddings, dinner parties, Iftar gatherings etc. The double-breasted western waistcoats at Uniworth are made with synthetic fabrics and silk with a coloured front and black back. They are priced at Rs. 5495 while the eastern waistcoats start at Rs.3,995 and can go up to Rs. 6,995. Though there are a lot of options in this section, there are not many choices when it comes to festive eastern waistcoats.
4. Unstitched Fabrics
If you are someone who isn't a fan of ready to wear ensembles and likes to wear tailor-made shalwar suits then you can choose from a variety of good quality unstitched fabrics from Uniworth. The fabric measurement is 4.5 yards and is 58 inches in width. Starting at Rs.4,995, the unstitched shalwar suits offer 100% Egyptian Cotton Fabrics that are highly sought after across the country. The premium unstitched fabrics in this collection are priced at Rs.9,995 and are available in all basic colours. They are given a liquid ammonia finish for a silken feel and high-quality drape and are dyed with reactive dyes that give a non-fading long-lasting colourfastness.
5. Peshawari Chappal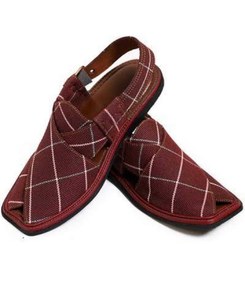 To complete the eastern ensemble, Pakistani men like to wear Charsadda chappal or the Peshawari chappal in various styles and colours. Uniworth Peshawari chappals are curated out of pure leather with stainless rust-resistant buckles and are available in brown and black colours. These are available online as well as in-store at Uniworth's Shirt & Tie shops in Pakistan.
Uniworth's collections and designs change as per trends and seasons. It is amongst the safest if not the best choices for men when it comes to ethnic Pakistani wear. The brand has all the ethnic essentials for eastern menswear but it would have been great if more variety of waistcoats and ethnic jackets were added. Overall, the brand has a wide range of options for younger as well as older men and offer a wide range of styles, colours and sizes for its ethnic wear.