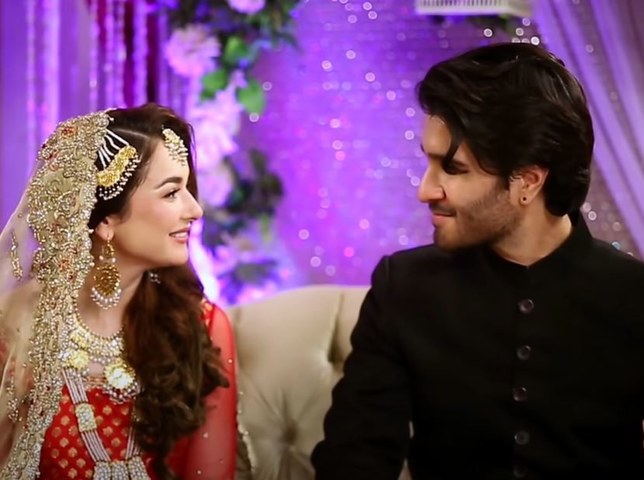 What remains undisputed is the unparalleled chemistry between Hamza and Roomi which intensifies the play!
ARY's popular drama 'Ishqiya' might have a shaky storyline but the drama is nevertheless going strong- all thanks to Hania Aamir and Feroze Khan!
The war between Hamna and Hamza continues
Hamna and Roomi are warming up to the fresh chapter in their lives in their new home. However, Hamna is having the most challenging time in adapting to the dramatic change in her life. While Azeem is being the loving husband, Hamza's constant harassment on her mobile phone is making her life miserable. Her mother-in-law is also particularly strict about her activities and behavior in the house. Like a typical 'saas', she is not being so lenient to the new member in her family and is determined to be firm with her whatsoever.
On the contrary, Roomi is having a blast in her new home. Her parents-in-law are a happy-go-lucky couple who have welcomed her into their family with open arms.
Even the stern and serious Hamza is gradually relaxing up to her due to her crazy antics. Will he fall in love with her soon? Only time will tell.
However, he continues to badger Hamna who has now blocked his number. This has enraged the angry young man even more. He is adamant to aggravate her and seems like nothing will stop him anytime soon. There will be an epic showdown happening in the next episode from the looks of its promo. The couples will be meeting soon for dinner and Hamza will pay a visit to Azeem in his office. Fingers crossed to what will be it all about!
Hania Aamir's scenes are the best in every episode
If truth be told, Hania's performance is unlike any other actress of her time. She is lively, hilarious, and fun to watch. Her scenes add fire to the drama that sometimes we wish she is given more screen-time. From the way she gets angry towards Hamza to the dreamlike expression on her face when she thinks about him, Hania is a treat to watch.
Feroze Khan has played his fair share of similar roles, depicting a hot-blooded character full of fury. Consequently, his acting as the irate Hamza is on-point. There are some scenes when he portrays a soft smile on his face as he looks at Roomi, making us realize how much we want him to ditch that somber expression on his face.
The duo showcases a plausible relationship equation and we are eager to see more of their romance together. Let's see if the story will bless us with them or not.
Even Twitter is in love with their hot and heavy pairing!
Gohar Rasheed and Ramsha Khan need to up their game to match up to the level of chemistry between Hania and Feroze. It is one pair we surely don't want to see united in the future in any other project. Their scenes together appear boring and dull. If only Ramsha begins sporting a new expression and brings versatility to her performance!