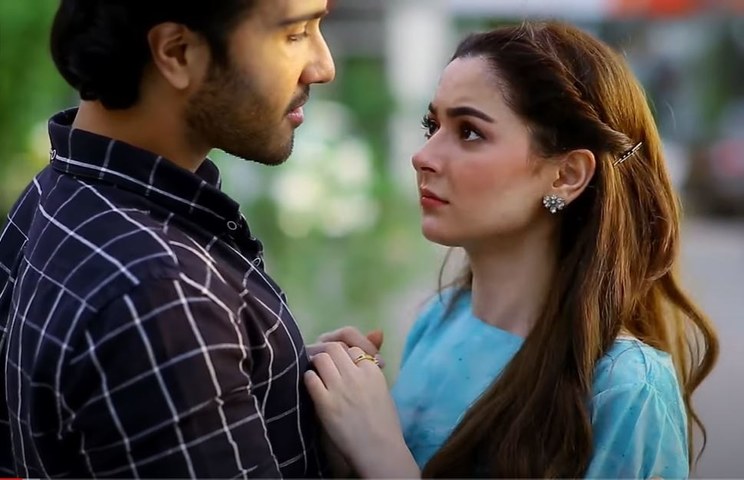 Feroze Khan and Hania Aamir bring out the best in each other's characters as we explore the drama's twists and turns!
Ishiqya's story now seems to be stuck in a rut. Every week, the tale depicts the usual cold war between Hamna and Hamza.
The only uplifting part of every episode is Rumi and Hamza getting close to each other. Their scenes are too cute to handle and we are loving the sweetness of their new relationship.
Azeem Is getting insecure and suspicious about Hamna
Hamza might be getting swayed away by Rumi's affection but for some reason he is still adamant to ruin Hamna's life. It is about time he starts moving on. While he is enjoying Rumi's attention and slowly warming up to her love, he nevertheless, wants to teach his ex a lesson.
Also, it seems like he is succeeding to a great extent. Azeem is noticing Hamna's reluctance of having him around at all times. Her lies are now getting easy for him to detect and of course, the late-night calls from Hamza have rung a warning bell inside his head.
However, he has not made his misgivings so apparent to Hamna yet. Maybe he is waiting to catch her red-handed. He spotted her talking to Hamza's friend at university and immediately, became insecure. Though, they were just standing and conversing like normal people. Even the smallest of things have started to trigger his trust and this will surely create hell for Hamna in later episodes.
Even bigger chaos will be hitting Hamna, Hamza, Rumi, and Azeem soon. Hamza's hung-up lover, Alishba has put two and two together. She has realized Hamza has a thing for Hamna, all thanks to Hamza gazing so intently at Hamna while she visits Rumi. We wonder what he was thinking, with his eyes so fiercely locked on an old flame. Of course, someone was bound to notice!
However, the highlight of the episode remained Hamna and Rumi's adorable chemistry. We see the possessive side of Rumi when she spots Alishba's friend, Sania checking him out in the parking lot. Since the very first episode, we have seen Rumi over-reacting in most situations. Graciously, around Hamza, her emotional side comes off as extremely lovable.
What is the future of Ishqiya?
A quick look at social media reactions over Ishqiya tells us that it is only Feroze Khan and Hania Aamir that are the power force behind Ishqiya.
Other than their hot pairing, the drama lacks charm and magnetic pull that will compel the audience to watch it. Twitterverse is crazy about the duo and Instagram is filled with viral videos of the two from drama.
Khalid Anam's mini jam sessions in almost every episode are always welcoming. We love it when he takes out his guitar and relieves us of the other mundane scenes in the drama. This makes us wonder that will be the future of Ishqiya. Till how long will Hania and Feroze keep carrying the drama with such a weak, clichéd plot? We are only waiting for the episode when everything is out in the open and no more secrets are hidden from anyone. Till then, the cat and mouse game between Hamna and Hamza is honestly becoming quite a drag.