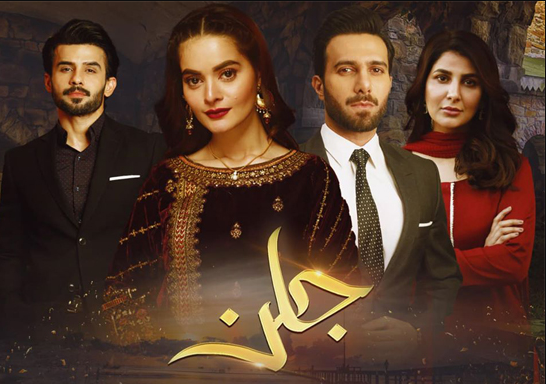 Read all about the controversial plots and subplots which make Jalan all the more interesting!

Sometimes a controversial story-line is all it takes for a Pakistani drama to grab eyeballs and ARY Digital's Jalan is that one, the latest play that has created a massive stir on social media- for both the right and wrong reasons.
Some have serious issues with its plot, deeming it toxic and bothersome. The rest claim that the story is highly addictive. Curious, we sat down to review Jalan and analyze its story. Is it really controversial or just yet another clichéd tale that people are attacking? We found out!
A spicy sibling rivalry that has been burning the screens
Upon watching all of Jalan's six episodes released so far, we concluded that its tale is not all that complicated. It a simple, plain old sibling drama revolving around jealousy, lust, and deceit. Similar plots have been made, for example, Hum TV's Maat.
Nisha (Minal Khan) and Misha (Areeba Habib) are two sisters that are as opposite to each other as day and night. Misha is sweet, simple, and down-to-earth. On the contrary, Nisha is a spoiled-brat and jealous rebel who could go to any length to get her hands on what she wants. Mostly, all the things she has her eyes on belong to her elder sister.
However, things go topsy-turvy the day Misha gets married to a wealthy and handsome man, Asfandyar( Emmad Irfani). He is the perfect guy, a partner ever girl dreams of. It was love at first sight for both of them and they happily get married.
Nisha, who is already engaged to her cousin Ahmer, now has eyes on Asfandyar. She wants his money, his lavish home, all the luxuries and of course wants to be his wife. One wonders that sisters can often be envious of each other's life. But it's disturbing to see them compete to the extent of stealing one's husband.
Dramas with such stories are familiar. But surely it's the cast and the sub-plots in Jalan that have made it one of the most-watched yet criticized drama.
The Good and the Bad
One of the most common complaints the critics have with Jalan is that it promotes a scandalous love triangle between a dreamboat of a guy, his wife, and sister-in-law. It also depicts toxic masculinity that thrives on our society. Time and again, we see Ahmer getting possessive for Nisha, to the extent he gets violent and people around him label him a psychopath.
Even Asfyandar, who appeared to be a gentleman in the beginning, made us doubt his character when he concealed some major details about Nisha's visit to his home from his wife. We are still flabbergasted that if he is so saint-like, why the need to keep details from your dear wife.
Next, we witness the sister's father constantly blaming their mother for being a bad influence on their daughters and not raising them well. He uses harsh words to admonish her that it is her fault Nisha has turned out to be a bad egg.
Slapping each other is shown as extremely common in Jalan-something we wish is not shown so much on screen. Nisha's character also becomes a poisonous watch. Her darkness and shrewdness is extremely perturbing. Combine with that, the violence in the story can even give serious anxiety to some sensitive members of the audience.
Nevertheless, it seems like Minal Khan understood the vileness of Nisha and portrayed her perfectly. She has depicted herself as that icy-queen who is not afraid to destroy lives, be that of her fiancée or her sister. It won't be wrong to say but it is her that is carrying Jalan so strongly as the antagonist. Her performance has made it addictive that despite knowing what is the story about and we probably all know the end, we will watch Jalan for her sake.
Areeba Habib and Emmad Irfani are an unconventional couple on screen but have strong chemistry. Our leading hero surely has looks that could kill. His tall frame and chiseled features are ideal for a guy like Asfandyar. Meanwhile, Areeba Habib too fits that role of the lovely, dainty girl who deserves all things good in the world.
But after Minal Khan, it is Fahad Sheikh who is grabbing all the spotlight as the insecure, crazy in love Ahmer. Fresh and rising, he boasts a lot of potential and will surely go places. Comments on his Instagram reveal that his reaping a massive fan-base for his portrayal of an angry young man.
Jalan might be a problematic story. But we bet that everyone who has started to watch it will continue to watch it or at least follow the drama. Like we mentioned in the beginning, a controversial story sometimes is all you need to make a drama become a rating magnet.