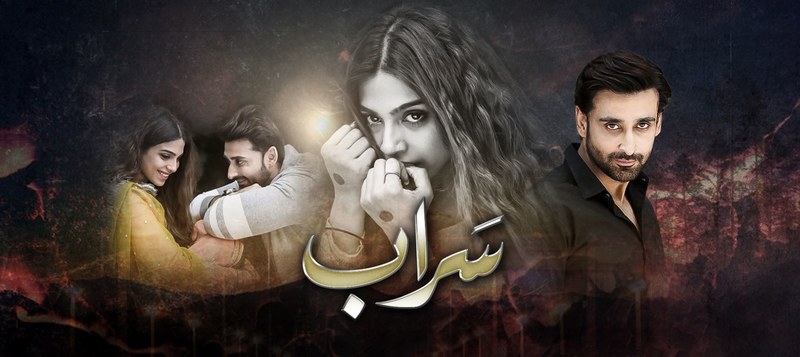 Check out our take on the teaser for upcoming drama, Saraab!

In a land where one good quality TV drama on air is enough on one channel, the audience it seems will soon be in a dilemma. Yes, after watching Teasers of HUM TV's Saraab (formerly Joag) audience have started marking their calendars, like they used to do in the past. With plays like Pyaar Ke Sadqay, Sabaat and Dil Ruba on air and Mushk also on its way, it seems that HUM TV is gearing up to take the competition head on. Add the dynamic duo of Sami Khan and Sonya Hussyn to the equation and you have all the more reasons to wait for Saraab, which seems to be different than anything aired in the last few years.
The Plot
From the teasers it seems that Sonya Hussyn's character has either spent time in a prison or something similar, or is suffering from some kind of disease, where she forgets stuff. Not like Ghajini but something similar if not short term memory loss. The way she expresses her love to Sami Khan's character one minute and then forgets about him means that there is more than meets the eye. Sami Khan is her love interest here but when you see two Sami Khans in one frame, that's where things get interesting. Are there two Sami Khans in her life and she has to decide to choose one of them or is it something else, wait for Saraab to find out the answer.
The Good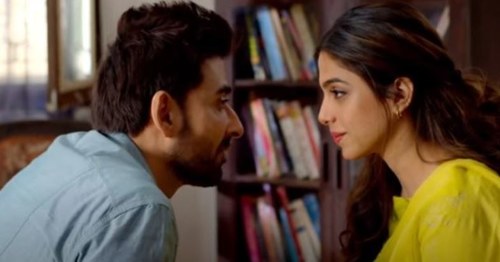 Besides the Sonya Hussyn and Sami Khan factor, there is the 'refreshing' feel that makes Saraab watchable. When was the last time a serious issue was highlighted on the mainstream TV, featuring renowned actors and in the prime time slot? Even Sami Khan agrees that while he and Sonya have done a lot of dramas, Saraab is different from anything they have done before. He even goes on to state that 'this play is easily one of the best scripts he has come across in recent years.'
'I have always believed that the most important aspect of any drama is the content, not the actors, directors or even the channel.' Sami Khan says while talking exclusively to HIP. 'If the script is engaging, then everything will fall in place; if it talks about real issues, then there is nothing like it. There are a lot of topics in our society that we consider taboo, and Saraab tackles one such subject and I am glad that I am part of the drama that goes far and beyond the Saas Bahu stuff. If one person in the audience learns through this drama that everyone has both good and bad qualities, and that everything we suffer from is curable, then I would be glad for playing my part in this play.'
Moving on to Sonya Hussyn, she needed something like this to make people forget the negativity behind her character in Mohabbat Tujhe Alvida and trust me, she will make people forget all the bad dramas she has done with her performance in Saraab. Whatever her character is going through here, it is visible on her face, and although it doesn't seem like something different at first, it will if you get hold of the story in the initial episodes. Kudos to director Mohsin Talat for the near perfect execution of a script that seems different from the run of the mill stuff being aired on our TV. One hopes that this play opens doors for those who want to do something new, but lack the courage to do so.
The Bad
There is hardly any fault with the teasers but as someone who has been following TV for a long time, I have something to say. The writer-director team behind Saraab has been around for quite some time but they haven't been given the kind of importance they deserve. Mohsin Talat the director has been calling the shots on TV for nearly two decades and have worked with the best in the business; the writer Edison Idrees Masih has penned plays like Laaj, Ghairat, Noor ul Ain and Bikhray Moti and all of them have done well. With Saraab it seems that they both are geared up to claim their rightful position, and the best way to do that is to deliver a project that is unlike anything else on TV. One hopes that the audience understands their complex creation and gives it its due, so that more writers and directors break away from the Saas Bahu saga or love triangle culture that dominates our TV these days.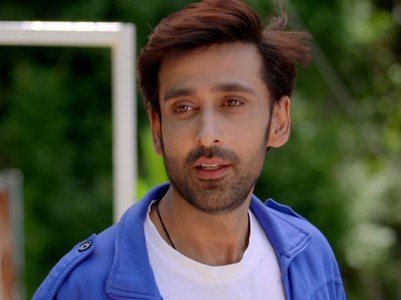 Sami Khan terms his first collaboration with Mohsin Talat as a great experience and hopes to work with him more in the future.
'This is the first time I am working with both Edison and Mohsin – the writer and director of the project – but I must say that I enjoyed working with them a lot. I have always been open to working with good directors in the market and for some reason wasn't able to work with Mohsin before, but now we have become good friends. I get to learn a lot from people with whom I haven't worked with as everyone has their own style, their own work ethics and ways to get things done.'
The Verdict – Exciting!
Be it one Sami Khan or two, Saraab is all set to feature on the 'To Watch' list of all those who want to be entertained through TV, not cry or fall into depression. Yes, some might be able to relate to Sonya Hussyn's character while some will feel for Sami Khan's but that's because these two are damn good actors who connect with the audience, be it in Aisi Hai Tanhayi, Ishq Zahe Naseeb or Saraab. The suspense is killing most of the would-be audience so it is better to wait than speculate; for one thing is sure, this is something you don't see every day on TV.