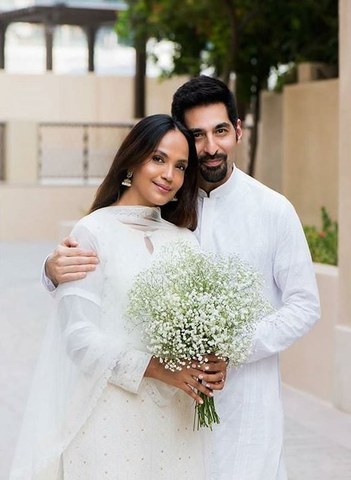 Actor Aamina Sheikh has tied the knot in an intimate ceremony in Dubai with her husband and daughter.

Earlier yesterday, Pakeezah actor Aamina Sheikh shared a cryptic photograph on her social media account, with 3 hands and 2 rings, indicating she may have gotten engaged. Later, Aamina confirmed her marriage with a bunch of adorable pictures with her husband and daughter, Meissa!
Last year, Aamina Sheikh parted ways with ex husband, Mohib Mirza; both are parents to 4 year old Meissa. Aamina Sheikh has since taken up residence in Dubai, and had also launched a children's education program and initiative online, via YouTube! 'Meissa Mama' was a story-telling platform for children, telling stories in Urdu and educating them not only about the language but about Islamic stories as well and acquiring a healthy learning environment, especially during Covid 19's prime days of isolation.
Fans were and are elated to see the actor with her new husband, who is not a part of the media industry. Both fans and friends alike from the fraternity gave their congratulations to the newlyweds, who had an intimate and elegant ceremony in white. The adorable family released endearing moments from their special day, including Meissa running toward the happy couple.
We wish them a blissful and blessed life ahead!