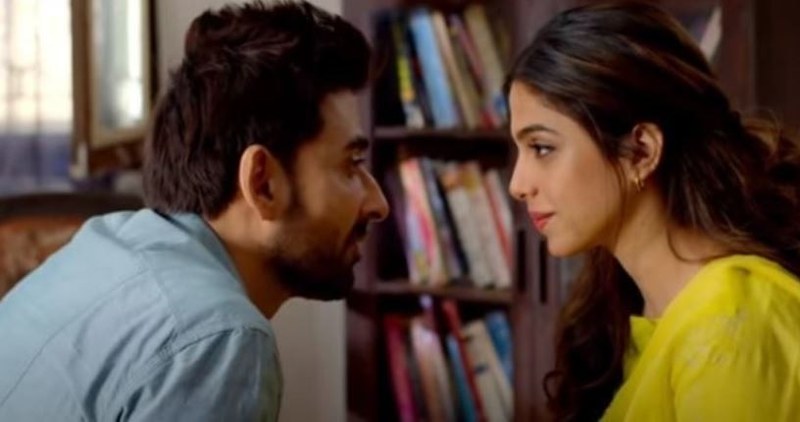 The iconic pair of Sonya Hussyn and Sami Khan returns on our screens, that too with aplomb and a fresh tale.
Seen in Hum TV's Saraab, the celebrity couple has signed a project extremely avant-garde this time around. Directed by Mohsin Talat and written by Edison Idrees, the plot is bound to surprise you and while we know it all, we will keep it a deep secret for you to explore yourself.
A cute romance, family rivalry, and some major red-flags
The first episode of Saraab was warm-up for the audience. We were introduced to all the main characters and were given a peep into their lives.
Our hero Sami Khan essaying the role of Asfyandar, a young man who is every inch wonderful inside-out. He has looks that could melt any girl, but the most worthwhile thing about him is his kind, soft heart. He cares for everyone around him, but there is one girl in his life, his cousin Hoorain that he can cross oceans for.
Hoorain, portrayed by Sonya Hussayn, is depicted as an adorable, oddball of a woman. She has her quirks, lives in her thoughts, and has built a beautiful world of her own to dwell in. Here is where the problem begins. When she breaks away from her inner delusions and steps into reality, she feels bothered, afraid, and confused. She is constantly swaying between the two realms, showing there is something deeply wrong with Hoorain.
But what could it be? Like in all desi households, her parents too believe that it is 'black-magic' that has been performed on Hoorain. Her mother, played by Farida Shabbir, blames her bhabi - Asfyandar's mother- for indulging in dark arts to destroy her family.
This give us the idea that there is a horrible rift between the two households. Despite the marriages being a product of 'watta-satta', there is no harmony between the two homes, something that intensely troubles Asfand and Hoorain.
We are also introduced to Hoorain's elder sister, Namal (Nazish Jahangir) who has a massive crush on her cousin, Asfand and is not even shy to hide it. It is practically written on her face that she has feelings for him but she has no clue that Asfand has his heart set for Hoorain.
However, it is the eldest sister, Warda (Ghana Ali) who actually plans to use Hoorain for her own benefit. Unable to bear a child, her life is a mess and now she sees Hoorain as her savior by planing to marry her sister with her brother-in-law. This will save her marriage by bringing her little sister to her 'susraal and ensuring her position remains safe with her in-laws.
Amidst all this, people are ignorant that Hoorain has developed peculiar personality traits over time that are a major 'red-flags' of mental health. She dances away in front of a mirror with an imaginary rose, talks to the love of her life on a dead phone, forgets to close the refrigerator, and visualizes Asfand meeting him in secret inside her home.
Summarizing it all- Hoorain is hallucinating and why? The audience will find it all in the upcoming episodes.
Only Asfand notices the eerie things in Hoorain and tries to help her, but she too keeps this side of her a secret from him.
Thumbs up for the Performances & the Direction
Sonya has proved that she is the true queen of expressions. She impeccably depicts the transition between the two worlds Hoorain sways in and appears perfectly as the peculiar, adorable girl who is all love and no harm. She stuns in every scene and owns every frame like a boss.
Sami Khan has made us even more in love with him. His entry scene couldn't have been classier. Wind-blown hair, Ray-Bans on and looking all dapper on a bike, Sami has proved that his performance game will forever be high. He makes you adore Asfand's character in the first episode and portrays him as the ultimate dream guy, who cares for his soulmate no matter what.
We also noticed director Mohsin Talat's combination of style and innovation, his way of seamlessly blending the scenes of suspense and romance throughout the drama. Since has to tell two sides of the story to the audience, one that is real and the other that is in Hoorain's head, his techniques to convey it are indeed note-worthy and artful.
Saraab has huge twists in store for the audience. Its first episode already has us hooked and we urge you to keep following it to know the massive surprise, that is eventually the central idea and the real story of the drama.