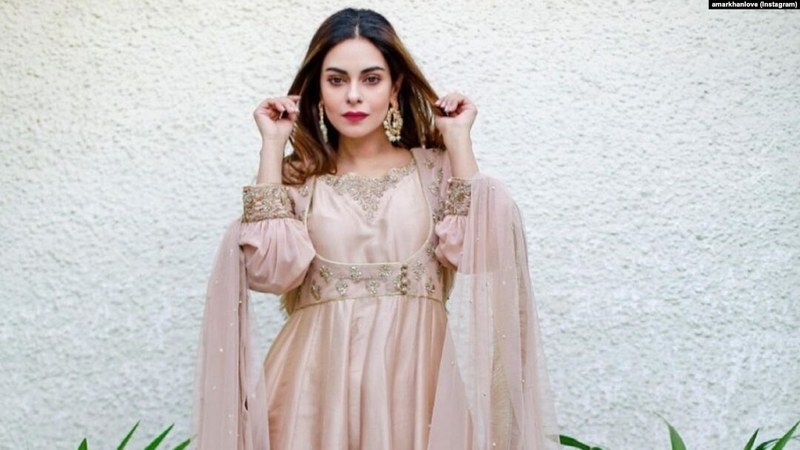 The gorgeous Amar Khan recently spoke to The Voice of America - Urdu in an interview with ace journalist and writer, Omair Alavi. This fun and insightful segment on actress Amar Khan covered her success story in the drama industry, her life outside of dramas, family and her future upcoming projects.
Khan shot to stardom after she was seen in Ghughi and Belapur Ki Dayan and Dil-e-Gumshuda, few would choose such a start but she delivered an electrifying performance and the dramas were block-buster hits, with Belapur ki Dayan's popularity, Amar Khan became a household name. In the interview Khan mentioned that many asked her to venture out and choose a project that is not a niche and would be watched by the masses. After working in the horror genre and attaining success with it, she took heed to that advice and graced the screens as the innocent and loving Samra in Qayamat who stole viewers hearts with her pure heart while her tragic death in the show left audiences heart broken. Starring opposite the dapper Ahsan Khan, this family drama on Geo Television is currently riding high on the TRP charts and is loved by one and all. The role was poles apart from the kind of dramas Amar Khan had previously been seen in and was received with muh love from the audiences.
When asked about acting in dramas like Belapur ki Dayan, Khan said "I have played the hero more than the heroine in my dramas". She further on, credited her co-star Shakeel Sahab for her amazing performance in the drama, Belapur ki Dayan and spoke about his encouragement and support towards her to perform even better for her role.
Samra from Qayamt created quite the stir!
Although having worked in various dramas. Qayamat's Samra received tremendous love and appreciation from fans and has shot the actress to new heights of stardom. "Even after the character Samra met a tragic death in the drama, the love for her role keeps pouring in" says Khan.
The diva narrated an incident where she put up a video of her mother, actress Fareeha Jabeen watching a clip of Samra dying in the drama which vent viral, she spoke about the number of well wishes she received as Amar Khan which made her believe her fans are not just fans but are now family.
Amar Khan's Take on Nepotism
Khan's mother is actress Fareeha Jabeen who has been in the industry for quite a long time, however Khan says, "I did not receive any work because of her, I didn't even get my first break because of her since she is an actress and not a star and neither was my grandfather. Nepotism doesn't come into play here" The Qayamat actress believes there was an added pressure on her because she was the third generation artist from her family where none from the previous generation are stars.
Amar Khan is all set to sizzle on screen with Imran Ashraf in Dum Mastam
https://www.instagram.com/p/B51elDSJmX3/?utmsource=igwebcopylink
Adding another feather to her cap, Amar Khan is writing her debut film Dum Mastam in which she stars as the lead heroine too. The leading cast also includes Imran Ashraf and Adnan Siddiqui and has filmmaker Mohammad Ehteshamuddin on board too. The movie's release date has not been finalised yet.
We're anxious to see what the diva has in store for us next! Watch the complete interview here: