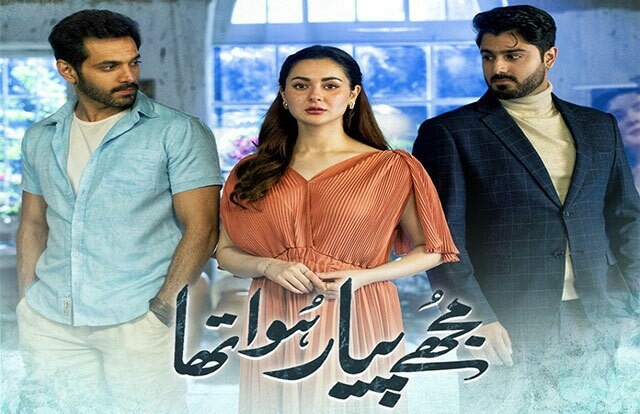 The latest buzz around drama enthusiasts is ARY's 'Mujhe Pyaar Hua Tha" - What you want and what destiny ...

The latest buzz around drama enthusiasts is ARY's 'Mujhe Pyaar Hua Tha" - What you want and what destiny wants. The drama serial has a star studded cast that includes the gorgeous Hania Amir alongside the two macho personalities, Wahaj Ali and Zaviyar Noman. Veteran actors Shahood Alvi, Noor Ul Hassan, Salma Hassan, Shaheen Khan and Angeline Malik are also playing prominent roles in the show. Mujhe Pyaar Hua Tha is written by Sidra Sehar Imran of 'Jalan' fame and is directed by maestro Badar Mehmood. The heartbreaking OST already set our expectations high and increased our curiousity. The beautiful rendition sung by Kaifi Khalil is a unique touch to the already eye-grabbing visuals that we saw in the promos.
With a cast so promising, let's discuss what the first episode was all about and why you should be watching Mujhe Pyaar Hua Tha!
The Intense Love Triangle Has Our Attention
The first episode opens with an introduction to the sweet, innocent and bubbly Maheer (Hania Amir) the ever smiling, Maheer is playing the ultimate girl next door in the drama. She is seen going to her cousin's Mehndi function with her paternal cousin Saad (Wahaj Ali). The comic banter between the two is a treat to watch, and it is also pretty evident that Saad is head over heels in love with Maheer but she might just not know it yet. He is possessive about her which we are shown in two to three instances during the episode, such as when he loses his temper on a passer-by who stares at Maheer.
Areeb (Zaviyar Nauman Ijaz) makes his dashing entrance clad in a jet black sherwani all set to entertain the crowd at his friends Mehndi. He bumps into the cute Maheer at the function and is instantly drawn to her infectious smile, he seems to be captivated by her and cannot take her eyes off her the entire time, often finding ways to talk to her during the night. Maheer and Areeb's encounter is funny but heartwarming, she tells him how 'Areeb' has been so irresponsible and is late for the event all the while not knowing he is the infamous Areeb that she has continued to bash for the longest time. The immediate connection between the two is quite visible and is noticed by Maheer's cousin Saad and Maheer's mother (Salma Hassan) who asks her sister all about this mysterious, handsome young man.
Hania Amir and Zaviyar Ijaz are working together after their super-hit pairing was loved by all in Sang e Mah. The duo has an amazing on-screen chemistry and we can't wait to see the two setting the screen on fire in their upcoming scenes!
Do we sense a massive twist in the plot?
While we see Saad not so secretly pining for Maheer, by going above and beyond for her at all times. He is not only her designated driver but the promo for the next episode shows his mother talking about Maheer being their choice for Saad, meaning she believes Maheer is going to be her daughter in law. However, on the other end we see Maheer's mother looking longingly at Areeb and wishing to find a wealthy match for her daughter, someone just like Areeb. Is Saad's little love story going to turn into a heartbreak even before it begins? Will we see him turning into the angry young man as seen in the promos after a torturous one sided love saga? Will Areeb force his way into Maheer's life even after his mother clearly refuses to her as his wife? We are anxious to see Mujhe Pyaar Hua Tha's story unfold as the drama progresses on. The premier episode certainly made us curious and we can't wait to see what comes next in this love saga.