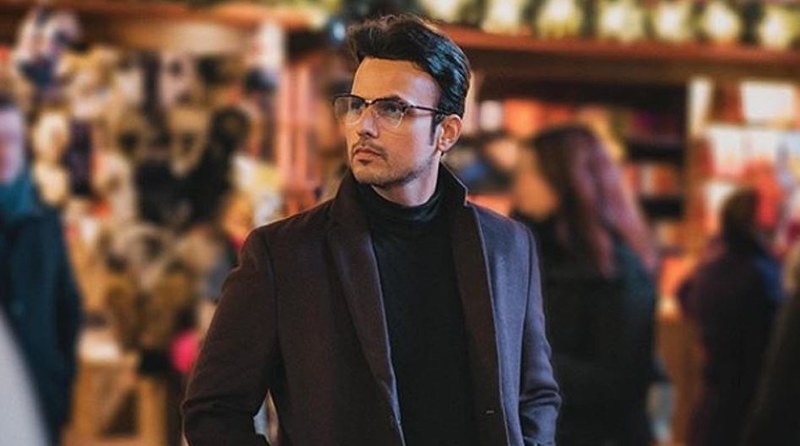 Dr. Haris is an entirely different person than Altamash: Usman Mukhtar

The man from Anaa is back, and this time Usman Mukhtar is looking even more dapper in Sabaat. So far not much has been revealed about his character but one thing is certain, his entry has taken the shine away from everyone else in the drama. When HIP contacted him for an interview and told him that the readers were interested in knowing how he prepared for the role, the handsome hunk was humbled. He flatly refused to believe that the female audience was waiting for his entry in the drama, and claimed that Ameer Gilani was doing a fabulous job as well. Be it his chemistry with Sarah Khan or working with senior actors, Usman had a lot to say about Sabaat, how he prepared for the role and what made him opt for a role that kept the audience waiting in anticipation. And then there is a piece of surprising good news waiting for you at the end. Happy reading: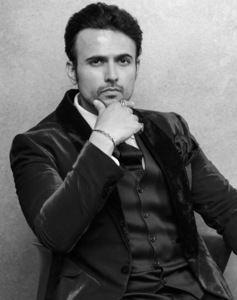 Sabaat maybe your second TV play but the way the audience waited for you make it seem as if they have known you for a long time. What do you have to say about that?
All I can say is that I am humbled by my fans, especially those who were waiting for my character to appear in Sabaat! The reason why I chose to do Sabaat was that the role was different than anything I had done before and that director Shehzad Kashmiri was doing it. In fact, while we were doing Anaa, he sort of mentioned Dr. Haris to me, and although I wasn't sure whether I would be doing it, after a year it turns out I am the 'good doctor'.
What can we expect from your character in Sabaat now that it seems that Dr. Haris might be in love with Miraal?
The writer Kashif Anwar must be commended for keeping Dr. Haris a mystery till late and that's one of the reasons why it has gained so much attention. He makes his appearance after Miraal loses it, in fact, after sets her brother's room on fire, chases away her fiancé, terrorizes his parents, and makes life difficult for her parents. From such an interesting buildup, Dr. Haris will take the story forward and try to find out what is causing Miraal to act in such a manner. Trust me, the way he will handle it will be both courteous as well as charismatic for the audience.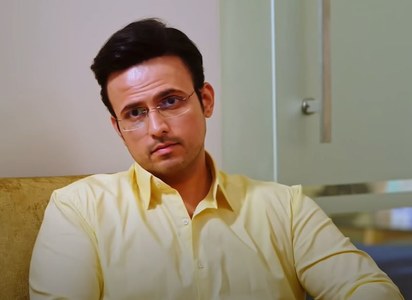 What was so charismatic about playing a psychiatrist; or did it have something to do with the stunning Sarah Khan as a patient?
Sarah Khan is a wonderful actress and we had some memorable scenes together in the drama. She is also a superb human being who is the exact opposite of Miraal, the character she is playing in the drama. However, my doing Sabaat has more to do with my character than any other person. Had it not been central to the plot, I might have declined it because I wanted something that steers the drama, not just be a part of it.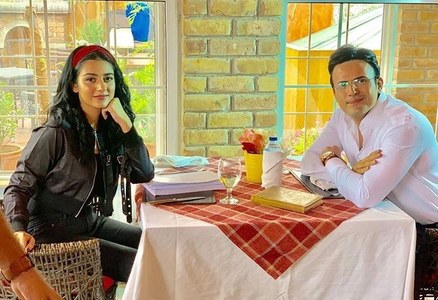 We do notice a change in appearance for Sabaat … how did you prepare for the role of Dr. Haris?
Those who have been following my career since theatre days know that I don't stay long in one appearance. Altamash in Anaa was a different person than Dr. Haris so I gained a little weight to make them look different as well. I also met some therapists and asked them questions about their profession, their conduct, their codes and ethics, and how they conduct themselves while in a session with a patient.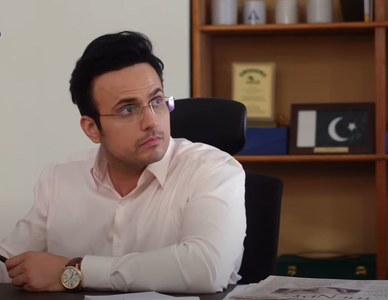 Sabaat has so many senior actors performing together including Mohammad Ahmed, Seemi Raheel, Leyla Zuberi besides Moazzam Ali Khan who makes his debut. Didn't it make you feel uncomfortable while performing in front of those who have been acting for a long time?
Not at all; in fact, I tried to observe these great actors when they were acting in the drama. The energy with which they perform is infectious in a good way and whatever I could learn from them, I tried to incorporate in my own performance. I must say, it was an absolute honor working with all these people and although I don't have many scenes with Mohammad Ahmed and Seemi Raheel, I consider myself lucky to be a part of a star cast that includes them. As for Moazzam Bhai, well I have known him for some time since his younger brother Abbas and I have worked together on stage, but it was fun sharing the screen with him. You will see that in later episodes!
Care to give us a spoiler as to how your character ends up in the play?
Oh no, not at all. My fans have waited a long time for my character to show up, I can't spoil the end for them. A lot will happen in the coming weeks so stay tuned and watch Sabaat every Sunday.
And then there is the good news we have been waiting for; your short film, 'Bench' won an award at the South Shore film festival. How do you feel on this achievement and were you expecting that your short film will emerge as the best from the rest?
It was one of the best things to happen to me as a filmmaker. When I directed Bench with Rubya Chaudhry in the lead, I knew at the back of my mind that we had something special on our hands but to win an award was something that would have been huge, and today it has become reality. We submitted Bench to most of the film festivals around the world but due to COVID-19, the jury sessions were held online. When I received the e-mail notifying me of winning the Best Short Film award at the South Shore film festival, I felt on top of the world. The achievement wouldn't have been possible without my team, friends, and well-wishers.