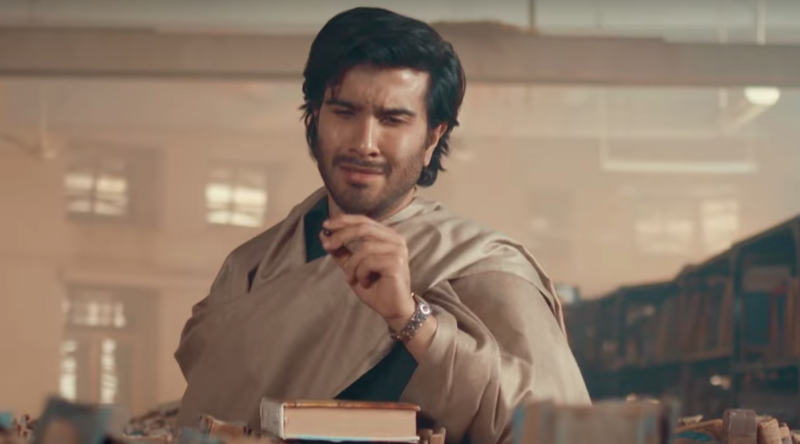 Feroze Khan breaks the internet with his heart-wrenching performance!

Khuda Aur Mohabbat's third installment starring Feroze Khan and Iqra Aziz has been waves since its release, becoming one of the most watched dramas in Pakistan with each ground-breaking episode. The latest episode has roped in a whopping 8.4 TRPs. It is a project of 7th Sky Entertainment and is produced by the dynamic duo Abdullah Kadwani and Asad Qureshi and is directed by Wajahat Hussain.
The Plot
Khuda Aur Muhabbat is not the usual run of the mill love saga, it is the story of a one-sided love that our Romeo, Farhad (Feroze Khan) feels for his Juliet, Mahi (Iqra Aziz). She does not reciprocate his intense love for her and this has turned him into a 'Devdas' of sorts who is left pining for his love who is soon to be married off to another man.
'The heart wants what it wants' as the saying goes fits perfectly well on Farhad who has two beautiful women in love with him, Sajjal (Mahi's maid) and his neighbour back home who hung around his terrace just to get a chance to speak to him. However he only has eyes for his one true love Mahi who not only is way out of his league but she has never accepted that she loves him back!
In the latest episode, Mahi calls Farhad in an abandoned library to show him a picture of her soon to be husband, Taimoor. She tells him her friendship with Farhad back in Lahore was only just a game for her and she never had any feelings for him. She asks him to go back and forget about her, Farhad is heart-broken and curses Mahi on never finding happiness in her life either. A sad Mahi is seen crying in her room while her maid Sajjal has discovered her meeting with Farhad and she is equally disheartened as she now knows why he rejected her a night before when she told him of her feelings for him. Farhad left the Haveli and it seems like nobody has seen him all day, his friend and co-worker Dilawar is worried for him and tells the Chotay Shah-ji about it as well. Dilawar, Noura and a few other men rush out to search for him.
Feroze Khan breaks the internet with his performance!
This episode has seen some phenomenal acting from Feroze Khan, the angst in his eyes and the sadness in his voice surely made us shed a tear or two. The dialogue that has viewers buzzing, "Aaj tumne ek masoom dil tora hai, aur is dil tootne ki goonj tmhe umar bhar ab sunaye degi.."
This scene sent shock-waves across the internet and has netizens applauding at the perfectly delivered dialogues from both the stars. This intense and dramatic meeting between Mahi and Farhaad was definitely the highlight of the episode. As intense and heart-wrenching as it was, we were surprised to see Farhad who is entirely head-over-heels in love wish a tonne of misfortunes on Mahi, did he really mean what he said or did he say it out of anger is the question we're asking ourselves.
Kudos the the brilliant direction by Wajahat Hussain!
Hats off to the director Wajahat Hussain who makes every episode a visual treat, his execution and his attention to detail is applaud worthy. From the beautiful set locations to the detail on every shot, Khuda Aur Mohabbat has definitely become a trendsetter for the other dramas on air at the moment.
What's Next?
It looks like the next episode is going to bring some unfortunate news for all the Farhad lovers out there. Is this going to be a turning point for Mahi who has been adamant on professing her love for Farhad?