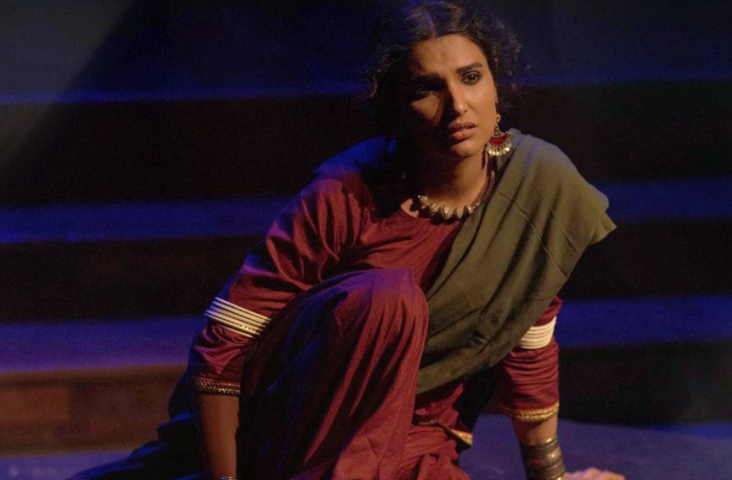 Film and TV star Amna Ilyas conquers the stage with her debut theatre performance as The River's Daughter

It's very rare that an actress who has done TV and films mostly manages to make a good impression on her theatre debut, but Amna Ilyas is not just any other actress. The supermodel turned actress had conquered the ramp long before she made a place for herself as an actress, and she uses that experience to her advantage when she makes her theatre debut in & as The River's Daughter. Not only is the drama inspired by the folk tale of Shah Latif's Umar Marui but also brings it to the modern day, where both the characters begin their journey on the opposite sides but end up doing what they believe is right.
Written by Arieb Azhar and directed by Kulsoom Aftab, The River's Daughter is a project by All4One in collaboration with Insaan Culture Club in partnership with British Council Pakistan. Developed under the "Gender Ecologies" grant of the British Council, it highlights the plight of modern-day villagers no matter which province they reside in. It tells the story of a village community struggling to survive in the face of a mega-real estate project while implementing traditional methods of permaculture.
The relationship between Marui the charismatic leader of the village, and Umar the director of the real-estate project is a modern-day twist to the folk tale Umar Marui and makes you understand that not everything done as development can be termed as a positive step. The role of Marui is essayed by Amna Ilyas while Umar is being played by the versatile theatre actor Fawad Khan and together they recreate the magic on stage. If you want to know how they and the rest of the cast and crew were instrumental in making The River's Daughter something worth your time and money, read along to find out:
1. A chance to watch Amna Ilyas in a whole new avatar
Those who had seen hit films like Zinda Bhaag and Baaji know very well that Amna Ilyas is one actress who can carry a project on her shoulders alone. However, theatre is not just a one-person job and here one has to take into account her co-stars, writer, and director in order to shine. The Good Morning Karachi was lucky in that regard since she got to make her debut alongside a celebrated cast as well as under the direction of a theatre veteran. She used those points to her advantage and owned the character of Marui who came, who acted, and who dominated the proceedings throughout the two-hour play.
She not only looked like Marui but spoke like the character; she not only seemed to be the most intelligent person in the room but was always ready for a challenge. Not for one second did it seem that she was delivering written dialogues when she spoke about Sindhu (the land) or nature because it felt as if she was speaking whatever was in her heart. Her Sindhi accent was spot on as well and if you fall in love with her character after the play, then trust me, you are not alone. The folk character has that effect on anyone who comes in contact with her and Amna Ilyas just performed it so well that she ended up mesmerising the audience with her new avatar.
2. Theatre veteran Sheema Kirmani, and Fawad Khan make their presence felt
The River's Daughter benefitted from the presence of veteran theatre actress and director Sheema Kermani who played the role of the village oracle perfectly. She cared about Marui's well-being as well as the villagers' and that's what made her important to all those around her. It wouldn't be incorrect to say that her character was as important as Marui's in the play because it was she who gave strength to the leading lady and helped her fight for what was right.
We all know that Sheema Kirmani is one of the most celebrated dancers produced by Pakistan but that somehow lessens her impact as an actress; one of the scenes of the play is worth mentioning here where she notices Umar and Marui's interaction and gets alarmed, even though that interaction was harmless and in the presence of others.
The play would have not been this successful had it not been for of Umar, played by Fawad Khan, another theatre legend. The development of his character from someone who believes in his real estate project to a person who understands the impact of his dream project is the biggest transformation of the play.
Add to that his excellent performance as the arrogant, foreign-educated developer and you will leave the hall thinking of many such individuals who you might have met during your life who have nothing else on their mind, but their work. His speech on the launch of his dream project was something only an actor who has garnered experience over time would have been able to pull off, and he does that in an excellent manner. He was aided in his quest by versatile co-actors Vajdaan Shah, Samhan Ghazi, Umeza Irfan and Arieb Azhar, the playwright.
3. Arieb Azhar shines on his theatre comeback, debut as a playwright
The play also marks the return of Arieb Azhar to theatre who makes a successful comeback to the stage after 30 years. Not only did the play reunite him with his roots in the Dastak theatre group of Karachi but also gave the theatre a new playwright, one who could make his legendary father Aslam Azhar proud. His performance as the powerful landlord Tota Sain reminded one of the Bollywood actor Raza Murad which is nothing short of a compliment for someone who has spent years producing music.
Arieb passed the test both as an actor and a playwright and one must commend his ability to switch from music to theatre without any difficulty. Penning a thought-provoking original script instead of going for an adaptation was an intelligent step on his part and although a couple of his dialogues seemed cringy, without them, the impact of his villainy would have been less. (He was helped in this regard by Nasir Mehmood who translated the English script into Urdu).
4. Kulsoom Aftab is on top of her game as the director
Kulsoom Aftab is no stranger to direction and has been doing quality work for a number of years. Not only did she direct the play but was also involved with the development of the script which tackled a very serious subject in an interesting manner. It was commendable the way she handled the double-storey set or carried the musicians who doubled as actors while the credit for improving the actor's mannerisms, dialogue delivery, and postures must also be given to her.
In the fast-paced modern world, a play with a message is sometimes considered boring but kudos to Kulsoom Aftab and her team, they borrowed the romance from the Umar Marui folktale and incorporated it well without going overboard. The moment where Umar and Marui both fall in love with each other reminded me of the scene from Subhash Ghai's Karz where the romantic pair of Rishi Kapoor and Tina Munim felt alone in a room full of people because, for them, there was no one else around. To pull that kind of a scene on stage is only something a visually alert person could do and Kulsoom Aftab and her team deserve applause for that.
5. Live folk music is as important as a character in this thought-provoking play
Arieb Azhar might not have done a lot of work in theatre but when it comes to music, he hardly has any competition. He uses his musical prowess to insert folk music in the play which acts as a bridge between scenes and serves as a breather as well. Since the music is played live, thanks to Mai Nimani Troupe, and Teekam Das, it entertains the audience rather than boring them to death and that's what keeps them waiting for the next scene and the scenes after that.
On the whole, The River's Daughter is one such play that every theatre enthusiast must watch before the Karachi run is over. The UK partner Yasmin Whittaker Khan from Insaan Culture Club hopes to organize dramatic readings of the English script in the UK next month and if the play does well abroad, it will bring laurels to both the team and the country.
Watch the play at NAPA Karachi from the 25th to 31st May 2023.