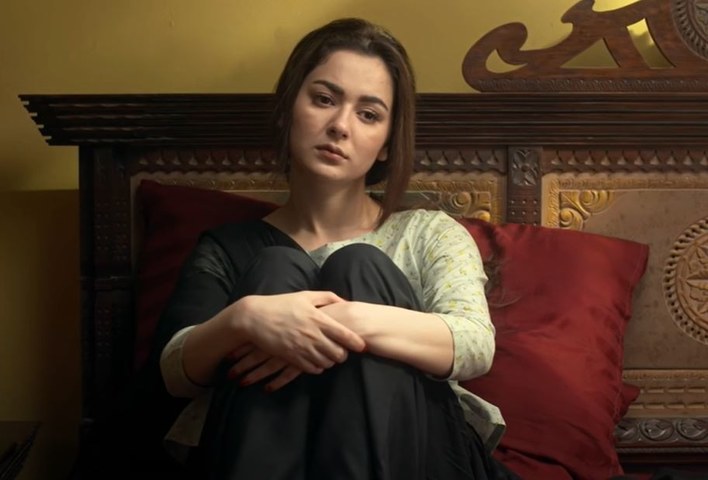 DIl Ruba continues to intensify with new plot twists!

HUM TV's Dil Ruba is on the right track as the story moves ahead, with Hania Aamir stealing the show in the last two episodes. In both the tenth and eleventh episodes of the drama, she changes the gear and from a happy-go-lucky girl becomes a bad-luck-charm for whoever comes in contact with her. The drama might have slowed down compared to the initial episodes but even then it is going at a pace faster than most plays on air these days. Everything is happening fast as it does in real-life and many directors out there can learn the art from Ali Hassan, instead of wasting the audience's time, and their own.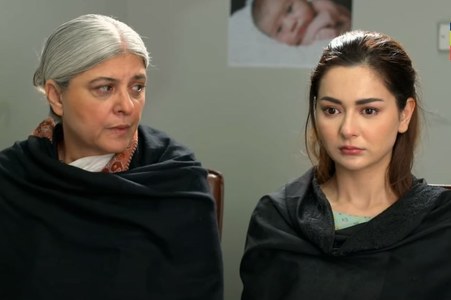 The Plot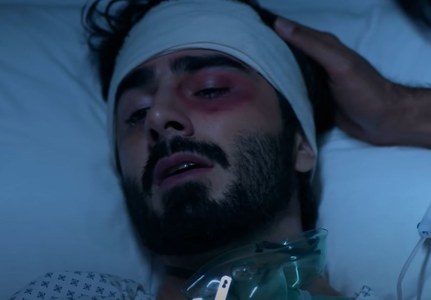 The super-happy life of Sanam (Hania Aamir) takes a turn for the worst after her lawfully wedded husband Razi (Nabeel Zuberi) dies in an accident that took place when he was on his way back from Ayaz's (Asad Siddiqui) studio. Before dying, his last words were directed at Sanam, and he tells his brother Sabeeh (Mohib Mirza) that Sanam is not to be trusted. Sabeeh who had already been hurt by Sanam knew that and decided to go back to England, hoping that his mother (Laila Wasti) will follow him once he applies for her visa.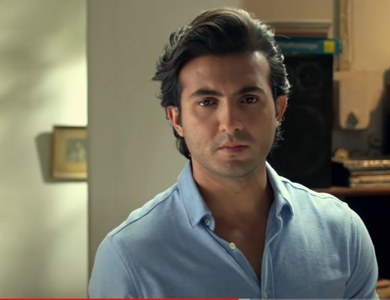 Junaid (Shahroz Sabzwari) gets to know of Razi's death but reacts in a different way; by leaving the country for further education. Sanam's brother and her mother-in-law (Laila Wasti) asked Sabeeh (Mohib Mirza) whether he would be interested in marrying his younger brother's widow but he refuses, even after finding out that she is carrying his brother's child. Ayaz (Asad Siddiqui) enters the picture again, and by the time the episode wraps up, his friend and Sanam's neighbor was threatening to kill him, if he didn't delete Sanam's pictures from his computer.
The Good
The best thing about Dil Ruba is Sanam's transition from a new bride to a young widow; she was the life of the world when she was happy but since Razi's death, she doesn't want to live anymore. Hania Aamir's expressions, the anger in her eyes, and above all, the way she is carrying herself as a widow are too impressive from an actress who is still quite young, especially for such a role. The only person who manages to share the spotlight from her is Mohib Mirza who has been brilliant from the very first episode. Be it the scene where he meets Sanam for the first time since she married his younger brother, the one where he tries to talk to her in person, to the one where his mother asks him about marrying Sanam, he is fabulous in his mannerisms, his expressions, and his dialogue delivery. Shahroz Sabzwari gets better with the passage of time and in the last three episodes, his character has taken a 180-degree turn. His character still may care about Sanam but he doesn't show it and stays strong despite nursing a broken heart.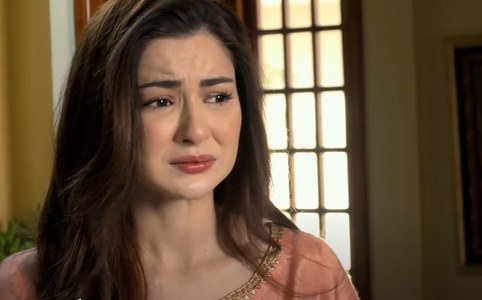 For those who have grown up in the 1980s, watching Marina Khan play a mother is unbelievable because for them, she can't age. Her expressions on finding out that her daughter is a widow or that she might be pregnant are priceless and her fans didn't expect anything less from her. Her elder daughter played by Durre Fishan is also a good addition to the drama industry and one hopes she keeps herself grounded with good roles instead of playing the bechari larki like all those newcomers who want fame without earning it. The rest of the actors don't have much to do except Asad Siddiqui who is hell-bent on making his Dil Ruba's life miserable, even if she isn't interested anymore.
The Bad
First thing first – why did Razi (Nabeel Zuberi) remove his mask that too on the hospital bed after surviving a major accident? Didn't he learn anything from Danish in Mere Paas Tum Ho … how could he miss the memes that became viral after Humayun Saeed's death scene? He should either have survived or died without saying much and could have just stared at his wife who was the reason why he was in the car in the first place! A couple of scenes in the tenth episode featured Sanam's overgrown college friends with one of them calling Junaid to tell him that Sanam is now a widow. She was the same person who told him that she was married too, and that led to Junaid's unsuccessful suicide attempt. The question here is – who does that in the real world and if they do then where are those people? The character's action did make one wonder whether the writer is to be blamed or the director is to be congratulated for a job well done – who knows how many such acts were stopped from airing by Ali Hassan, the man at the helm.
And then there is Veteran actress Rehana Akhtar who keeps on irritating the viewers with her shrill voice and over-the-top expressions. She might play the aunt next door kind of character but it could have been played like a pro, not like it is always played on TV. Watching an experienced campaigner like Sajeeruddin Khalifa waste himself in a role that should have been anything but a paralytic is saddening. He deserves a better role and has proved in his few scenes that he can be the most expressive actor in the frame, given the chance.
The Verdict: The Game Is On!
I don't know when Syed Jibran will make his entry in the drama and how, but before his grand entry, the board is being set quite intelligently. Things are moving quickly in Sanam's household and if the promo is to be believed, her brother might suspect her of being unfaithful, although the viewer in me hopes it's not true. If it does prove to be true, then it will make some of the viewers sad including this scribe because so far, sanity is the only thing keeping my interest alive in the play. I sincerely hope that Qaisera Hayat proves me wrong and director Ali Hassan keeps surprising us with each episode. Will Sabeeh agree to marry Sanam for the sake of Razi's child, will Razi's child make a difference in Sanam's life, will Ayaz be out of the equation for good, will Iram get married and settle with her husband, will life return to normal for everyone else, these are the questions that deserve an answer. Sadly, all good dramas these days are aired once a week and we will have to wait for a few more days to get the answers.