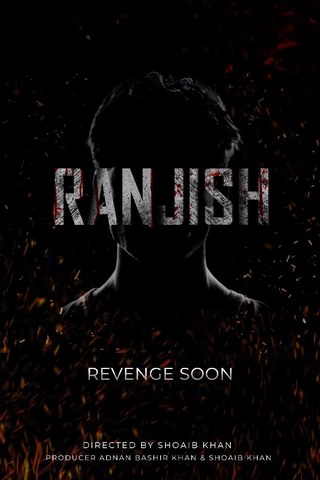 Ranjish is an upcoming Pakistani webseries, which centres around the concept of revenge and betrayal.
The new webseries Ranjish focuses on the concept of revenge and the underbelly of the fashion world, presenting a darker tale than what we'd expect from a local online venture.
With a collaborative effort from ABK Films and Shoaib Khan Films (SK Films), the intriguing online story contains elements of riveting mystery, adrenaline pumped deception, intrigue and most of all, revenge. With a vindictive narrative, Ranjish, stays true to its namesake, depicting anger and rage, suited to the tale's premise, as it paints a dark picture assessing the nature of deception and the sinister secrets of a family. With a wronged protagonist and conniving antagonists to match the impassioned delivery of an intense story, the upcoming series promises a captivating performance.
Actor and producer, Adnan Bashir Khan, has stated the core value of the production, being 'our mission is to create content that engages the viewer both emotionally and intellectually, through expertly shot and edited productions which tell a story and are filled with ideas'.
The focus for the production is to tell a story, which grips attention through both emotionally and intellectually stimulating content, which is presented in a believable way with elements of valour and subtle as well as direct battles to be fought.
The project is already embedding an impression before its release, although we are kept in the dark about the details yet to come. Promising a commitment to authenticity with a conviction via performance, Ranjish will be a series to remember, bringing in fiery energy and action to Pakistan. With the development addressing business and family secrets, the mysterious plot has a lot to offer.
So far little is known about the upcoming project, as eager ears are waiting to hear further details about the exciting web-series' planned release, which will be a phenomenal goal to achieve in the world of online production in Pakistan!