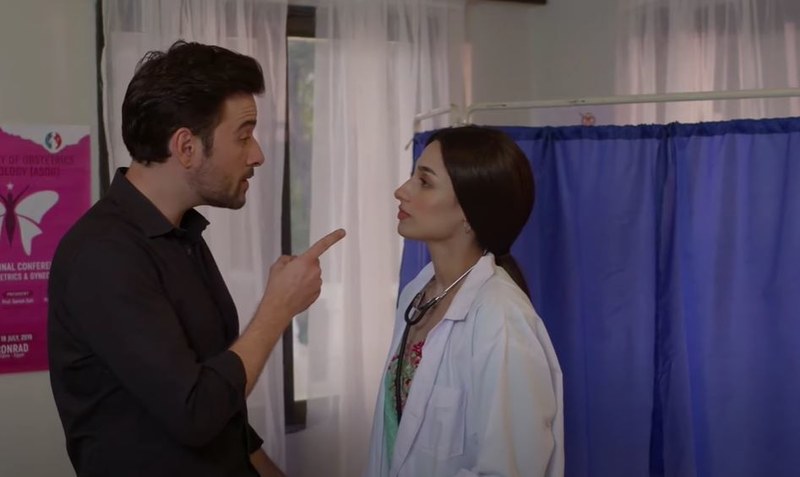 'Khwaab Nagar Ki Shehzadi' shows us why its TRP's are off the charts!

Khwaab Nagar Ki Shehzadi completed its first week on air and is leading the way with the highest TRP's during the slot! The tale of the naïve and sympathetic Meera played by Mashal Khan and her maid (Anmol Baloch) is an interesting watch, and the best part? You can watch it four times a week!
The Story So Far
Over the week the story has progressed quite a bit, from the care-free, independent and ambitious Seher (Anmol Baloch) she has undergone a complete change in her personality due to the circumstances in her life. After making sure her sister escaped the notorious mobster she was being forced to marry, the dangerous man Khalid insisted on marrying Sehar instead. She then ran for her life and her mother brought her to Meera and begged her to keep Sehar safe with them for a night. That 'one' night turned into days after Sehar's parents escaped to the village in order to save their lives. Back at Meera's household, Saim and her mother in law blamed her for her naivety, realising she had made a mistake and was taken undue advantage of, Meera apologised to her family. Khalid and his mobster gang broke into Meera's house and tried to harm Saim and spoke about kidnapping their child, thankfully the police were there on time and arrested them. This turmoil led to Sehar being taken back to her home by Saim who was adamant that keeping this maid at home would be putting their lives and safety at risk. However, Sehar's relatives refused to entertain her in their homes as they feared Khalid and his notorious gang. Meera had no way out but to take Sehar back home.
The Good – Mashal Khan Takes Charge!
Mashal Khan as Meera has to be the nicest person we've ever come across, even after being taken for granted by Sehar's mother, she continues to care for her and is willing to fight with her family just to do what needs to be done. We love this strong, level-headed and sensitive Meera, and Mashal Khan has absolutely embodied this role to perfection!
We're glad the play is not only about Meera and her maid and we get to enjoy the lovey-dovey scenes between Mikaal Zulfiqar and Mashal Khan who share a sizzling chemistry on-screen. The reel couple Meera and Saim celebrated their 8th wedding anniversary but are head-over-heels for each other, just like a couple of newly-weds.
The Bad – We Cannot Wrap Our Heads Around All The Helplessness!
Anmol Baloch definitely needs to stop crying throughout the episodes, is she as helpless as she seems or is this all an act that she is putting up? As the story unfolds, we do believe we will be getting to see a different, ambitious Sehar on our screens pretty soon.
Thumbs Up To The Team Behind The Drama
Produced by iDream Entertainment's Production House, and brilliantly executed by ace director Syed Ramish Rizvi. The play is penned down by Ali Moeen and Rehana Aftab.
What's Next?
Will Khalid and his gang come looking for Sehar again? Will Meera regret helping out someone in need? Watch the next episode of Khwaab Nagar Ki Shehzadi to find out more.