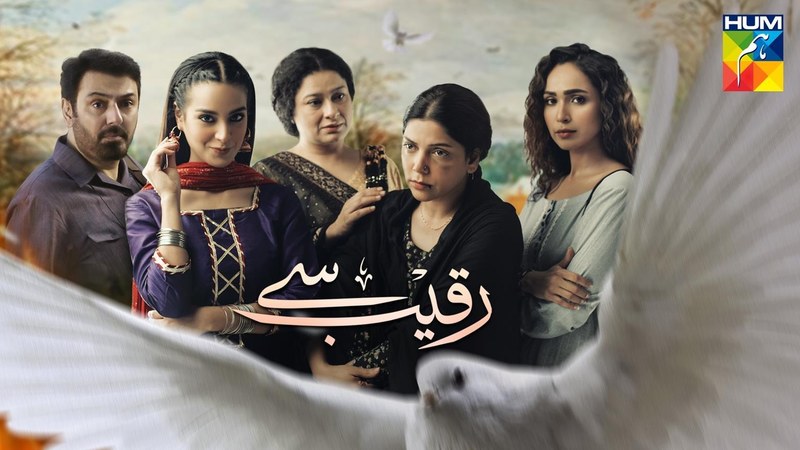 The drama that is poetry in motion, Raqeeb Se, has left audiences speechless after its recent episodes.

Raqeeb Se is the work of director-writer duo Bee Gul and Kashif Nisar who previously worked together on blockbuster, Darr Si Jati Hai Sila. The play is inspired by Faiz Sahab's poem and has managed to keep the audiences hooked to its engaging storyline. With an impressive cast, script, storytelling, and tremendous performances, Raqeeb Se has left its viewers mesmerised with each episode!
The Plot
Raqeeb se is like that gift that keeps giving, what we thought of was a simple story of long lost romance, is a play that has touched up on various narratives. The latest episode has left viewers shocked after Hajra reveals Maqsood is not Insha's biological father but one that willingly adopted her and told the world she was his own. This week, Raqeeb Se has opened its doors to various emotions, secrets and pasts that had been buried for two long decades. We learn the reason behind Hajra being grateful to Maqsood for everything, she has never forgotten the 'Ahsaan' that he bestowed upon her when he married her (a murderer's daughter) after she was abandoned by her then husband while being pregnant with Insha.
Ameera professes her love for Maqsood Sahab infront of Hajra and Sakina, this revelation brings forward a different side of Hajra as never seen before, she ends up slapping Ameera for voicing out such a thing. Stubborn as ever Ameera decides to announce her new found 'love' to Maqsood who brushes her off by saying she's merely infatuated, in a turn of events Ameera tries to hurt herself by slitting her wrists. Maqsood sahab tells Ameera about his love for Sakina being a burden for him at that time when he was a young man. This discussion opens Ameera's eyes and she is finally able to see that it wasn't such a great love story as they all believed it to be! Having heard her mother Sakina and Maqsood's love-story since childhood, Ameera's infatuation with Maqsood was justified as she had not received love from anyone else, not even her father. She grew up with this story in her mind.
On the other hand, Sakina receives a divorce notice from Rafeeq Ali, he added that she was now finally free to go spend her life with her true love. However he is left heart-broken after his decision and soon visits Sakina in the city to return the title deed for the plot that he acquired in return for divorcing Sakina.
The Cast and Storytelling Have Won us Over!
Raqeeb Se has been blessed with brilliant performers, a beautiful script and poetic story telling, combined this piece of art is a stroke of genius! With Bee Gul's writing and Kashif Nisar's direction, Raqeeb Se is a masterpiece that is breaking through the monotonous saas-bahu saga's that we are surrounded with. The veteran actors, Noman Ijaz and Sania Saeed share beautiful on-screen chemistry and have great command over the scenes they are in, the scene where Maqsood Sahab apologises for not being wrong for all these years left us in tears!
Hadiqa Kiani has been a delightful surprise, there couldn't have been a better Sakina than her and while she finally discovers her self-worth, and shares her love for her daughter, Sakina is finally on her way to self-empowerment.
Saqib Sumeer's 'Rafeeq Ali' has our heart aching with his grief stricken dialogues. We may have hated his guts for beating Sakina black and blue, but the last few episodes have changed our perception and shown his plight for being married and in love with someone who's never loved him back. Iqra Aziz playing Ameera has perfectly embodied her role as a young girl deprived of a father's love all her life and then searching for it elsewhere. She went from infatuation to complete devotion as she attempted suicide to then realising her errors all in one episode, this episode was a definite win for Ameera!
Faryal Mehmood's Insha Steals the Show with Powerful Performance!
Faryal Mehmood's portrayal of Insha has been phenomenal since the first episode, however her recent performances have blown us away! The character Insha has been an absolute treat to watch, a polar opposite of Hajra, we love how she is the face of an empowered woman who takes her own decisions, knows her self-worth, is strong and independent. We are so glad to see she did not stay married to Abdul who used her as a ladder to success, her last line 'Mai tumhari Izzat nahi karti' spoke volumes, just one line but a tonne of emotion attached to it. Insha was not one to shy away from confrontation and even questioned Maqsood Sahab on why he wasn't able to be a better husband to her mother Hajra. One of the best characters to be written in recent times, Faryal Mehmood has bowled us over with the complete justic she has done with Raqeeb Se's Insha.
What's Next?
As Raqeeb Se reaches its climax, a lot has been uncovered, why Hajra has always been thankful to Maqsood Sahab, while the recent episodes focussed on Insha and her discovering herself, we are anxious to see what lies ahead for the cast of Raqeeb Se, what will become of Sakina now that she has finally realised her self-worth?