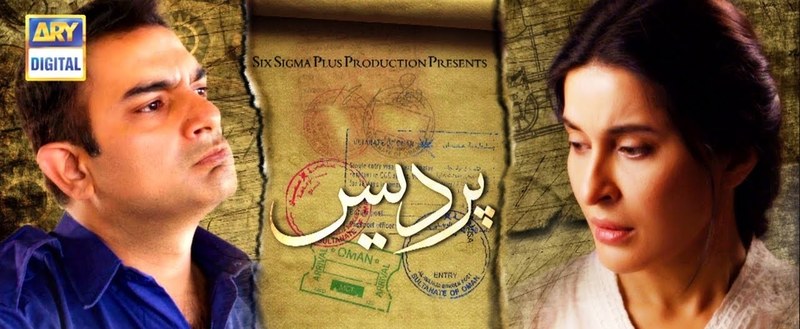 Sarmad Khoosat and Shahista Lodhi steal our hearts in 'Pardes'

ARY Digital's Pardes has made quite the stir due to its brilliant star cast which includes Sarmad Khoosat and Shahista Lodhi in leading roles while it has Bushra Ansari, Gohar Rasheed, Durr-e-Fishan Saleem and Sharmeen Ali in prominent roles. Directed by Marina Khan, penned by Sarwat Nazir and produced under Six Sigma production, 'Pardes' has a gripping narrative, a perfect execution a great script, it is one play that should be added to your must-watch list.
The Plot
The 'obedient and obliging' son Ahsan (Sarmad Khoosat) leaves home for working as an expat in Muscat, after the financial pressures of his family keep increasing day by day. Ahsan who deeply loves his family, his wife Zubaida (Shahista Lodhi) and his daughter Aiman is having difficulty adjusting abroad as he misses his loved ones terribly. Zubaida's life has become a living hell with constant taunts from her mother-in-law Mumtaz (Bushra Ansari) and Nausheen, treating her as a maid and nothing more. While Nausheen relaxes all day long due to her pregnancy, Zubaida works tirelessly doing all the housework even though she's pregnant too.
Pardes is a story set in the 90's when mobile phones were not common and neither were telephones in every lower income households. Thus, Ahsan is not aware of all the injustices being carried out against Zubaida who doesn't talk back and has a submissive nature. Ahsan sends some goodies for Zubaida, Aiman and their unborn child but Mumtaz decides to keep it all herself and give it away to relatives, it was heart-breaking to see Zubaida stand-by helpless as she just watched all that was happening around her.
Mumtaz refuses Zubaida's request to be admitted to a private hospital for her delivery, hypocrisy at its best since it is her husband who is paying for each and everything in the house. However, it is Ahsan's wife and child who have been suffering the most after he left for work abroad.While Nausheen delivered her with the family members by her side, Zubaida was left to fend for herself, only to be helped by the kind old neighbour who hurriedly took her to the nearby government hospital and took care of her.
The Good - Applaud worthy performances by the ensemble cast
From the devil like 'saas' played by the legendary, Bushra Ansari, to the junior artist playing Aiman, everyone has acted brilliantly in their respective roles. While we absolutely detest Bushra Ansari as the most vile mother-in-law ever, this definitely is a testament to the phenomenal actress she is. Aiman becoming quiet all of a sudden and not speaking a single word to her father over the phone was sure to make one teary eyed, superb acting skills by the junior artist were displayed here, kudos to the little one!
Shahista Lodhi's Zubaida will sometimes infuriate you while leave you heart-broken at times, her extremely submissive nature makes us agitated and has us thinking, "why doesn't she ever stand up for herself?" For someone who knows that her husband is paying for the entire household, why doesn't Zubaida speak up for herself or her daughter? Her silence is definitely affecting Aiman and having a negative impact on her.
Sarmad Khoosat blows us away with every scene he performs, the true definition of love was enacted by Ahsan when he began praying when he felt something was wrong with Zubaida, a powerful scene where the audience could feel the love he shared with his wife, even though they were miles apart they would always be connected by heart.
Durr e Fishan Saleem is all set join the Pardes cast soon!
The gorgeous Durr-e-Fishan Saleem is all set to grace our screens as the show goes through a time jump, playing the older Aiman, we can't wait to see how the story unfolds further as she is paired across the dashing Affan Waheed.
What's Next?
Will Ahsan find out how his family treated Zubaida while she was in labour? Is Zubaida finally going to stand up for herself and her children? Watch Pardes every Monday on ARY Digital.