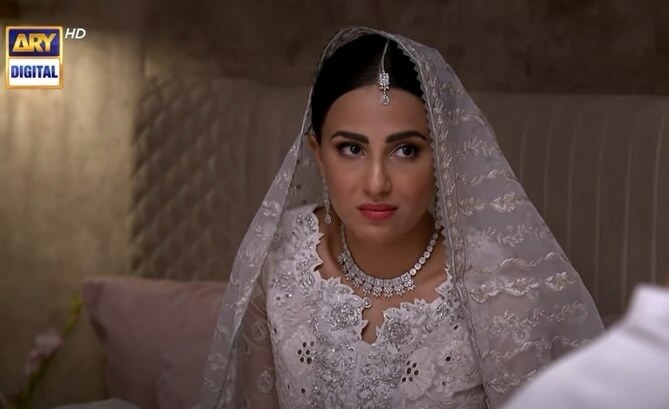 Ayesha and Basit are now married, and their twisted tale is moving forward. But, will there be more plot twists for...

Ayesha and Basit are now married, and their twisted tale is moving forward. But, will there be more plot twists for the two, though? The 10th episode seemed more of an eye opener for Ayesha as she learns about Basit not being emotionally invested in this marriage.
As we learn more about how Ayesha and Basit's relationship will develop, Habs becomes more and more intriguing with each new episode. The question is whether Basit's worry that marriages won't last will come true or if the two will defy the odds and make things work for themselves. Regardless of what occurs, the drama is undoubtedly addressing some extremely sensitive issues in a very clever way.
The tenth episode opens with Ayesha and Basit finally becoming husband and wife, which is the moment we've all been waiting for. However, interactions between the two don't seem to be going so well. In spite of everything that has gone wrong between her and her son, Basit's mother has been shown to be unexpectedly kind towards Ayesha. Basit, on the other hand, doesn't appear to be really committed to or serious about the relationship. His primary motivation for getting married to Ayesha appears to fulfil his father's wishes and regain control of his business and money. Like any other girl, Ayesha probably had a lot of expectations for her newlywed life, so it's understandable that she was upset when Basit chose to send his servant to fetch his medicine rather than coming to their room when she was waiting for him in all her bridal glory.
Things turn more complicated when Basit hands Ayesha divorce papers, but thankfully so, it was all a bad dream. Ayesha seeing his cold behavior decides to go to work, the very next day. When Basit sees Ayesha at work, he becomes enraged and tells her that since she is now his wife, she cannot work as a regular PA at his office. Ayesha reminds him that she has family that depend on her and that she just cannot abandon them. As a result, Ayesha receives a letter of termination. Ayesha, who appears to be very upset by this, chooses to take an auto rickshaw to her mother's house instead of following Basit's instructions to go with the driver.
Back at home, Bano has found out about her mother's secret and is blackmailing her about telling Ayesha that this marriage was basically a monetary deal between her mother and Basit. She explains to Bano that she did what she believed to be best to secure their future and get themselves a home to live in.
Her mother is visibly shocked when Ayesha comes because she arrived in a rickshaw. Ayesha explains to her how Basit has fired her and is not letting her work. Her mother reassures her that Basit is not wrong, and that it will not leave a good impression if his wife would be working at his office. We love seeing Ayesha develop into this bold individual who doesn't hesitate to talk in front of Basit or his mother.
Ushna Shah and Feroze Khan both did a brilliant job portraying their roles in this episode. When Ayesha speaks to Basit's mother, her anxiety can be seen and heard, in both her eyes and voice. By being the exact opposite of what the perfect hero looks and acts like, Feroze Khan is adding personality to his unlikable character. Both Feroze and Ushna's expressions, dialogue delivery and body language appear to be perfectly in accordance with the requirements of their characters in each episode. Nothing appears rushed or forced since the director and writer have handled every episode and scene so flawlessly.
It looks like Ayesha and Basit have started off on the wrong foot but we can still see subtle hints of love and affection, between the two. Viewers are hoping for their chemistry to be strong and are definitely adoring the two as a couple.
The promo for the next episode seems to be unfolding more and we definitely cannot wait for this unusual love story to take a beautiful turn.