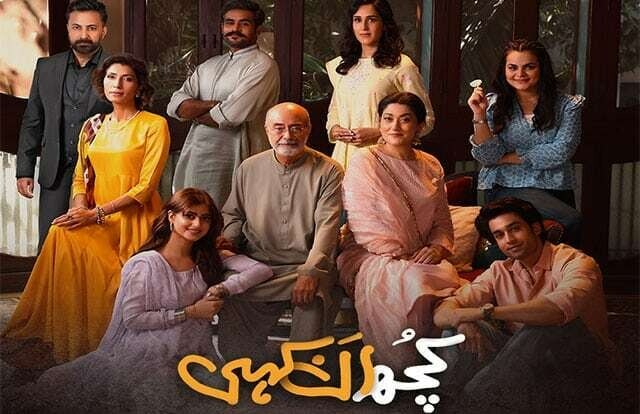 Kuch ankahi revives PTV's golden era memories with a wholesome story that has us hooked.

Aliya has threatened Salman that she will go all out and seek retribution for snatching her client and not paying her a one percent share. This means war!
Every Saturday, Kuch Ankahi, which airs on ARY Digital, has successfully revived the idea of pure family entertainment similar to the beloved PTV dramas of the 1980s and 1990s. Sajal Aly and Bilal Abbas, the most adored on-screen couple, are among the stellar cast, but the plot also boasts all the essential components that modern dramas seem to lack. Mohammad Ahmed, who also plays the part of Agha Ji in the drama, wrote the Kuch Ankahi script. The drama is produced jointly by the Kashf foundation and Six Sigma productions. Three families are included in the story, with Agha Ji's family serving as its focal point. Agha Ji has three daughters, and his rest of the family has staked a claim to the house. Salman, like Aliya, Agha Ji's second daughter, is also in the same line of work as her, and the two of them are often at odds with one another. A third household is that of Sehrish and Azfar, who appear to be siblings but are depicted as having many issues. Azfar does not appear to be happy with his father, who lives with Sehrish. 'Kuch Ankahi' is a lighthearted play with powerful social messages that are both humorous and witty. In this episode, the plot and the characters start to take shape. Agha Ji's House:
Like any other middle-class family, Aliya (Sajal Aly) and Samia (Mira Sethi) are shown mixing and matching outfits before having a conversation about their life. When Samia advises Alia to take it easy, Alia responds that all she wants is for her father to be freed from these claims and court cases.
Tania (Qudsia Ali) needs to travel to Taxila for her thesis, but she is unsure if her mother will consent. Shammo (Irsa Ghazal) obviously disagrees with this because she believes that the permissions she has been given are sufficient based on her filmmaking education. She rants about why her girls couldn't act femininely like other women. Ali and Tania have a close friendship and are often seen together. Tania has a close friendship with Ali (Adullah Abid Malik) and is seen pulling Ali's punctured bike to the tyre shop with him. Agha Ji receives a new notice of claim from his nephew (brother's son), to whom he had already paid his entire share by selling the jewelry that belonged to his wife. It becomes worse when Samia inquires as to whether he has any official documentation, to which he responds in the negative. Saif ur Rehman's (Ali Safina) family has once more been invited by Shammo to visit and set a date for Saif's and Samiya's Nikkah. When Samia learns that Aliya saw Saif ur Rehman shopping with another girl, she dismisses her worries because by saying that going out with a girl doesn't necessarily mean that they are dating. Samia can be seen conversing with her maid Nina (Moona Shah), who informs her that her daughter enjoys being photographed and that her cousin takes the pictures of her. The maid responds, "I know this is terrible, but because she is young and inexperienced, she doesn't listen," as Samia watches her with concern.
Salman Vs. Alia:
In this episode of their continuing fight, Alia demands a 1% share of the deal struck with Sehrish. Of course, Salman declines, to which she issues a threat, saying, "Tou hum dono k darmiyaan jo sharafat ka muahida hua tha wo hua khatam, now you're responsible for what you suffer." Alia comes at the premises where Salman was finalizing a significant deal. She ruins things for Salman by telling his potential client that the property is in dispute and that resolving the issue will cost an additional Crore or two. As a result, Salman loses the client. When Salman returns to his office, he is enraged. He is curious as to how she finds out where he is going. Rafi attempts to convince him that Aliya doesn't know what he's going to do next; she just knows how to work intelligently, and she has the courage and the know-how to carry out everything. Aliya is clearly thrilled with what she accomplished.
The scene in which Aliya and Salman are both seen shopping at the same supermarket was the episode's standout moment. When Aliya appears in the back of the screen while Salman is shopping for his mother via video call, his mother says, "Han bohat pyari hai le ao," leading Salman to believe his mother was referring to the soday ki thaili when, in fact, she was referring to Aliya.Sehrish:
The nuances of Sehrish (Alina Abbas) and her father's (Yousuf Bashir Qureshi) story are still vague when he speaks to her about her brother, Azfar (Shehryar Munnawer). Azfar's father is not happy with the way his son is wasting all of his valuable property assets, and he can tell that Azfar is furious with him. He desires that Sehrish and Azfar collaborate, but Sehrish informs him that Azfar will never allow such a thing. What we think?
We adore the drama's slow but steady pacing, which allows the characters to develop. We learned a little bit more about the dynamics, personalities, and tiny details of each character in this episode. Loved that Mina is seen participating and having her own narrative, and that even minor supporting characters like their maid are given significant prominence. We were reminded of Ankahi's Jibran by the inclusion of young characters like the witty and wise mechanic kid. We like seeing Salman and Alia face-to-face, even though they play the male and female leads, and they currently don't seem to be attracted to one another.
The infusion of humor, despite the serious topics and messages being presented, truly enlivens the whole drama experience. Additionally, Bilal Abbas's performance of the 'soday ki thaili' scene was so superb that it allowed us to understand and empathize with the difficulty of using video conferencing to purchase for someone else. Sajal Aly is an acting maestro; she performs amazing in intense and emotional scenes as well as scenes in which she seamlessly transitions between her Chammi and Saasi personas.
What was your favorite scene from this episode? Let us kmow in the comments section.