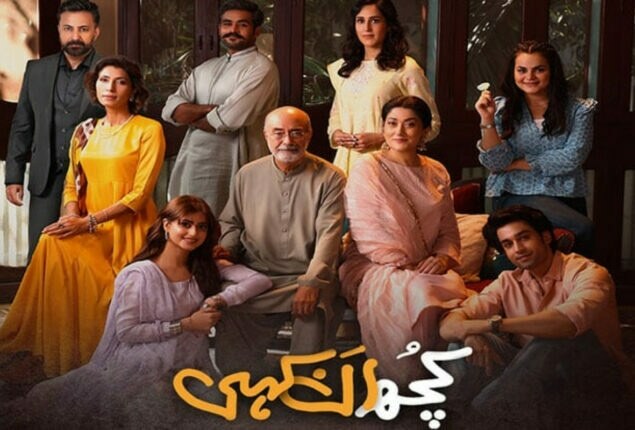 The Shadi of Samia finally happens, complete with an unconventional Nikah and an unexpected visitor. Kuch Ankahi is...

The Shadi of Samia finally happens, complete with an unconventional Nikah and an unexpected visitor.
Kuch Ankahi is a popular Pakistani drama that airs on ARY Digital every Saturday. Through its interesting characters and engrossing plot, this story effectively addresses significant social problems. The drama, which is written by Mohammed Ahmed, who also plays Agha Ji in it, and is directed by Nadeem Baig, explores issues like women's rights to property, workplace harassment, and social demands on young women to get married. Kuch Ankahi is an engaging and enlightening drama with a talented ensemble that includes Sajal Aly, Bilal Abbas Khan, and Mira Sethi.
Agha Ji's house:
Agha Ji and Shammo seem satisfied that they made the correct decision. Everyone is convinced by Salman and Phuppo that since Samia is getting married, we should do it joyfully and with all the dhoom dhaam so that she can take pleasant memories with her. They break out an impromptu dholki to get everyone out of their rooms.
As Saif-ur-Rehman and Samia's barat arrive, we see a mesmerized Salman shower Aliya with rose petals. The most amazing part of the episode was when Phuppo and Agha Ji argued with the molvi to keep the naan nafqa, right to divorce, and aulad ki custody clauses from being removed.
After the nikah, as everyone was crying, a tearful Aliya chuckled as she caught Salman crying as well.
Shagufta and Saif-ur-Rehman:
On the day of his wedding, Saif-ur-Rehman and Shagufta meet each other. When Saif-ur-Rehman asks if she wants to elope with him? Shagufta replies with confidence that she will bring her own Barat into the same house after six months.
Shagufta unexpectedly shows up at Saif-ur-Rehman's wedding. She boldly reassures Samia that there is nothing to worry about because she can call her at any time to release some tension. As she was introducing herself, Mummy cuts her off and reveals that she is Saif's relative and is only being so frank because she is his cousin. As soon as Aliya sees Shagufta, she recognizes her but forbids Tania from creating a scene because the nikah has already been performed and anything they do now will only have an impact on Samia.
Samia and Saif-ur-Rehman:
After Rukhsati, Samia is then seen seated in Saif's room, which is adorned with cheap decorations and doesn't even have the fan on. Saif simply gives her the moo dikhai gift, telling her that her mother gave it to her. Samia, however, remains silent when Saif notices her and advises her to speak up if she wants to live in this house.
Samia is getting ready to greet her family as they bring breakfast the following morning when Saif-ur-Rehman's mother walks in with a mop and complains about how her back and bones hurt. Samia asks her to let her do the chores, to which she cunningly responds that she cannot allow a one-day dulhan to carry out all of these duties. She then hands the mop to Saif, who hands it to Samia while joking that how can she bear to see her spouse perform these duties.
Aliya and Salman:
As Aliya recalls Salman showering her with flowers along a smitten smile it appears that Aliya is also experiencing butterflies in her stomach for Salman.
Salman informs Aliya that Sehrish's brother is also building a housing project on the same plot of land where Sehrish plans to build a housing development and that Aliya needs to speak to her about it now to avoid any future conflicts.
Sehrish and Azfar:
While Sehrish and Aliya are conversing, Azfar walks into the office and hands her a stay order for her housing project. Aliya requests to examine the stay order and informs Sehrish that it is merely a notification that they are prepared to fix. Azfar is curious to learn more about the overly smart girl working in Sehrish's workplace.
What we think?
Oh, what a genuinely amazing and refreshing episode, one that has raised the bar for future nikah scenes in dramas. It was incredibly progressive to see the nikah scene and the entire conversation about crucial clauses that are typically removed without the girl's consent. In this episode, Shagufta was outstanding.
We don't blame Tania for liking her own sister's arch-enemy because Shagufta's character was written and is being portrayed by Uroosa Sidiqui in such a manner that it is impossible to dislike her brave yet straightforward persona. However, given that Saif's mother is not waiting any longer to reveal her real colors, we are a little concerned for Samia.
We adore Aliya and Salman's brief but sweet exchanges, as well as the fact that something is still happening even though their story isn't progressing much. What do you believe Samia will do about everything that will be thrown at her? Will Saif-ur-Rehman actually change, or will this only result in a catastrophe? Let us know in the comments section.