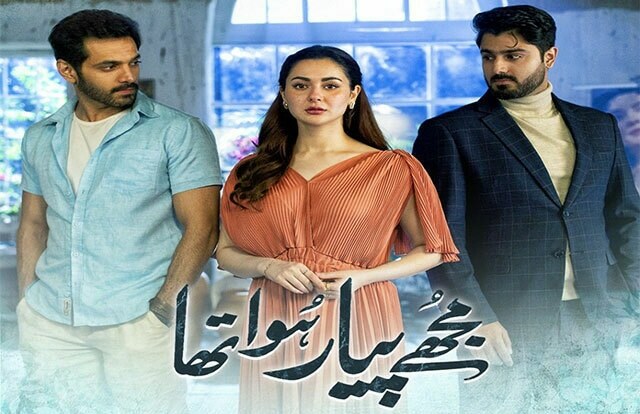 Neelo is not interested in Maheer's explanations of what happened or her claim that she had nothing to do with it...

Neelo is not interested in Maheer's explanations of what happened or her claim that she had nothing to do with it after what happened. She's had it with Maheer and her whining, and she wants her out of her brother's life.
The drama "Mujhe Pyaar Hua Tha" airs every Monday on ARY Digital. The story explores the complexities of love and relationships. Maheer, Saad, and Areeb's love triangle is at the centre of the story. Saad has had feelings for Maheer all of his life, but he has never told her. A new chapter in their life begins when Areeb enters the picture, but a minor misunderstanding separates them. As the story moves forward Maheer finds herself caught between the two guys fighting for her love. "Mujhe Pyaar Hua Tha" is a story of love, loss, and the difficult choices that come with it, starring Hania Amir as Maheer, Wahaj Ali as Saad, and Zaviyar Noman as Areeb, in the lead roles.
After Saad was detained, his parents went to the police station to at least learn what crime their son had committed. Instead, the police officer further degraded them by telling them that their son had shot their daughter-in-law's lover. The police informed them that Saad might receive a death sentence if the man passes away. Despite their pleading, the officer pushed them out of the police station without allowing them to meet Saad.
Maheer visits Areeb at the hospital in the midst of everything after Anabia's request. When she saw him fighting for his life, she was reminded of her regrettable wish that he go die but leave her alone. Faha and Areeb's mother were outraged to see Maheer in the hospital because they believe Saad has shot him. While Faha was yelling at her for coming to the hospital, she told how they had filed a complaint against Saad for shooting Areeb. Maheer learned of this and was shocked. When she got home, Neelo blasted at her for being selfish because her brother was in jail due of Maheer. She accused her of being the cause of all of the problems there are in her brother's life. She told everyone that Maheer was still maintaining contact with Areeb since she had personally seen his call on her phone and that she has just come back after visiting Areeb in the hospital.
Maheer was taken away by her mother, who couldn't bear to see Neelo accusing her daughter in such a way. She also gave Neelo warning that if she ever returned to humiliate Maheer in this way again, she would no longer be tolerated.
While everything is going on, Areeb regains consciousness and dismisses the complaint they had made against Saad because he had nothing to do with the shooting.
Maheer rushes to meet Saad as he returns home and asks whether he is alright. On the other hand, Faha was planning something terrible and wanted Maheer and Saad to be imprisoned; therefore she is upset that her aunt and Areeb withdrew the complaint. There were parts of the episode that made no sense at all. For instance, how on earth did Maheer have the courage to go meet Areeb or leave the house when there was already so much going on at her home? She didn't care that Saad her cousin and best friend was in jail, even if she doesn't love Saad. Because Maheer's actions were totally selfish, we think Neelo's outburst was fully justified. Nevertheless, Maheer chose to feel sorrow over her own suffering. Saad and his parents are going through unnecessary misery, and now even we want the two of them to part ways because only one of them is putting in the effort while the other is acting completely ignorant towards whatever is happening.
Rabya Kulsoom as Neelo, completely stole the show with her strong performance, and was the episode's rightful star. She spoke with such intensity that we could feel every word she spoke. Her fierceness and her eyes revealed her love for her brother and her rage at her brother's suffering. The trailer for the upcoming episode gives the impression that the drama will go the same old route by making the good guy look evil. Maheer, who already solely cares about herself, will likely find this reason to weep more and obsess about Areeb while Anabia tries to make Saad look awful in front of Maheer.
What do you think? Let us know in the comments section