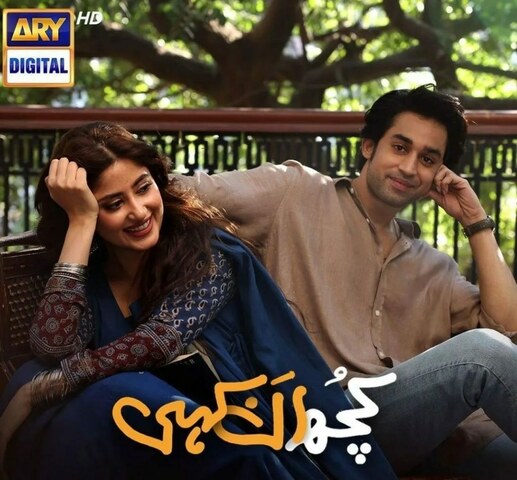 Kuch Ankahi turns Saturdays into family nights once again!

Who would have imagined that Saif ur Rehman, the mummy's boy, would actually be brave enough to have a lover and would even propose a court marriage to her?
After Kuch Ankahi started airing, Saturdays are once again the eagerly anticipated family weekend. With only 4 episodes, the light hearted yet uplifting story of a father and his three daughters, Samia, Alia, and Tania, along with other characters' realistic and relatable interwoven experiences, has won our hearts.
This drama's screenplay was written by Mohammad Ahmed, who also portrays Agha Ji in the play. It was co-produced by the Kashf Foundation and Six Sigma. Bilal Abbas Khan and Sajal Aly play the drama's main protagonists, Salman and Aliya respectively. Along with having a sizable ensemble cast, this drama reminiscent of Haseena Moin also stars Vaneeza Ahmed, Mira Sethi, Qudsia Ali, Babar Ali, Irsa Ghazal, Shehryar Munnawar, and many others.
We were not able to see the other families that are also a part of this powerful story because this episode was mostly about Agha ji and his family.
Agha Ji and Family:
https://www.instagram.com/p/Cn907Ibouuh/
We witnessed Agha Ji pass out in the lawyer's office after being advised to choose the incorrect route using forged signatures on forged documents. The attorney cautioned Agha Ji that he would never be able to escape these cases when he refused to break the law. Agha Ji, who is distraught, attempts to exit his office but instead collapses and hurts his forehead a little. Samia is seen treating her father's wounds and urging him to get his eyes checked. While Agha Ji recounts to Samia how their father publicly rejected Sophia (Vaneeza Ahmed) when she wed of her own free will. When Samia tells him that their father also forgave her, he responds, "We're not so sure about that because there was nobody else in the room at the time." He gets a call from his brother alerting him that Shakeel, his son, sent the claim without telling him and has been away from home ever since.
Agha ji is warned by Shammo to make financial preparations for Samia's wedding. She also tells him that she has kept her six gold bangles and will sell them the next day, like any other middle-class desi mother. When Alia overhears this conversation, she clearly becomes concerned.
Samia learns from Alia about the job offer she recently received, but Alia isn't sure if she should take it. Samia tells Alia that she should definetly accept it since she has faith in her capabilities.
Sophia's presence did not please Saif ur Rehman and his mother, who are there to arrange the Nikah date and are aware of Sophia's outspoken nature. However, Sophia surprises everyone by revealing that Samia will not only have a Nikah but will also have a rukhsati since if she has to wait at home for two more years, she will do it at her husband's house. The mother of Saif ur Rehman gladly accepts this. Alia is making things more difficult by expressing her extreme displeasure with what Sophia did. Sophia explains to her that Samia is not a kid and that we must respect her decision to wed Saif ur Rehman if she is adamant about doing so. She explains to them that perhaps it is what she is meant to do and that it is fated for her. She assures her that she believes in Samia and that we will support her if something bad happens. Sophia emphasises that rather than delaying the wedding for another five to ten years, let whatever needs to happen, occur now. Tania threatens to hold Samia accountable if something awful happens, to which Sophia responds, "Let's not point blame at each other and let us just be there for Samia."
Alia and Sophia confront Saif ur Rehman about seeing him with a girl in Clifton. He retorts angrily, claiming that she was only a friend and that if going shopping with a female implies that they are having an affair, then the same should be assumed of Ali and Tania.
Shagufta and Saif-ur-Rehman:
Enter Shagufta (Uroosa Siddiqui), Saif ur Rehman's covert girlfriend, who is bold and fierce and the polar opposite of Saif ur Rehman, the mama's boy. Shagufta is enraged and tells Saif ur Rehman that he lacks the courage to do anything this risky when he offers that they be married in court instead. Shagufta advises that he get married for a few months because, despite everything, she will marry him, even if he has a dozen children.
We get a flashback from when they worked together, in which Shagufta proudly declares to her coworkers that Saif ur Rehman is hers and places an engagement ring on his finger because she doesn't want to spend time in pointless romance. This gives us a glimpse of Shagufta's fearless nature. Shagufta claims she has faith in Saif ur Rehman because, even after getting married, he will only have feelings for her.
Meena:
While making tiktoks with her cousin Parmesh, Meena's daughter is depicted as being completely obsessed with her appearance and making videos. Meena catches her at home when she is watching her tiktoks and beats her while yelling at her to remove them from her phone.
Salman:
Sehrish calls Salman and inquires as to the progress of the work. But now that she has asked him whether he can finish his portion of the job or should she give that to Alia as well, Salman is concerned about what Sehrish is getting done from Alia.
What we think?
Characters and their tales were sparsely explored in this episode. Uroosa Siddiqui's portrayal of Shagufta, who was newly introduced to us, was really outstanding. We would have loved to see Alia and Salman's narrative progress further, but for the last three episodes, they have essentially been stuck on whether Samia wants to wed Saif ur Rehman or not. As a result, the tempo has slowed down a bit. We are hoping that the tale will continue in the upcoming episode with Salman moving into Agha Ji's home.
Let's hope that the upcoming episode doesn't drag Samia's story out to an uninteresting length and moves the other stories forward as well.